8 Easy Ways To Start Weaning Your Baby
Nabeela Makery
7 Mins Read
Nabeela Makery
Follow
Written For ParentCircle Website new design update
There is no surefire approach to weaning a baby but there are certain rules you can follow to make sure the transition goes smooth for you as well as your little one.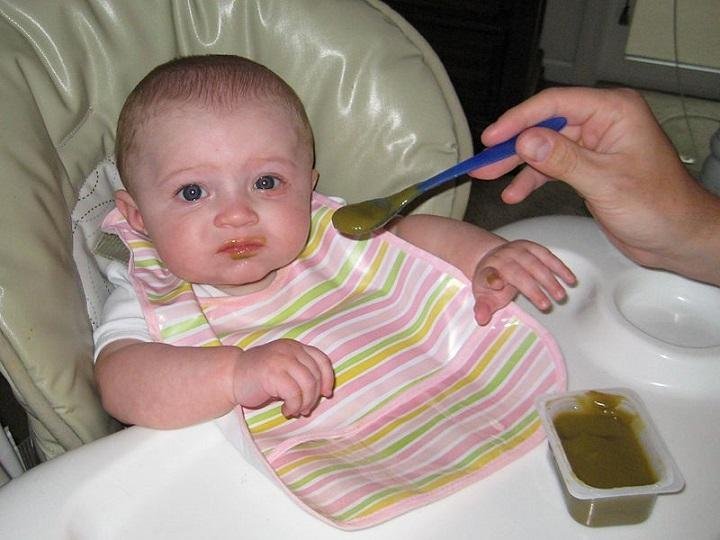 Weaning is an important milestone achieved by babies. At some point in the first year of their lives, they crave and move to semi-solid foods and then to solid foods from being on an exclusively liquid diet. Surprisingly, this happens even before their first tooth appears. Parents should keep in mind that every child is an individual and will achieve his milestones at his own pace and stage.
Here's what a new mother must know when she is about to start weaning her baby.
Right time to start the weaning process
WHO recommends weaning a baby from breastmilk or formula from the age of 6 months. It is also recommended that the mother drop one feed (breastmilk or formula) at a time. To know if the child is alright with semi-solids, only a little portion of the food should be given at first (about a quarter of a spoon). If the baby seems alright and is willing to have more of it without vomiting or passing loose stools, the portion can be increased. Taking one step at a time, the mother will be able to drop one feed by the end of seventh month.
When a baby is ready for solids
There are some tell-tale signs that a baby will show as early as 4 months of age. Grabbing at things around him, putting them into his mouth, trying to lick or swallow semi-solids when a little portion is rubbed on the tongue, and keeping it in without throwing up is a sign that the baby is ready to have solids. It takes almost 2 months from this stage for his delicate tummy to keep in the food and digest it. By the time the baby is 6 months old, she will be ready for weaning.
Tried and tested ways to wean your baby
Every child is different and so are her preferences. Some eat their food without a fuss while others are choosy.
Always start weaning when you and your baby are in the best of mood. Select a quiet corner to feed her the first few days of weaning.

Ensure all the utensils you use are clean to prevent infection.

When you heat weaning food, always heat it indirectly - place it in a bowl that is again placed in a bowl of water, stirring continuously to heat it uniformly. Always test the food to check if it is of the right temperature for your child before feeding.

Allow your baby to try and feed herself. She will, in course of time, show interest in holding the spoon and tasting its contents. This serves as a great motivation for her to eat.

At the start of the weaning process, do not give your child solid food when she is unwell. She may not be able to hold it down.
Your baby will tend to create a mess when he feeds himself. Do not make a fuss about it. Your reaction matters. If you are upset, your baby may get anxious as well and then refuse to eat.
Do not force-feed your child. Babies usually know when they are full and will refuse food beyond a point.
An important tip is to feed your child when the family is eating at the table. She will learn how to eat by watching others.

Eventually, by the time your baby is 8 months old, he may begin to have two small meals a day and the choices then are vast.

Ideal weaning foods
Start with foods that are slightly runny in consistency.

Babies also like bland foods like rice cereal, pureed carrots and cooked apples.

Mashed banana is another top weaning food as it is sweet, easy to swallow and digest.

Once your baby is familiar with the taste of these and her tummy is happy with them, you can mix two vegetables or fruits and give it to her.

As the baby gets used to semi-solids, he can be introduced to finger foods like steamed carrot sticks, slices of banana, rice or ground oats porridge, thin slices of buttered toast and unsalted omelette.
Tip: When introducing finger foods like a slice of carrot or apple, your baby may gnaw at it with his gums till it softens and he is able to swallow it. Watch over him patiently to prevent choking.
Breastfeeding after starting on solids
Breastfeeding is recommended by WHO till the age of 2 years. It has its own goodness and living antibodies that protect the tender immune system of the child. It applies for formula fed babies too till they turn 2. However, if the mother has a medical condition that advises her to stop breastfeeding, she can very well opt out of it and replace it with formula.
The author is owner at Nabeela's Makery. With inputs from Dr. Krishnan Chugh, director and HOD, Paediatrics and PICU, Fortis Memorial Research Institute.