We all enjoy that cute smile of our infants, but do we care for their tender teeth? This article tells you why it is critical to start early when it comes to oral hygiene
It's almost bedtime. I carry my 11-month-old son to the washroom, giving him the nightly pep talk on the benefits of oral hygiene. But the moment I take the brush towards his mouth, V begins wriggling loose like a mouse stuck in a hole. I call out to my husband for help. While he holds down V, I place one hand on V's chin and try to get the toothbrush to his four precious teeth. But V slams his mouth shut and no amount of coaxing can get that little mouth to open. Fifteen minutes later, we are all in bed, sweaty and tired. Only the infant has accomplished his goal, having successfully resisted the toothbrush for one more night," recounts Celine.
Celine speaks for a whole lot of parents who have trouble getting their infants to brush their teeth. Add to this the misconception that infants do not need oral care. The daily struggle can make us give up on brushing, but that will do our children no good. Dental care for infants is often overlooked and wrongly so. Time to set it right.
Importance
"Most parents neglect their child's oral hygiene in the first year, but oral care is very important in this period. Even when babies do not have teeth, microbes can colonise their oral cavity. When the teeth start erupting, they could be at risk for tooth decay and cavities."
- Dr P. Shankar, a paediatric dentist practising in Chennai.
A newborn's gums must be cleaned gently on a regular basis. We cannot dismiss a baby's oral hygiene because she is exclusively breastfed or because she has no teeth. Each stage of an infant's oral development requires a specific approach to dental care. We now give you stage-by-stage tips to ensure healthy teeth for your little one.
0 - 6 months
Most children cut their first tooth around six months of age. Dentists refer to the period from birth to the eruption of the teeth as the 'gum pad stage'. From birth to six months, a child's oral cavity needs to be cleaned regularly to avoid microbial growth.
After each feed, be it breastmilk or formula, there could be some sediments left on the baby's gums. These sediments attract microorganisms, which could then multiply and colonise that part of the mouth. When the baby's teeth emerge, they are likely to be at risk of decay because of the existing microbial build-up. To prevent this, here's how you can clean your baby's mouth after each feed:
After the baby has been fed and burped, place her in a comfortable position. You could lay her down on your lap or on the bed or cradle her in your arm.
Wrap some gauze around your index finger. Dip your finger in water to moisten the gauze.
Gently wipe the baby's gums and tongue with the gauze, giving mild pressure with your finger.
According to Dr Shankar, one of the biggest mistakes parents make during this stage is to let their baby sleep with a bottle in the mouth. The sediments from the formula will just linger on the gums of the baby. After all, the formula may contain added sugar, which will increase the risk of microbial colonisation.
Offering pacifiers dipped in honey or other sweet liquids is another mistake. The sugar from the pacifier will coat the baby's gums and teeth, making it a perfect site for microbial colonisation.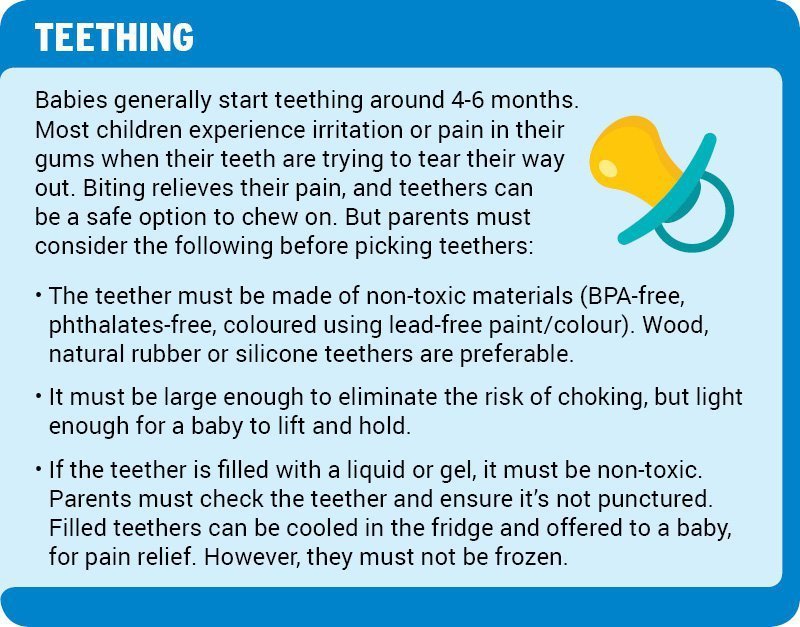 Enter the Toothbrush
Dentists recommend brushing from the day the baby's first tooth appears. Dr Shankar suggests using a finger brush till one year of age and then moving on to a soft-bristled toothbrush suitable for infants.
Venkataraghavan Srinivasan, a father-of-two living in Chennai, swears by the finger brush.
"We used a silicone brush that could be put on the index finger. I used to brush my daughter's teeth twice a day with it," he says.
Sathyasree Sridharan, a mother-of-two based out of Australia, directly used a toothbrush for her children, picking brushes based on her child's age.
"The brush for 0-6 months came with silky soft bristles," she recounts.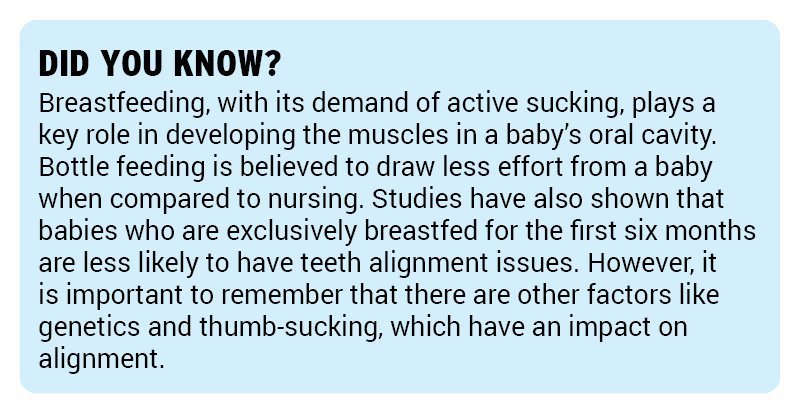 Night-time brushing
While it is advisable to brush your baby's teeth twice a day, dentists particularly stress the importance of brushing at night before bed.
"During the day, there is a lot of jaw movement as children eat and try to communicate. But at night, there is no movement. Thus, sediments are not swallowed. They linger in the oral cavity and act as fertile ground for microbes," says Dr Shankar.

The Toothpaste Debate
Most parents have two nagging questions about introducing toothpaste:
When to start using toothpaste.
Whether to use fluoridated or non-fluoridated toothpaste.
Dentists are divided over this issue of toothpaste use. The American Academy of Paediatric Dentistry favours fluoridated toothpaste right from six months of age.
They argue that a grain-size smear of fluoridated toothpaste will not be toxic even if swallowed in such small quantities.
Other dentists prefer to be on the side of caution. Dr Shankar suggests using toothpaste in the following manner:
a grain-sized smear of non-fluoridated kid's toothpaste till the age of two
a pea-sized smear of fluoridated kid's toothpaste till the age of five
a pea-sized smear of fluoridated toothpaste meant for adults from the age of five
Chennai-based mom Swapna Arulraj began using a toothbrush for her daughter when her first tooth popped out at around 8-9 months.
"Since my daughter turned a year old, we have been brushing her teeth and cleaning her tongue twice a day. We introduced a standard flouridated toothpaste when she was a year old. We use a small quantity of the paste, about the size of a grain. She did swallow some paste, but I put so little in the first place, that it wouldn't have mattered."
A newborn's gums must be cleaned regularly. We cannot dismiss a baby's oral hygiene because she is exclusively breastfed or because she has no teeth.
In special cases, where infants are suffering from tooth decay or cavities, a dentist may ask the parents to use fluoridated toothpaste even before their child turns two.
No matter which toothpaste you use, it is best to teach your child to rinse her mouth with water and spit it out. Use drinking water for rinsing, just in case it is swallowed.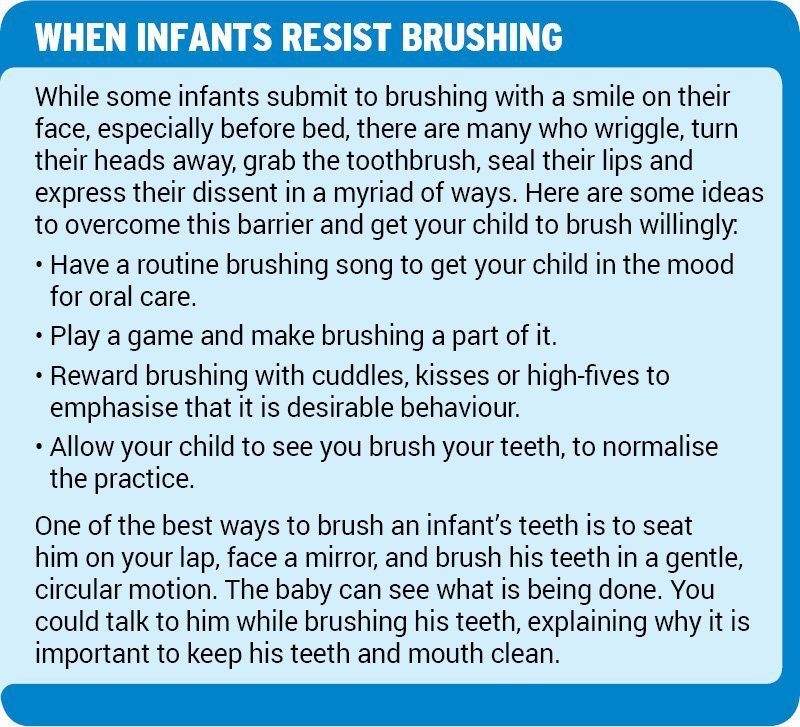 Baby's first visit to a paediatric dentist
Most of us consider going to the dentist only if we have a problem, and we extend this idea to our children as well. However, American Dental Association says that the first dental visit should be 'within six months after the baby's first tooth appears, but no later than the child's first birthday'. A dentist can show you how to clean your baby's teeth, help in the early detection of tooth decay if any, and recommend oral care products.
What should you keep in mind when you plan your baby's first dental visit?
Fix an appointment when your baby is most likely to be relaxed, and not when she is sleepy or hungry.
Be relaxed - remember, this is a routine check-up. Your baby can easily pick up on your anxiety.
In India, we do not have a culture of regular dental check-ups. But regular check-ups are recommended once in six months. Preventive care could spare us a world of dental agony. Let's give our children the best possible start to oral health, setting them on track for a lifetime of oral hygiene and healthy teeth. Healthy teeth mean happy smiles.