Creative activities keep kids busy and help them spend time in a productive manner, besides boosting their cognitive development and creative thinking skills.
"A child's mind is not a container to be filled but rather a fire to be kindled." - Dorothea Brande
To kindle that fire, parents need to ensure that their children are engaged in creative activities such as arts and crafts. These hands-on creative activities arouse the imagination of children, keep their creative juices flowing, and help them develop critical thinking skills.
Creative art and craft activities for preschoolers (ages 3 - 5  years)
1. Splashes and blotches: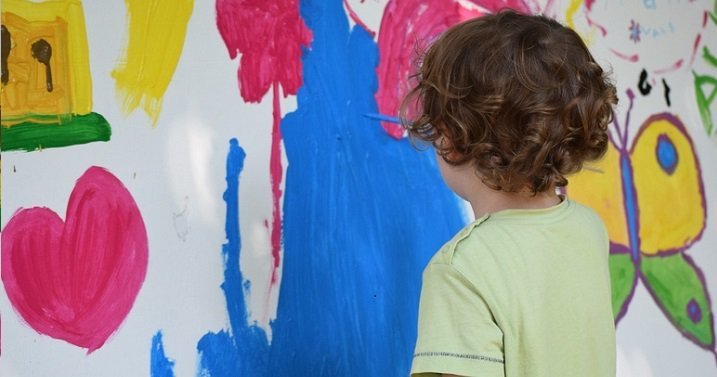 Assign a corner of your home for this activity. It can get messy; so, be prepared to clean up. Also, ensure that there aren't too many objects or pieces of furniture in this area. Mix different colors of paint in a palette or different bowls. Spread a few sheets of paper on the floor. Get your little one to splash paint on the sheets using his hands or tiny bowls. He can even use old toothbrushes to create a spray painting. If you don't mind, you can even let your child splash paint on a section of the wall.
2. Collage: This is a unique creative art activity for preschoolers. Make your child put together a collage using anything of his choice - pictures, parts of pictures, photographs, pieces of fabric, beads, and so on. Frame his work and display it in your home. Also, as a family, attempt to do a big collage together.
3. Art from waste: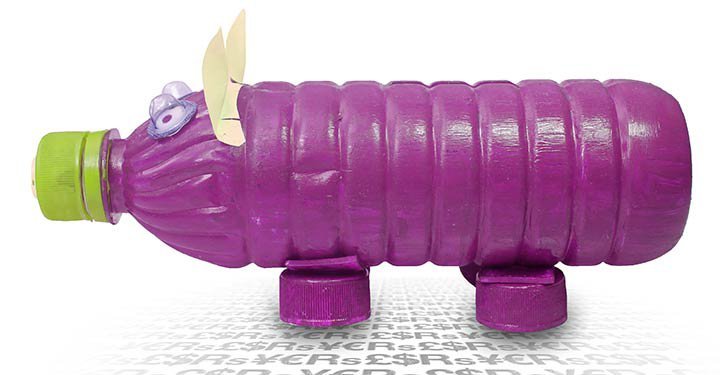 Encourage your child to reuse and recycle to create works of art. Pieces of cardboard, empty cartons, plastic bottles, lids, CDs - practically anything can be used by your little one for his craftwork.
4. Pebble and shell art: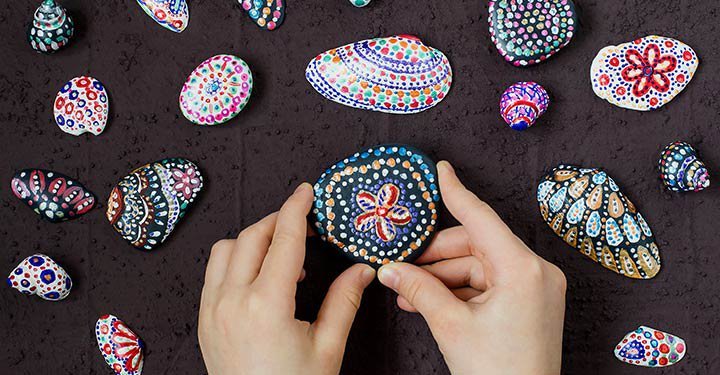 Wondering what to do with all those pebbles and shells your child picked up on visits to the beach? Let him turn them into pieces of art. He can paint them, dip them in glitter paint, stick them on cardboard to form shapes and patterns, and so on.
5. Mold and sculpt: Using playdough or slightly damp flour, your little one can mold as many shapes and images as he wants to. He can even try to sculpt figures from pieces of chalk. Creative art and craft activities using playdough help develop fine motor skills and hand-eye coordination.
6. Marbling and printing: Simple techniques such as these can keep your little one's creativity going. He can add different colors of paint to a bowl of water and dip into it little cards, shells, pebbles, and so on to create the marbling effect. For printing, he can dip cut portions of vegetables such as ladyfinger or capsicum in paint and press them onto the chart paper.
7. Doodles and scribbles: Encourage your child to engage in freehand drawing. Even doodling and scribbling should do. Let him explore his creative ideas on paper and allow shapes to form out of squiggles.
8. Comic strip: What fun if your child can make her own comic strips (a change from watching cartoon shows)! Begin with familiar stories such as Aesop's Fables or Fairy Tales; take one scene at a time. Help your child draw the pictures first and color them. Then, she can paste them in sequence in an album or chart. Next, she can draw speech bubbles above the pictures. Finally, she can write the dialogues inside the bubbles.
9. Arts and crafts: There's so much your child can do by way of arts and crafts - greeting cards, bookmarkers, pencil holders, stationery pouches, and so on. Virtually anything can be used to create these charts, cardboard, empty boxes, plastic containers, and so on.
10. Jiggety-jig: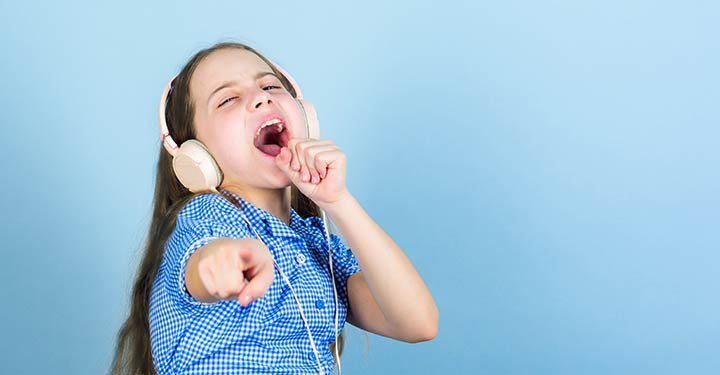 Creative movement activities for preschoolers help improve body control, coordination, and balance. So, play some music and, together with your little one, do a little jig. You can come up with creative steps as you sway to the music and dance away merrily.
Creative art and craft activities for primary schoolers (ages 6 - 9 years)
11. Shadow play: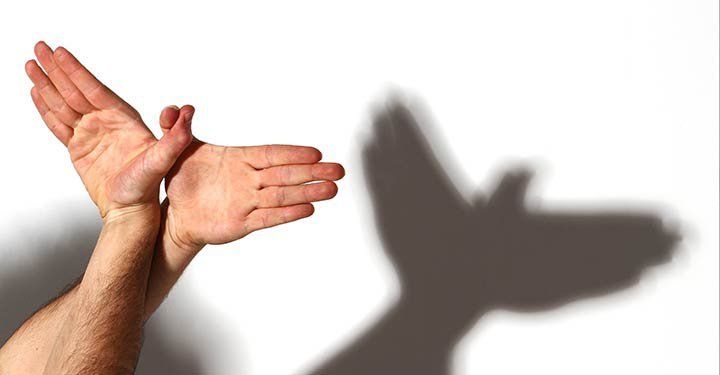 This game can be played with the lights off and candles or tiny lamps lit up. Ensure candles are in proper holders and do not pose any risk to your child. Form different shapes using your fist/fingers and allow their shadows to be cast on the wall. Let your child guess the shape by looking at the shadow. You can form a dog, a cat, a crow, a crocodile, and so on. You can even use props for extra effect.
12. Puppetry: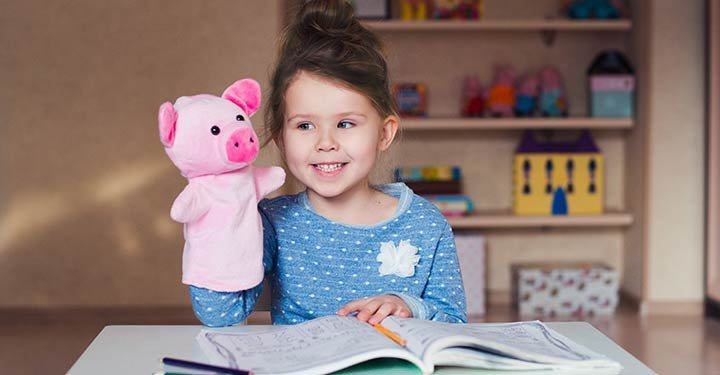 Stick puppets, glove puppets, finger puppets... the list can go on and on. Arrange a get-together with your child's friends or cousins. Provide them the necessary materials and help them to create puppets. You can work around a theme - a fairy tale, a social awareness message, and so on. Once done, they can put up a puppet show for the family or neighbours.
13. Catwalk: Let your child do a catwalk down the hallway imitating the walk of animals or birds. She can strut like a rooster, leap like a frog, crawl like a turtle, jump like a monkey, and so on. Let her be as imaginative as she can in her imitation.
14. Twitter chit-chat: This can be a group activity for little ones. They can imitate bird calls and engage in chit-chat among themselves. Be prepared to hear tweets, chirps, and caws! You can then ask them to translate the conversation they had.
15. Cloud kaleidoscope: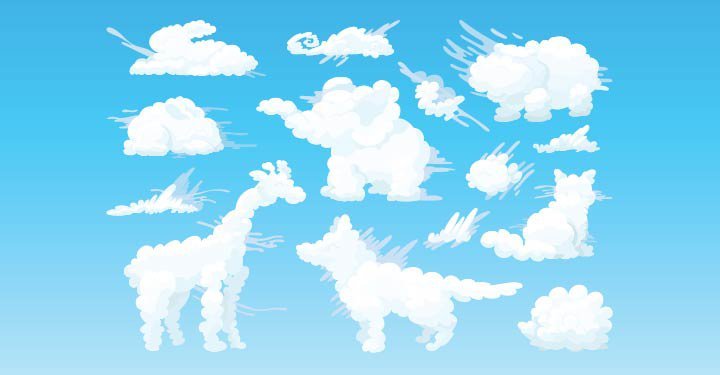 Ask your child to describe as many patterns as he can by observing the shapes of clouds. If one cloud seems to be a dinosaur, another one may appear to be a little bunny, and yet another one like a funny old man. Let your child's imagination go wandering among the clouds.
16. Keepsakes: Choose a theme and help your child collect pictures from old magazines. Let her then stick the pictures in an album or scrapbook. Not just pictures, even leaves, shells, and other collectibles can go into the album. All her albums can serve as keepsakes or can be even given as gifts.
17. Role-play: Creative thinking activities for primary school students help them learn how to innovate. Give different situations to your child and let him take turns enacting them along with his friends or neighborhood kids. A conversation between an astronaut and an alien, a favorite cartoon character interviewing a sportsperson, an interaction between Batman and Superman - all these can serve as healthy creative pastimes.
18. Fancy dress: For birthday parties and other family get-togethers, this can serve as a good creative outlet for your child. Plan the character she will play and help her get the costume and props ready. Everyone in the family can be dressed up to suit a theme or can be hidden behind a mask so that the others will have to guess who it is. All this will add to the fun element.
19. Music time: This is a very simple creative idea for kindergarten students. Whether it is kitchen utensils or the writing desk, anything can be used by your child to belt out a tune. Just give her a pair of ladles or spoons; she can tap them rhythmically on any object and, voila, there'll be music!
20. Gardening: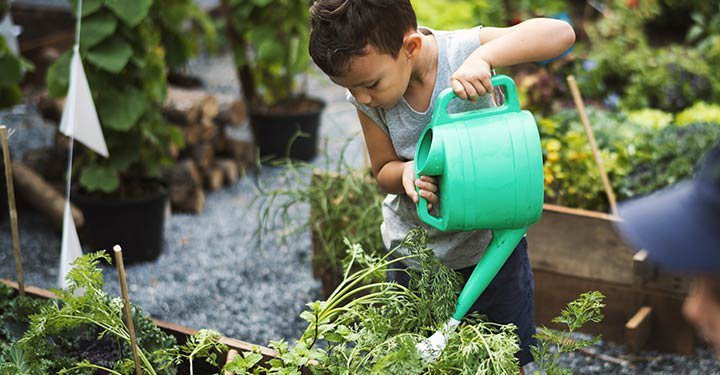 Maintaining a flowerpot on a windowsill, taking care of a patch in the backyard, being in charge of hanging pots in the balcony, growing plants in a bottle, setting up a terrarium, growing bonsai plants - the list of gardening activities can be endless. Let your child enjoy being close with nature as she expresses her creativity.
21. Walking: This can be not only for physical exercise but also for observation and thought. When you go on a walk with your child, encourage her to question you on what she notices. Remember, curiosity is the first step to unleashing creativity.
22. Assembly challenge: Choose toys that can be dismantled and put together. After dismantling them, encourage your child to come up with creative ways of putting them back together. Of course, be prepared to end up with weird and funny-looking toys!
23. Make-believe play: Engage in pretend play with your child by imagining you are out on the beach, on a shopping spree, and so on. Take up roles and enact the scenes. Then swap the roles for more fun.
24. Origami: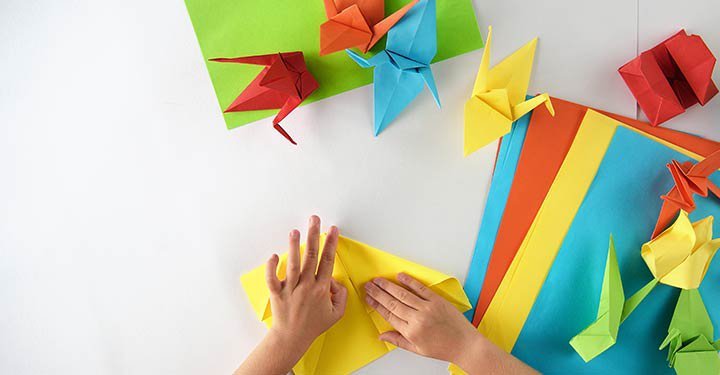 This creative art and craft idea for kids can turn into a unique hobby for your child. Sheets of paper and a pair of scissors are enough to create Origami art. For variety, go in for different types and colors of paper. For very young children, do not permit them to handle the pair of scissors. But, involve them in deciding what shape to cut, and in folding and unfolding the artwork.
25. Flower arrangement: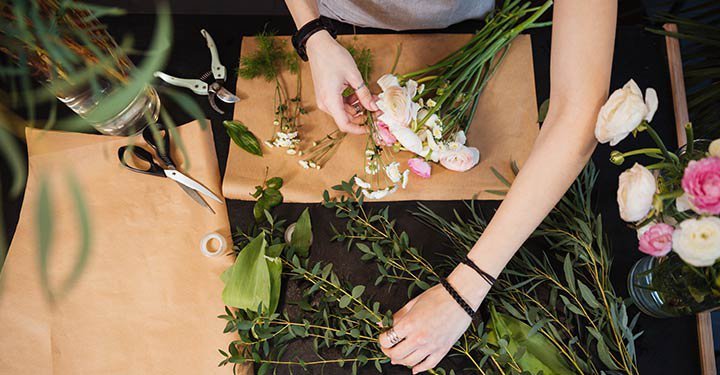 This creative thinking activity for kids encourages imagination and self-expression. With a bunch of flowers and flower vases, your child can go creative in decking up your home. If you can get real flowers, that'll be wonderful (and even more if it is from your own garden); or else, you can get artificial ones. Let your child think of innovative ways of arranging the flowers and showcasing them.
"Imagination is everything. It is the preview of life's coming attractions." - Albert Einstein
Creative activities for preteens and teens (ages 10-18 years)
26. Spin-a-yarn: An ideal group activity, this can be the perfect avenue for your teen to take off on flights of fantasy. Write down different words on chits of paper and shuffle them up. Get your child and his friends or cousins to sit together. Each child s takes a turn in drawing out a chit and reading aloud the word. The child must then build a story using that word. For example, if the word is 'alien', the child could weave a story about an alien. A variation of this activity could be spinning a story based on a key character such as 'the White Rabbit' from 'Alice in Wonderland', 'Hermione Granger' from 'The Harry Potter series', or 'Aslan' from 'The Chronicles of Narnia'. Whoever keeps spinning the story non-stop will be declared the winner.
27. Stunning murals: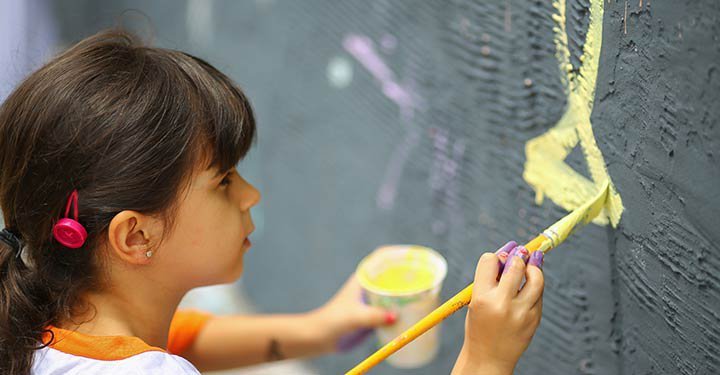 What better way to give vent to creativity than painting on a wall? Allocate a portion of the wall of any of the rooms in your house for this purpose. Let your teen decide which mural technique he wants to go in for - stenciling, sponging, stippling, glazing, and so on (there are online tutorials for each technique). Get him the necessary brushes and paint. And, let him exhibit his creativity through a stunning mural. Of course, you may need to help him do the prepping (clean the wall to remove any dirt or stains; scrape the paint off, if required; apply a coat of primer). And, remember to seal the mural with varnish or polish once done. This would be an ideal activity when you are painting or renovating your house.
28. Jingle all the way: With television commercials constantly screaming for attention, why not encourage your teen to come up with jingles for different products or even concepts? This again can be a group activity when friends or relatives come over.
29. Wordsmith: Why don't you get your preteen to come up with catchy slogans? For important days and weeks such as 'World Environment Day', 'Say No to Plastic Week', and so on, let her create witty and thought-provoking slogans. You can put them up on your residential campus or your Facebook /Whatsapp / Twitter posts.
30. If I were a ...: You can ask your teen to imagine being someone or something and write down his thoughts. "If I were a butterfly...,", "If I were a smartphone...," - topics such as these can be interesting take-offs for your child's dreams.
31. Wordsworth: Good-old poems can always serve as the perfect outlet for creativity. You can choose topics from day-to-day happenings, simple household objects, or personal experiences and ask your preteen to pen poems. Take care not to restrict her style. She can even go in for free rhyme.
32. DIY time: Get your child to do innovative DIY projects and let him spend his time usefully and in a creative manner. Sample DIY kits could be a terrarium kit, cell phone case kit, gift pouch kit, and so on.
33. Mimic away: Your teen can get creative with her voice by trying out mimicry. She can attempt to copy the voice of famous personalities, the cries, and calls of various animals and birds, or even the sounds of vehicles. Using variations in rhythm, tone, pitch, and volume, and adopting proper voice modulation and intonation, she can entertain family and friends during get-togethers.
34. Pant-o-mime: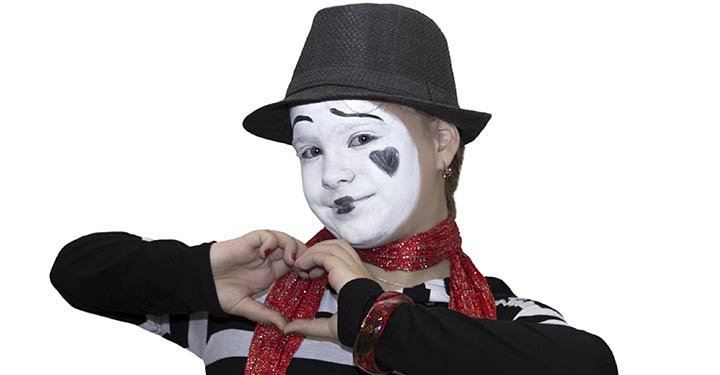 Perfect for school club activities, family parties, and weekends with friends, pantomime can serve as healthy entertainment. Along with his peers, your preteen can put up a pantomime act on a theme of his choice - Shakespeare's plays, social and civic awareness skits, funny scenes, and so on. As this form of presentation involves using facial expressions and gestures to express emotions, it will help develop your child's expressive abilities.
35. Super chef: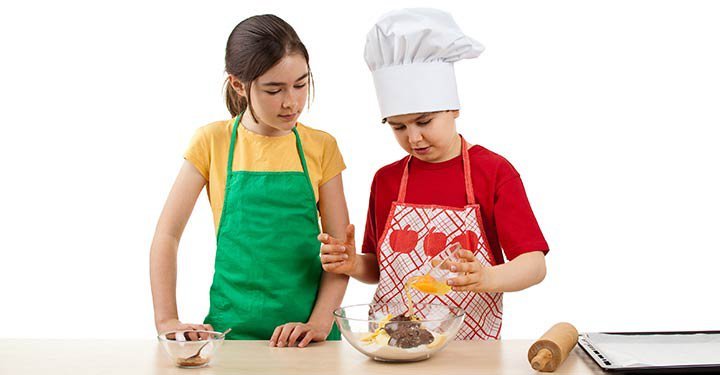 Where else can creativity be more evident than in the kitchen? Let your teen choose the type of cooking he wants to try his hand at - baking, grilling, toasting, and so on. He can either come up with his own recipes or follow a recipe and give a twist to it (for example - peanut butter and coconut noodles, fruit, and nut dosa). Not just cooking, even in presenting the food and laying the table, your teen can display his creative skills.
36. Ooh...la...la: Is your child good at singing? Why not ask her to write the lyrics for her songs and set them to tune too? You can even record the songs and upload them for all the world to hear your li'l nightingale!
37. Dear diary: Encourage your teen to jot down his thoughts in a journal. Teach him to observe everyday happenings around him and record his reactions to the same. Apart from proving to be cathartic, diary writing will get his creative juices flowing.
38. The orator: Writing down and practicing speeches, and debating help your child hone her oral communication skills. Enroll her in literary clubs and ensure she participates in elocution and oratorical competitions, moot courts, and other engaging activities, where her speaking skills can be fine-tuned.
39. Gardenia: If your child has green fingers, gardening can be the perfect outlet to unleash his creativity. A tiny patch all for himself in your backyard, a few pots in the balcony or terrace, or even a few indoor plants can serve the purpose. Give him free rein in arranging the plants - hanging pots, step garden, etc.
40. Read and be merry: So, your child is a bookworm? And, you're wondering how to satiate her hunger for books, books, and even more books. School and public libraries, reading circles, and clubs can all prove helpful. Of course, you can also gift her books on special days so that she can build her own little library. And, she will always have a place to go to whenever she wants to take off to fantasy land!
41. Through the lens: If Alice went through the looking-glass to Wonderland, your child can work magic through a camera lens. Yes, get him clicking away at anyone and anything of interest to him, and designing his own album. If need be, you can even enroll him in a photography course.
42. Motion pic: Go one step further and engage your teen in shooting videos. She can begin with her mobile and go on to using a video cam. Family parties, community activities, nature walks - all these can offer enough scope for shooting creative videos.
43. Blog it: If your teen is tired of the conventional diary, let him go the virtual way and log his observations, thoughts, and experiences. But, caution him on online safety and etiquette.
44. Sketch and shade: The simple pencil can unleash your preteen's creativity. Get her to do simple pencil sketches and shade them. She can also go in for thematic sketches to create an album.
45. Wield a brush: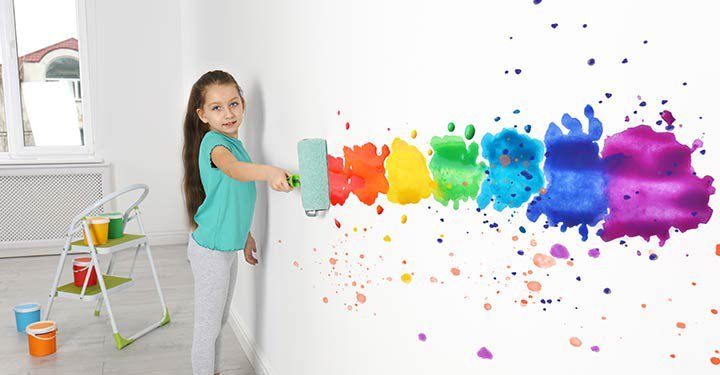 Set up an easel, layout a palette, open up bottles of paint, and get your young artist to play with colors. Painting can keep him engaged for hours and satisfy his creative urges. Whether it is on paper, chart, glass, or fabric, whether it is using water, poster, or oil colors, painting can be a healthy pastime. This creative activity can also be a family affair, with each family member painting a portion of scenery or an event.
46. Fruit and veg art: Not just on an easel, art can be on a platter too. Get your preteen to carve and sculpt fruits and vegetables into various shapes and figurines. They can serve as decorative salad when you have guests for dinner.
47. Community e-zine: Let your teen get his friends in the neighborhood and together let them compile an online 'community magazine' (a crash course for basic publishing and design software will come in handy here). This can be done on a monthly or bi-monthly basis, with the young reporters filing news, events, and happenings in their locality along with other interesting snippets.
48. Mel-o-drama: Get your child to put on the director's hat and write the script, and direct a play. This can be a fun creative task to engage in with friends or cousins. Designing the set and arranging the props creative activities as well.
49. Event management: Give your teen the opportunity to plan and manage family or community events such as birthday bashes, moonlight dinners, farewell parties, or musical evenings. Involve her in every aspect of the event - drawing up the guest list, planning the menu, listing out the program, emceeing, etc. Apart from being creative, this activity can also hone your teen's interpersonal and organizing skills.
50. Order...Order: Setting his desk or room in order can in itself be a creative exercise for your teen. He can even rearrange the furniture in creative ways. And, once done, he can go about fitting out his room aesthetically by recycling waste products.