The benefits of natural cleaning products far outweigh their cost. Read on to understand why you should prefer natural cleaning products over those made using chemicals
The range of home care products available to us today is more than ever before. And, as we become more health and hygiene conscious, we keep adding to the number of home cleaning products we use.
With an over-scheduled life, we find these products a boon, as they help us get through the cleaning process in a jiffy. But, we overlook the fact that the harsh cocktail of chemicals cause immense harm to our health. So, the next time, when you visit the store to buy household care products, think about choosing greener, safer and healthier options.
To convince you to make the switch, here are a few benefits of natural cleaning products.
Benefits of using natural cleaning products
Eliminate indoor air pollution: Inorganic home cleaning products release volatile organic compounds (VOCs). The VOCs react with other chemicals or cooking fumes to form new compounds that irritate the eyes and airways. The fragrance present in these home cleaning products react with the indoor air to produce formaldehyde, which can aggravate conditions like asthma. An important benefit of green cleaning is that you reduce the risk of indoor air pollution.
Protect your health: While home cleaning products do help with cleaning, harsh chemicals harm our body in various ways. From causing itchy skin to watery eyes to respiratory distress to poisoning, there are various health risks associated with chemical home cleaning supplies. But herbal cleaning products are free of chemicals and so do not pose a health hazard, which is an added benefit of using natural cleaning products.
Cut down on antibacterials: Be it soap or other cleaning products, nowadays, most home care supplies are labeled antibacterial. However, research has shown that antibacterial products are only as effective as other products and do not offer any advantages. In fact, antibacterial agents like triclosan may cause hormonal problems. Natural home cleaning products are free of antibacterials and are as good as any other product available in the market. So, using natural products means reaping the benefits of green cleaning by reducing exposure to antibacterials.
Prevent cruelty to animals: Common household cleaners contain harmful chemical-based ingredients which can be toxic to your pet. Lying down on the wet floor or licking the wet surface you just cleaned can make your pet fall seriously sick. Also, manufacturers test inorganic products on animals to ascertain they are safe for use by humans. By switching to herbal, non-toxic home cleaning products, you pass on the benefits of natural cleaning products to your four-legged friends too.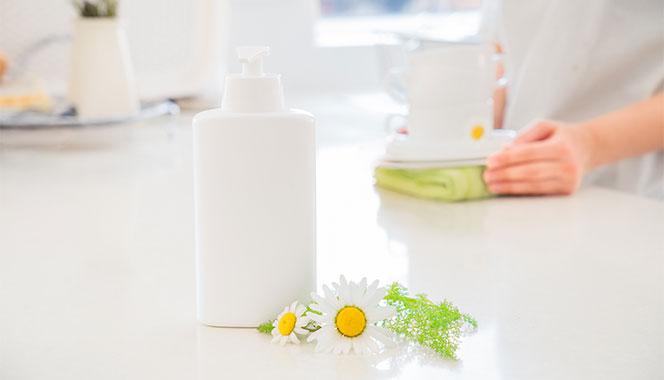 Save the environment: The more inorganic and toxic home cleaning products we use, the more toxins we release in the environment. The large amount of chemical-laden, dirty water that we flush down the drain after mopping our house or cleaning the toilet pollutes the groundwater. Unfortunately, this polluted water comes back to us through wells and bore wells. And, when we use this toxic water, it hurts our health. A wiser and healthier option is to use natural home cleaners that are biodegradable and do not harm the environment.
Cut down costs: The rising living costs may prompt you to ask 'Why to use natural cleaning products?' because you think they are costly and unaffordable. Well, you would be surprised to know that most natural home care products cost the same as inorganic ones. Also, by using these products you save the money that you would otherwise spend on treating the harm caused to your health by toxic chemicals.
The benefits of green cleaning products far outweigh their cost, both in terms of money and health. So, the next time you visit the store to replenish your supply of cleaning supplies, make sure you choose eco-friendly options to bring home the benefit of natural cleaning products.