Why I love my grandparents and why they love me back: Children talk about their grandparents
Arun Sharma
4 Mins Read
A grandparent's love for grandchildren is special. And, "I love my grandparents" are words almost every grandchild says about grandparents. Read on to know why children love them so much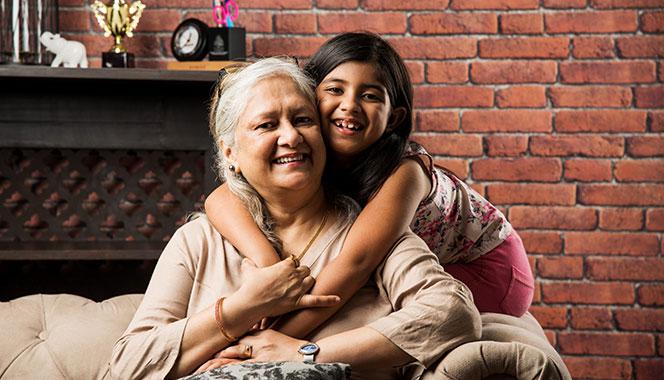 Grandparents love and care for their grandchildren. In fact, they are willing to do anything for their grandchildren. When the grandchildren are young, grandparents take on the role of caretakers, playmates, stress relievers, storytellers, and instillers of moral values. And, when grandkids grow up, grandparents change themselves too. They become friends, advisers, arbitrators, pillars of support, and close confidantes.
Grandchildren, in return, love their grandparents. The love and affection that grandchildren have for their maternal and paternal grandparents can't be described in words. However, listening to what grandkids have to say about their grandparents will help us understand how deep and strong their bond is.
I love my grandparents because...
Here's what some grandchildren said when asked "I love my grandparents because...
"Both my grandmothers are a form of God on earth. They help me with my daily work like my homework and they always give me suggestions for all my problems. My grandmothers cook well and make sure that I have a good meal before going to bed."
- Saakshath Vijay (11 years old), Chennai
"Whenever I fall sick for more than one day, I tell my dad to take me to my grandma's place. I don't think anyone can take better care of me than my grandma. On days when I feel like having my favorite dish, I call her up and she prepares it for me. When I score full marks in my exams, my grandpa buys me whatever I ask for. It is a secret deal between us."
- Zubin (8 years old), Trivandrum
"My grandparents take good care of me. My grandfather takes me out for a walk in the park and around the neighborhood on his bike. He is always ready to play with me whenever I feel bored. He sings songs and advises me on everything. My grandmother is a cheerful woman. She is always smiling and ready to cook whatever I want to eat. I love to crack jokes with them and I love the way they pamper me."
-Samyuktha (14 years old), Chennai
"I like my grandmother because she gives me a lot of stuff to eat. My grandfather is an easy victim to play pranks on. I pretend to fall down the stairs and he comes running over, but then I yell, 'It's a prank.' And, the way he reacts is priceless."
-Brian Daniel Bennett, (12 years old), Chennai
"My maternal grandfather buys me exciting science toys and instruments like the microscope, while my grandmother is very encouraging. She speaks good English, and her vocabulary is great. She helps me in writing my speeches and compositions. My paternal grandfather is very active and enthusiastic. While he plays games with me such as football, cricket and UNO. However, my grandmother is a bit strict. She makes me study whenever she comes home. I love my grandparents. They are like my friends and so much fun to be with."
- Ishaan Abraham Pichamuthu (9 years old), Vellore
My grandmother teaches me good manners and takes good care of me when I am sick. My grandfather buys me all my favorite food items.
-Raja Swaminath (9 years old), Chennai
My grandparents tell me stories and never scold me.
- Karthik (4 years old), Chennai.
"The reason I love my grandparents is that they are the only ones who either forget or forgive my mistakes."
-Yash Patil (18 years old), Chennai
Grandparents' love
The way grandparents love their grandchildren is different from that of parents, uncles, aunts, and other relatives. Here are a few ways grandparents express their love:
Listening to everything that grandchildren have to say - even the most uninteresting things
Make sure the grandchildren are well-fed, comfortable, and cared for
Reassuring and comforting grandchildren when they are going through a difficult time
Extending their support to grandchildren at all times and in all situations
Sharing their life experiences with their grandchildren
Telling bedtime stories
Calling the grandchildren with special nicknames
Relaxing the rules (yet making sure the grandchildren don't overstep boundaries)
Engaging in activities with grandchildren
The emotional closeness that grandchildren feel with their grandparents is not visible in any other relationship. Not only do grandchildren feel secure and happy in the presence of their grandparents, but also deeply valued and cherished.