FEATURED
Playground Safety For Kids: Tips For Parents
Lakshmi Rajan
7 Mins Read
A safe playground provides ample opportunities for a child's learning and development. These safety tips can ensure that your child remains unhurt on the playground.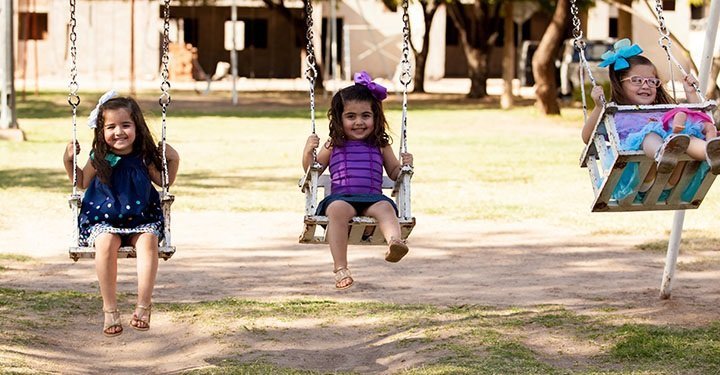 Most pleasant memories of childhood are associated with play and the playground. In fact, spending time in the playground helps in the physical, mental, emotional and social well-being of a child. However, while parents are happy to see their child enjoy her time in the playground, they also feel worried about her safety.
Here are a few tips on how to make the playground a safe place for your child:
Inspect for flaws: Before you allow your child to hop on to the ride or the see-saw, check the equipment in the playground for defects resulting from poor maintenance or faulty design. Defective playground equipment can cause serious injuries to children.

Check fall zones: One of the requirements of modern playgrounds is to have an imaginary area around every equipment called the fall zone, which is covered with impact-absorbing material. Make sure that the fall zone is well maintained to prevent your child from sustaining injuries after a fall.

Teach about being careful: Children from every age group come to play in the playground. As a result, there is always a risk of younger children getting hurt when they come into contact with older children while both are engaged in play. Teach your child to be mindful to prevent himself from coming into contact with others and getting hurt.

Explain usage: While your toddler or preschooler is enthusiastic about playing in the playground, she might not know how to use some of the equipment in the play area. So, explain to your child how to use the equipment safely. Also, point out to her only the playthings that are suitable for her age.

Promote good play habits: With a paucity of safe play areas for children, playgrounds are becoming crowded. As a result, tussle for space or turn to play, pulling and pushing are common. Teach your child to wait for his turn to play, and not jump the queue or push other children out of his way, as displaying such behaviour may result in causing injuries to others.

Teach rainy season precautions: Being exposed to different weather conditions takes a toll on play equipment and the playground surface. The conditions can be especially bad during the rainy season due to rusting of equipment and waterlogging. Teach your child how to play safely during the rainy season.

Watch out for heavy undergrowth: Undergrowth expand rapidly in less-used areas of the playground. These areas become perfect spaces for various creatures such as snakes or scorpions to take refuge. Follow-up with authorities in charge of the playground to regularly prune the undergrowth and keep the playground clean.

Allow age-appropriate play: Do not allow your child to use equipment such as rides or swings which are meant for children younger than his age. Not following this precaution can endanger your child's safety as well as those of other children.

Keep pets out: A playground is meant for children to play and is not a suitable place for taking pets out for a walk. Animals do not like the hustle and bustle of a playground and may act aggressively. So, do not take your pet to the playground and tell others to follow your example.

Supervise: Playground is an area where children should be allowed to play to their heart's content, but that doesn't mean that you should leave your young child unsupervised. Keep an eye on your child and intervene when you think the situation warrants it.

Every year, several children are treated in hospitals around the country for injuries sustained on the playground. Most of these injuries are a result of not following the rules or being ignorant of safety precautions. Therefore, it is important for you and your child to understand and follow playground safety tips to make the playground a safe area for your child and other children.
Hope you liked this article. To get expert tips and read interesting articles on a wide variety of parenting topics, subscribe now to our magazine.