Why buy it when you can make it? You can now make your own body wash, kajal and even deo, right at home! Read on to know how to make these 5 products you use daily at home!
'If life gives you lemons, make lemonade'
We can all relate to this popular proverb only too well these days. We have all been trying to make the best use of our resources, time and patience to survive this pandemic, while life has been throwing never-ending lockdown extensions at us. With the kids at home, our days are now made up of online classes, increased household chores and shopping woes. Yes, we miss our weekly grocery trips, weekends at the mall, shopping with friends, on-time deliveries and more. Stepping out has been stressful.
Fully armed with a mask and sanitizer, paying attention to the shopping list has been hard. Amidst trying to avoid contact with other people and being careful not to touch what we don't need we have almost forgotten what a satisfactory shopping experience would be like.
Well, we might not be able to give you the shopping experience, but we can help you make use of the time at home to make your own customised products. This can save you money, frequent shopping trips and you know exactly what goes in each product. Here are five things you can start making at home and stop buying! Don't miss the story of parent who made tooth powder for his family.
Deodorant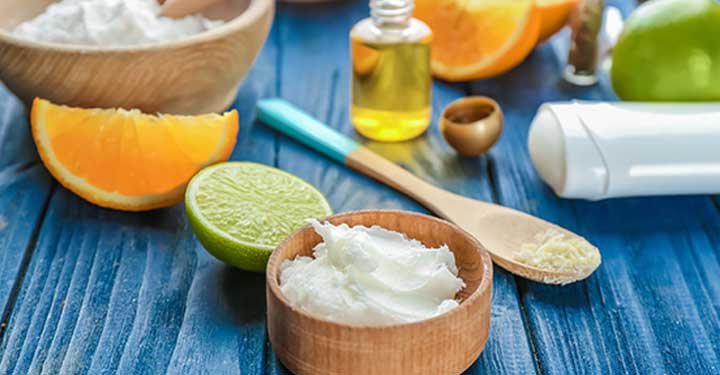 Stores might promise all natural, chemical-free deodorants, but one can never be sure. Homemade deodorants are great because they are easy to make, the ingredients are natural, and you get to choose a fragrance which suits you.
You will need:
Baking soda - half cup
Arrowroot powder (shishumool) - half cup
Coconut oil - 5 tbsp
Essential oil of your choice
Method:
Mix the baking soda and arrowroot powder together. Baking soda absorbs moisture and odour, and arrowroot powder helps to keep the skin dry. Then add coconut oil and about 20 drops of any essential oil of your choice. Coconut oil is a blessing for your skin and helps to keep it moisturized while protecting it from harmful bacteria. Essential oils add a natural scent to your deo. Pour the mixture into a clean airtight jar and use regularly.
Tip: Add melted beeswax if you want your deodorant to be solid and use as a roll-on stick.
Moisturising lotion for babies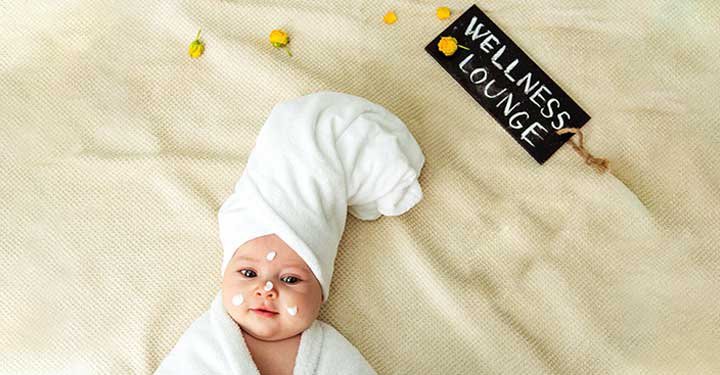 Want to keep your baby's skin soft and smooth, but worried about what is in the baby lotions available in shops? What better way than make it yourself - it is safe for your baby's skin. Use this homemade baby lotion right after your little one's bath. You can use this once or twice a week or when you feel your baby's skin is dry. You can also use this for older kids and for yourself.
You will need:
Organic cocoa or shea butter - cup
Coconut oil - cup
Beeswax - 1 tbsp
Vitamin E oil - 2 tsp
Baby safe essential oil (chamomile, dill, eucalyptus, lavender, olive)
Method:
Add water to a pot and keep it on medium heat. In another glass bowl, add the cocoa butter, coconut oil and beeswax. Place this on top of the pot containing water. Stir and wait for the mixture to melt. After it has melted, add the vitamin E oil and essential oil. Skip the essential oil if it is for babies lesser than 3 months. Transfer to the bottle you want to store the lotion in and wait for it to harden.
Natural kajal for adults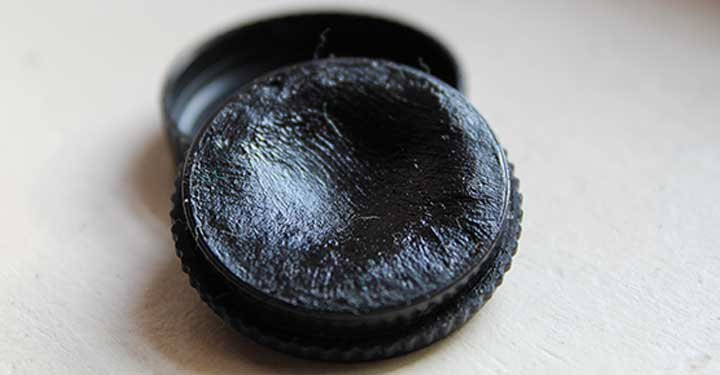 Most Indian women use kajal (kohl) to contour and highlight the beauty of their eyes. While it is believed that kajal can cool your eyes or ward off evil spirits, it is not recommended for newborns or young children. The kajal you buy from stores might contain harmful substances like lead and artificial colours, which can irritate your eyes. Follow this method to make it yourself at home, and you will be recommending it to others too!
You will need:
Lemon - 1
Small muslin cloth
Castor oil
Diya or a small earthen lamp
Method:
Squeeze the lemon and take out all the juice. Dip the muslin cloth in the lemon juice, and let it dry in the shade. After it dries, soak again and let it dry. Repeat this till all the juice from the lemon is absorbed. Roll the cloth as a wick and light the earthen lamp with castor oil. Balance an inverted earthenware bowl on two glasses, kept on either side of the diya, such that it is just above the flame. Black soot collects in the bowl. This is your Kajal. Scrape the black deposits into a clean, sterilised jar and mix with castor oil. Use as many wicks as you need, to get the amount of kajal you require. When applying, make sure your finger is clean.

Body wash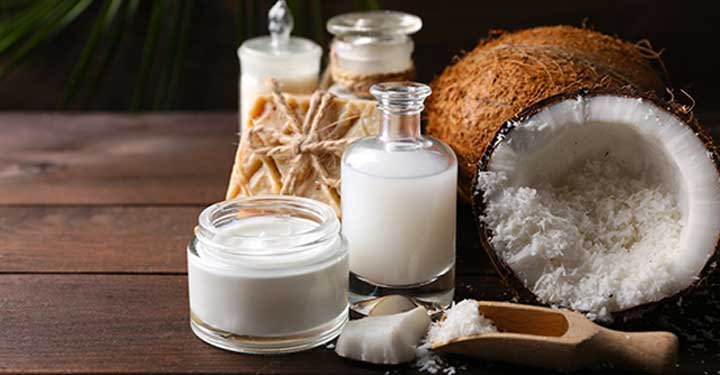 Detox your skin with a natural body wash and you will never buy one from the store again. You can also get your kids help for this and encourage them to use it too. This body wash is easy to make and works wonders for your skin.
You will need:
Coconut oil - cup
Raw honey - cup
Liquid castile soap - cup
Vitamin E - 1 tsp
Essential oil - 15 to 20 drops
Method:
Add coconut oil, honey and vitamin E and whisk them together. Coconut oil moisturizes your skin without clogging pores. Honey is known for its anti-inflammatory and anti-bacterial properties and can give your skin the glow it needs. Add the liquid castile soap slowly and stir gently to avoid lumps. Add 15 to 20 drops of your favourite essential oil and mix. Any citrus flavour like lemon or grapefruit will give you a great start for the day. Transfer to a pump bottle and use regularly. This body wash tends to separate so shake gently before each use.
All-purpose cleaner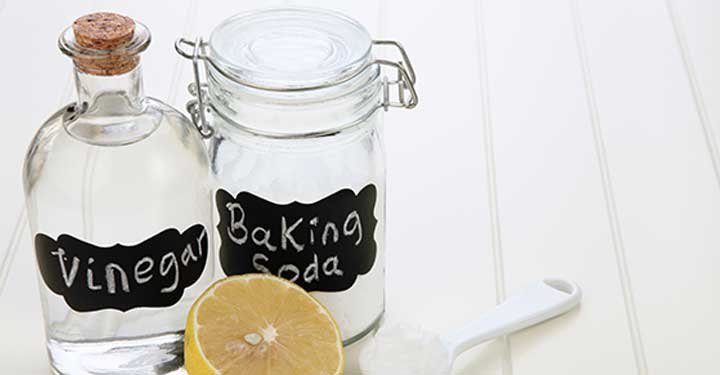 What if you can clean the kitchen counters, tables, walls and tiles with a multi-purpose cleaner that you can make at home? Unlike the store-bought cleaners, this does not make you hold your nose when you spray it on a tough stain.
You will need:
White vinegar - cup
Baking soda - 2 tbsp
Essential oil - Eucalyptus or tea tree
Water
Method:
Pour the vinegar into a spray bottle and add the baking soda to it. White vinegar removes grease and stains with ease, dissolves iron deposits and removes odour. Baking soda is also a strong deodoriser and has anti-bacterial properties. Add in a few drops of essential oil. Prefer tea tree or eucalyptus as they have anti-microbial properties, apart from adding fragrance. Fill the rest of the bottle with water, shake well and allow to stand. If you plan to use on fabrics, check if the colour fades.
There are loads of products you can do at home and this is just a start, so keep looking and start making. For more inspiration, check out this dad's venture in making homemade tooth powder for his family!
Rajesh Vishwanathan talks about making tooth powder with his son Viren. "You will need 2 to 3 cinnamon sticks, 10 to 15 cloves, 1 tbsp Himalayan pink salt powder, 2 tbsp calcium powder, a pinch of baking soda and 3 tbsp of bentonite clay (multani mitti). We have made calcium powder by powdering a few calcium tablets. You can also make it using dried eggshells. Grind the cinnamon and cloves together and add it to the rest of the powders. Mix well and store in a jar. Viren and me enjoyed making this during the lockdown and we have been using it regularly. You can make it at home too and watch the kids brush without fuss. Brush twice a day for best results."
Detox your home with these simple, natural products. No more worrying about what is in the label because you know exactly what went in. Customised products for you, made by you!
Also Read:
Super-Easy DIY Toys You Can Make for Your Child
Easy Newspaper DIY Craft Ideas

5 DIY Rakhi Ideas For Raksha Bandhan

5 DIY Ideas to Reduce Clutter in Your Child's Room
5 DIY Room Decor Ideas To Revamp Your Child's Room
6 Top DIY Ideas To Organise Your Kitchen
Easy Diy Paper Craft Ideas For Children

Diy Room Decor Ideas For Teens
About the author:

Written by Kerina De Floras on 22 July 2020.
Join our Circles to share, discuss and learn from fellow parents and experts!
Looking for expert tips and interesting articles on parenting? Subscribe now to our magazine. Connect with us on Facebook | Twitter | Instagram | YouTube