Fun Food Ideas For Kids During The Summer Holidays
Priyanka G Mehta
4 Mins Read
Helping your children eat right during the sweltering summer months is a must. Keep them hydrated with these healthy and fun recipes during the summer break.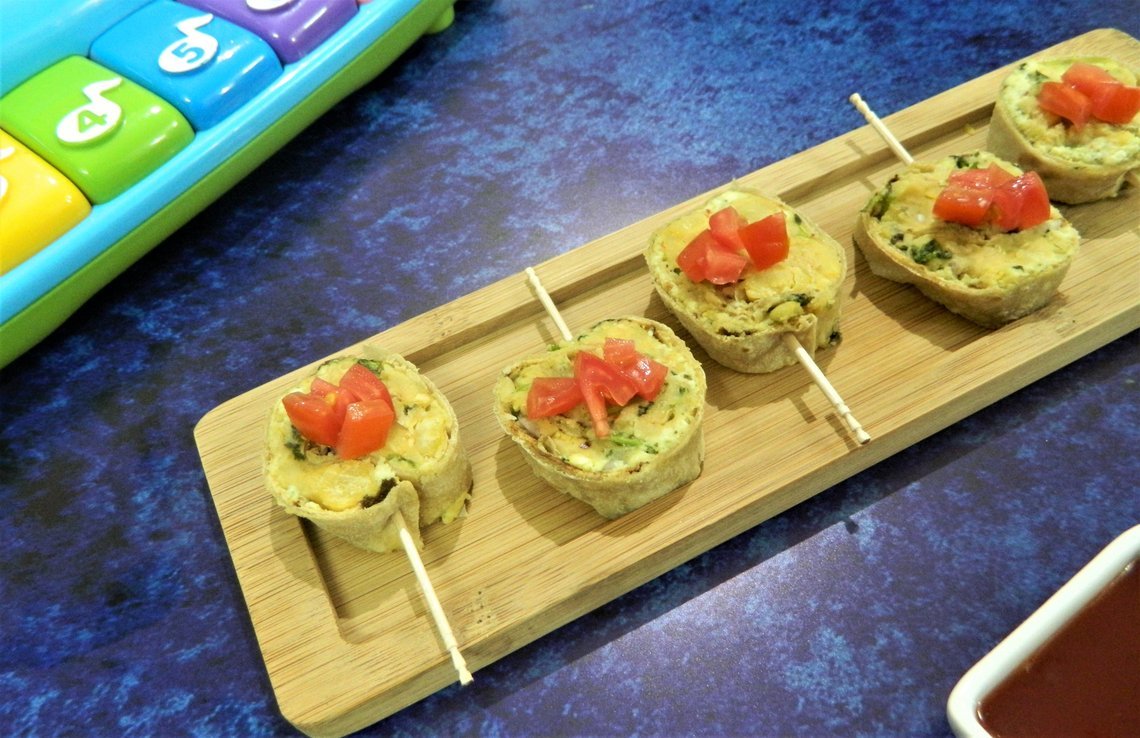 During the summer holidays, children need the right nutrition to stay cool and healthy as they spend most of their time playing outdoors in the scorching heat. Fortunately, nature has bestowed us with a plethora of seasonal fruits and vegetables that can be used to make interesting summer treats.
Summer is also that time of the year when children potter around the house and like helping in the kitchen. Make their holidays more fun with these simple and interesting recipes that can be easily assembled by the children with some help from parents.
1. Cheesy Chickpea Pinwheels
| | |
| --- | --- |
|   Ingredients  |  Measurements |
| Boiled and mashed chickpeas | 1cup |
|  Tortillas | 4 pcs |
| Garlic and cheese spread | 1cup |
| Chopped coriander leaves | 1tbsp |
| Salt | to taste |
| Toothpicks  | 5-10 sticks |
Method:
Spread the garlic and cheese spread over the tortillas evenly.
Add coriander leaves and salt to the chickpeas and mix thoroughly.
Spread the mashed chickpeas over the tortilla and sprinkle chopped spring onions.
Roll each tortilla like a spring roll and then trim the edges.
Cut out 1inch pinwheels from them and secure the edges with toothpicks.
2. Corn Pancakes with Pineapple Salsa
 Ingredients
Measurements
Whole wheat flour
1cup
Corn Meal
1cup
Curd
1cup
Milk
1cup
Baking soda
1tsp
Sugar
1tbsp
Fresh corn kernels
1cup
Melted butter or oil
2 tbsp
Chopped pineapple
1cup
 Chopped onion
1/4 cup
Chopped coriander
1/4 cup
Chopped jalapeno
1 tbsp
Mixed red and yellow bell peppers
(charred and chopped)
1/2 cup
Black pepper
1/2 tsp
Roasted cumin powder
1/2 tsp
Lemon juice
1tsp
Salt
To taste
Method:
To make the pancakes, sieve together both the flour, salt, baking soda, and keep aside.
In another bowl, mix the curd, milk, sugar, oil, and corn kernels well.
To this liquid, add the dry mix and give it a nice stir. Mix till everything is well combined.
Heat a pan and grease with oil/butter. Then, pour a ladle full of batter and let it cook over medium heat for 1-2 minutes on each side till the pancake is golden in color.
For the salsa, roast bell peppers on a grill pan till charred and then chop roughly.
In a bowl, mix pineapple, onion, peppers, and coriander
Add salt, pepper, cumin, and lemon juice and mix well. Serve the pancakes hot along with the salsa.
3. No-Bake Honey Almond Granola
| | |
| --- | --- |
|  Ingredients | Measurements |
| Puffed Rajgira or Ramdana (Amarnath) | 1cup |
| Desiccated coconut | 1cup |
| Almonds | 1/3 cup |
| Honey | 1cup |
| Flaxseeds | 2 tbsp |
| Chia seeds | 2 tbsp |
| Chopped pistachios | 2 tbsp |
| Dark chocolate chips | 2 tbsp |
| Sesame seeds | 2 tbsp |
Method:
Dry roast the almonds in a heavy-bottomed pan till they give out an aroma.
Cool them a bit and grind to make almond butter. Grind till their oil is released, then add a teaspoon of any flavorless oil and some salt.
Heat a pan and put almond butter into it. Add honey and melt them both together.
Now, add the rest of the ingredients except chocolate chips. Turn off the heat and mix it well.
Line a tray with some baking parchment paper and pour the mixture over it. With your fingers or with the back of a spoon, smoothen the mixture to form an inch thick slab.
Then sprinkle the chocolate chips over it and push them inside a little. Put the tray in the fridge to cool for 3-4 hours. Once set, cut into squares.
Store it in an airtight box; it keeps well up to two weeks.
4. Chocolate Almond Bites
| | |
| --- | --- |
|  Ingredients | Measurements |
| Almonds | 1cup |
| Sugar/powdered jaggery | 1cup |
| Melted butter | 1tsp |
| Melted chocolate | 1cup |
Method: 
Dry roast the almonds till they are fragrant
Pulse them in a mixer till they start releasing their oils and then add sugar and butter to it, pulse again for 2 minutes
Take out from the mixer jar and form small bite-sized balls from them.
Dip in melted chocolate and let it sit for few minutes. To increase the fun element, kids can even decorate these with sugar sprinklers which are easily available in the market.
5. Cheese and Fruit Skewers
| | |
| --- | --- |
|  Ingredients | Measurements |
| Processed cheese  | 10 cubes |
| Grapes | 1cup |
| Diced melons | 1cup |
| Diced kiwis | 1cup |
| Diced mangoes | 1cup |
| Melted chocolate | 1cup |
| Wooden skewer | 1cup |
Method: 
Let the kids assemble their favorite fruits and cheese in the order they like on the skewer sticks.
Once the skewers are done, assemble them on the serving platter and then drizzle some melted chocolate over them.
A lip-smacking quick snack is ready for your kids