Worried that your toddler hasn't started speaking yet? Well, the rate of speech development is different for each child. But, these signs should tell you when to consult an expert.
The word 'Amma' has a special place in Deepti's heart. It was the only word that her son, now a five-year-old, had uttered till he was a toddler. The little boy had a language delay and his parents were worried that he wouldn't speak. After much difficulty and help from a language therapist, he started to communicate like other children of his age.
Children develop at their own pace. This is true of their speech as well. While many babies happily babble "mama", "dada" well before their first birthday, most toddlers can say about 8-10 words when they are 18 months old. However, if there is a significant lag in the child starting to speak, it could be a cause for concern.
Why does a delay in speech and language cause so much concern among parents and doctors? It is because language development is central to many aspects of a baby's overall development such as cognition, social interaction and education.
Factors that affect speech
If, as a parent, you suspect that your child's speech is delayed, you should consult a developmental paediatrician. But there are certain points about speech delay that you need to be aware of first.

Speech and language delay is a part of global developmental delay affecting all other skills like motor and cognitive skills.

Hearing impairment of varying degrees affects speech and language.

Lack of environmental stimulation and inadequate social interaction and absence of peer group play can affect speech.

Speech and language delay could be associated with neurodevelopmental conditions like ASD (Autism Spectrum Disorder) and ADHD (Attention Deficit Hyperactivity Disorder).

How to identify language delay in various stages
Birth to 3 months: Cooing sounds and laughing are the earliest language skills. It would be worthwhile to build a rapport with your baby - smile, play, talk and sing with her, and make sure she is able to follow and react to sounds.

7 to 12 months: The baby starts using words like "mama", "baba" and "dada". He may not use them meaningfully, but they are the crucial first words. Look for gestures like pointing, clapping and waving bye, which are all the early signs of communication skills.

12 to 18 months: Check whether your child's vocabulary is increasing from about 2 to 3 words to up to 25 to 50 words. Also, notice if she is able to follow simple one-step commands.

1 to 2 years: At this stage, vocabulary should increase to 50 or more words and the child should be able to combine 2 or 3 words to make a sentence.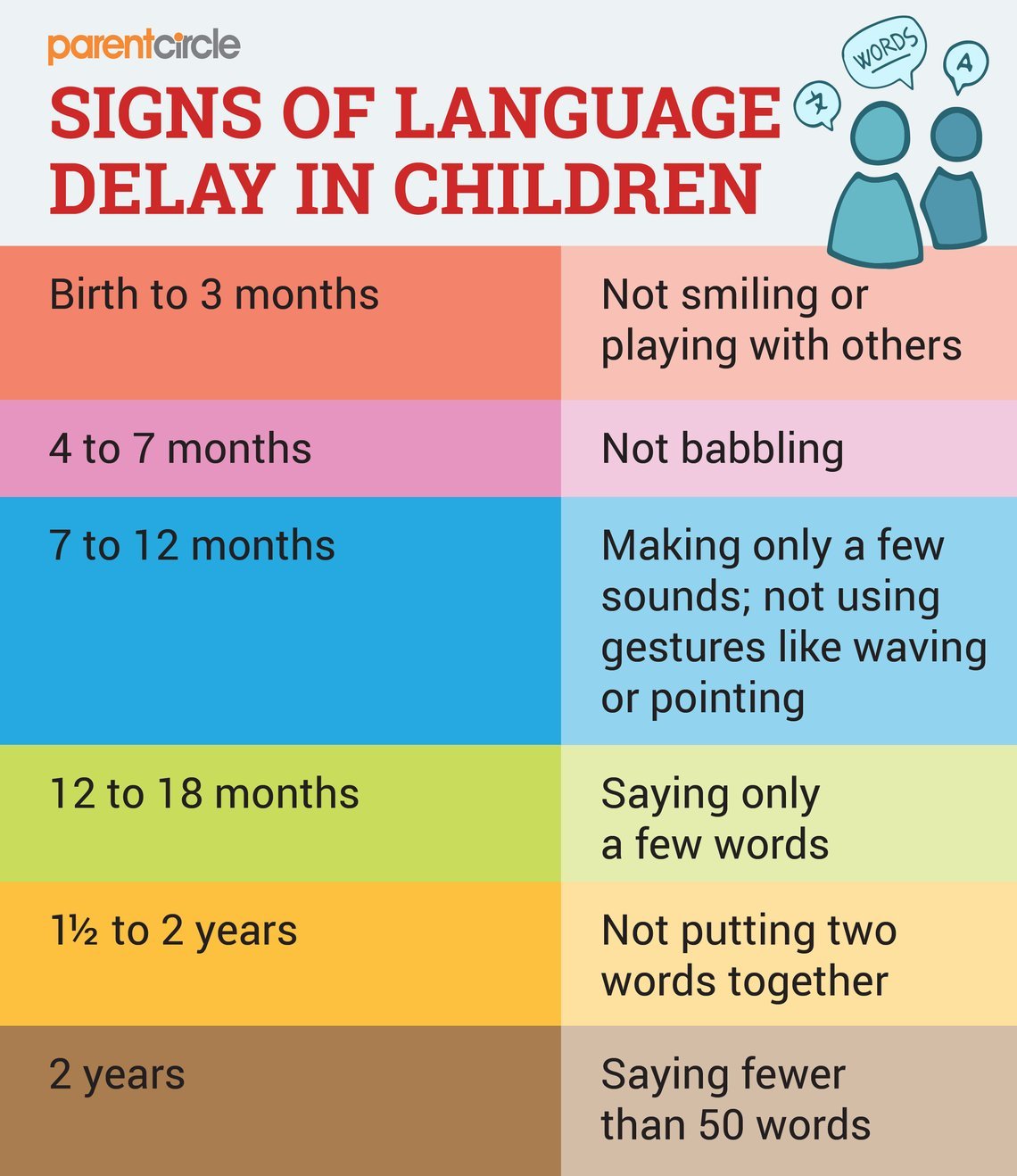 What next?
If you are worried that your child's speech is delayed, get help as early intervention is always better. Speech and language pathologists can assess your child and, if there is a need, plan sessions/set goals to work with the child and give you a programme to follow at home.
It should be noted that parents and caregivers play a major role in the stimulation of language skills in babies.
Tips to encourage your baby's communication from birth till the age of two:

Respond to baby's sounds and smiles and smile back.

Talk to the baby as you give him a bath, feed him and get him dressed. Talk about what you are doing and where you are going.

Use gestures like waving at or pointing to objects and people around you.

Talk about animal sounds.

Play with your child.
Help him finish incomplete sentences.
Read out interesting picture books to him.
Repeat what you say. Repetition is the key to learning new words. Children don't get tired of hearing the words again and again. In fact, it helps them.

While talking with a child, it is a good idea to use the concept of OWLing.
Observe: What the child wants to communicate
Wait: Give adequate time for the child to respond
Listen: When we listen and pay close attention, we can understand the child's needs and the child also communicates confidently.
So, choose your goals, engage with your child, talk to her and keep repeating words. Utilise the power of play and music and don't forget to use the OWL concept. Language delay in children is a common type of developmental delay. The age at which children learn to speak and learn may vary. However, if your child has not started to speak till a certain age, it is always advisable to consult an expert.
The author, an MD (Paediatrics) with a PG DIP in Developmental Neurology, is a renowned developmental paediatrician from Chennai.

Looking for expert tips and interesting articles on parenting? Subscribe now to our magazine. Connect with us on Facebook | Twitter | Instagram | YouTube