FEATURED
Raising Responsible Digital Citizens: Tips For Parents
Dr Debarati Halder
10 Mins Read
Are you worried about your teenager's use of the Internet, considering the amount of time she spends on it every day? Here are some tips on how to teach her to use the Net responsibly.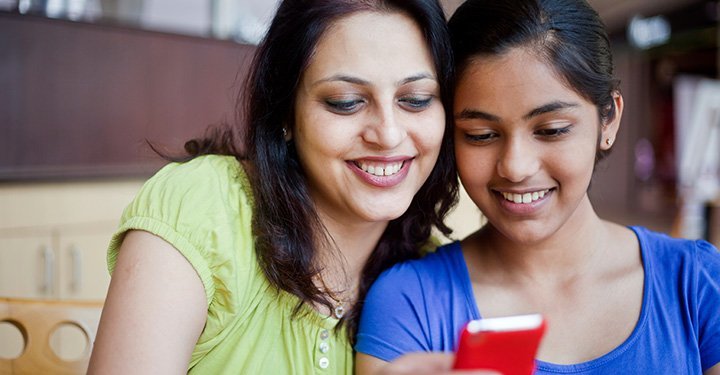 With the start of the summer vacations, many children tend to get hooked to the Internet and various social media apps as they have a lot of free time on their hands. Some parents even gift their children a digital device, which they use to surf social media sites, dating sites, and in some cases, even pornographic sites, suggested by their peers and friends. Indeed, children in the age group of 12 to 16 years are most vulnerable to bad influences. This can lead to wrong usage of digital devices and the Internet. Children, in their naivety, and sometimes intentionally, employ unethical digital methods that can have legal consequences. Following are some of the ways children misuse the Internet or smartphones.
How children misuse the Internet
Children often use parents' or others phones to make prank calls to random numbers. What children or their parents may not understand is, such behaviour may amount to stalking, in case the child is repeating the phone calls to irritate someone (especially if the receiver is a woman or a child) or conveying unwanted, threatening, intimidating messages or passing derogatory comments to the receiver. S.354D of the Indian Penal Code prescribes punishment for stalking including cyber stalking, to whoever commits the crime. Not to forget, the punishment can include jail term which may be extended to three years and a pecuniary fine. Teenagers may also decide to play pranks by asking for confidential information like financial details, sexual favours and photographs, including nude pictures. If the receiver is another teenager, Protection Of Children From Sexual Offences (POCSO) Act may be applied through Ss.11 and 12 which deal with sexual harassment. Again, under POCSO Act, no one can be excused because of age or gender. The court procedures and correctional/punishment procedures may be executed as per the Juvenile Justice Care and Protection (Amended) Act, 2015, in case the perpetrator is a child.

Children today are very tech savvy and know how to use the camera and the various filters on the phone to take and upload pictures. The subjects range from street fights to accidents and dozing grandparents to sleeping co-passengers. However, some of these images also include pictures of scantily-dressed friends at home or inside changing rooms. So where do these pictures go and why are they clicked? Often, children may send these pictures to their friend's numbers or post it on social media sites. Children, who share these pictures, may do it for various reasons, including getting more 'likes' or doing it for the sake of revenge. Some sexually explicit pictures or audio-visual images of 'ex' friends or boy or girlfriends involving compromising positions, may also be shared along with objectionable texts to publicly humiliate them. Such images are examples of revenge porn. Not to forget, if these pictures are shared, they may infringe the privacy of the person in the photographs or videos. Such production, creation or sharing of images can even damage reputation. Ss.66E of the Information technology Act, 2000 (amended in 2008) deals with infringement of privacy through captured images of private body parts. It also prescribes punishment which may include jail term and a fine. Ss.354C of the Indian Penal Code will be applicable for the same offensive act in case the victim is a woman. In case the subject is a child, then along with the above-mentioned provisions, POCSO Act (especially Ss 13, 14 and 15 which deal with using children for pornographic purposes, punishment and storing of such images and punishments for the same) may also be applied. In case the pictures are clicked in compromising positions or during sexual intercourse or rape, heavier punishments may be prescribed.

Children may also try their hand at hacking and inadvertently engage in copyright violations and plagiarism. The last two acts are committed mostly when children prepare assignments. While hacking is addressed by Information Technology Act under Ss. 43, 65 and 66, copyright violation and plagiarism is addressed by Copyright Act. Assignments, write-ups and projects found to be plagiarised may even make the student ineligible for many competitions, courses or profession for his entire professional life. The case of the young author Kavya Vishwanathan is a crucial example of how things can go wrong quickly if a youngster engages in plagiarism. Kavya's highly publicised novel 'How Opal Mehta Got Kissed', was pulled down from the market by the publisher because the young writer had plagiarised from several sources. She was just out of her school and was about to join Harvard University when she lost her second book contract because of this plagiarism case.

Keeping these points in mind, parents and schools must take up the initiative to create responsible digital citizens. Here are some tips to achieve that:
How to build a responsible digital citizen
Parents must not treat digital devices as a pacifier. Children should be taught to handle smartphones in a careful manner from a tender age, so that they feel responsible towards its use. The 'purpose' of a phone, however, should not be only for playing games. A smartphone must be optimally used to view varied content under the supervision of parents.

Before permitting children to handle digital devices, parents must make them understand that they are not allowed to download anything without their permission, or install a game or any other app. This will help you prevent the download of any viruses.

Children should be told about the basic laws that regulate the digital communication system including those discussed above. Freedom of speech and expression is not 'unlimited' and must not be misused. Similarly, the right to privacy should also be respected. Teach your child to ask permission before taking anyone's picture or sharing it on social groups or social media sites.

Parents and schools must introduce to children the positive use of social media. Schools may consider teaching policy guidelines to help students use the Internet positively. These guidelines should cover the use of social networking sites and social messaging apps.

A child should never be taught that hacking is a 'fun activity'. Hacking may attract severe penalty for the hacker. Many parents feel proud that they have a 'young techie' at home who can get confidential information within minutes. But, it is the responsibility of the parents and the schools to teach the child about digital privacy and physical privacy of individuals, corporates and governments. Hackers (ethical or amateur) can do more wrong than right if they are not approved by the police and the law.

Children must be taught about copyright laws and the possible results of the violation.Children should be given assignments with strict guidelines regarding copyright violation and plagiarism. Schools must take steps to monitor the students in this regard.

Children should be motivated to create apps. But these should not be unethical. All apps thus created must go through ethical test by experts.

Schools should invite NGOs and experts dealing with digital literacy for children, cyber crime victim counselling and digital right awareness creation for children. The school should organise workshops and seminars for students.

If parents and schools follow these guidelines, we may be able to build responsible digital citizens who will lead India into a better digital future.
Hope you liked this article. To get expert tips and read interesting articles on a wide variety of parenting topics, subscribe now to our magazine.