You don't need an expensive set-up or an exclusive photographer to capture your little one's precious moments. Do it yourself at home with these interesting ideas and valuable photography tips
It is every parent's wish to capture the beautiful memories of their newborn's first few days in the world, their cherubic details and their first steps.
Photographer Anne Geddes is world-famous for her stunning portraits of newborn babies. If you are the parent of a newborn, the beautiful infant images shot by her will inspire you to try a photoshoot for your little one.
However, it may not always be possible to do it in beautiful outdoor locations, with a photographer specialized in infant photography and with fancy props. However, carrying out a photoshoot for your baby within the confines of your home is certainly possible.
With a little ingenuity, creative imagination and loads of patience, a parent can don the role of a shutterbug and take stunning images at home. A parent spends a lot of time with the baby, knows her moods and so, is at an advantage to capture the right moments with her.
Not opting for a professional photographer will also bring down the cost of creating a portfolio of your child.
"It is both easy and tough to take newborn photographs-easy because newborns sleep for long hours and parents can capture some beautiful images when the baby is asleep. On the other hand, newborns are very delicate, so you have to be careful while taking their pictures.
A professional photographer has the experience of making the subject look great. But, parents doing their own photoshoot with their little ones have the advantage of time, and they can pick the right opportunity to shoot their child. They can be really creative-do themed shoots, try twinning, candid images or use props like blackboards," says Mumbai-based photographer Parinita Salian.
Amazing baby photoshoot ideas to try at home
Here are some amazing baby photoshoot ideas you can try at home:
Newborn baby photoshoot ideas
1. The basket photo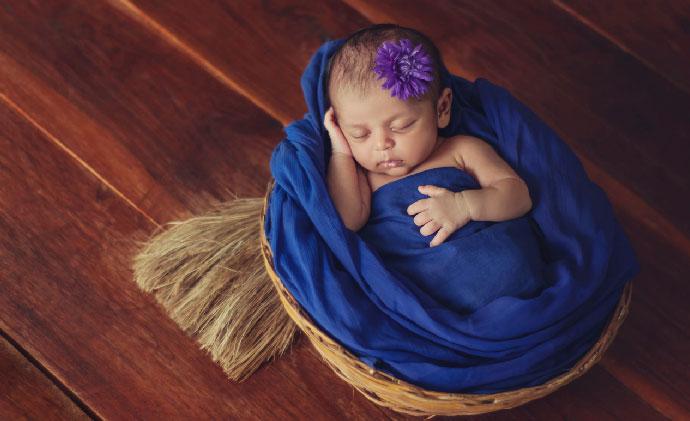 This will make a beautiful image and is not very difficult to plan. The mother can take the photo from the top angle, while the newborn is lying face down on the father's chest or stomach.
2. The daddy's belly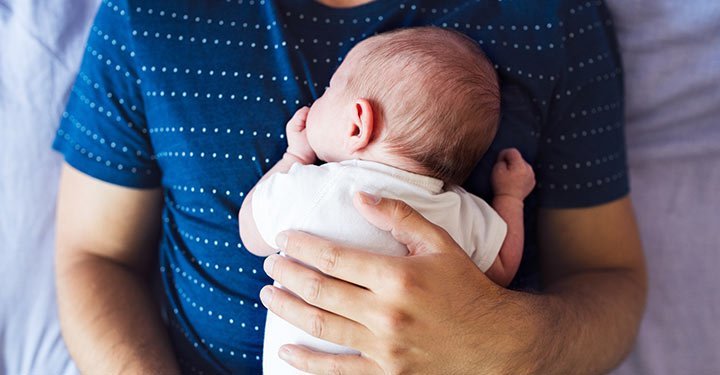 This will make a beautiful image and is not very difficult to plan. The mother can take the photo from the top angle, while the newborn is lying face down on the father's chest or stomach.
3. Flowers and patterns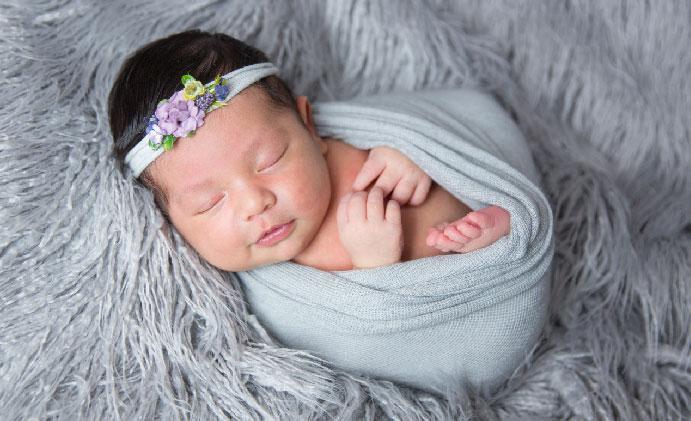 Dress your newborn in light or pastel-colored rompers and place her on her back, on the bed. Ensure the bed is covered in a white sheet. Take a bunch of flowers (carnations, roses, lilies or zinnias) and spread them around your baby. You can also make a heart or circular pattern with the blooms.
Photoshoot ideas for one to three-month-olds
4. The Santa Claus photo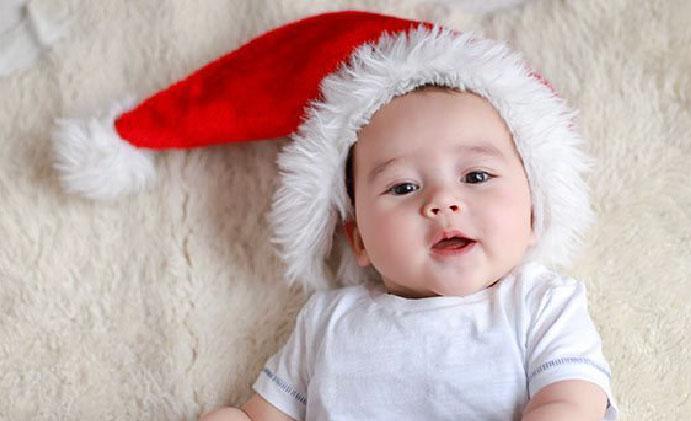 This is a popular shoot especially for babies born around or a little before Christmas time. Place a soft Santa hat (you can either knit or buy one) on your little one's head and dress him in a simple red or white T-shirt. Make him lie on his stomach and look at you when you capture the shot.
5. The sunshine or clouds photo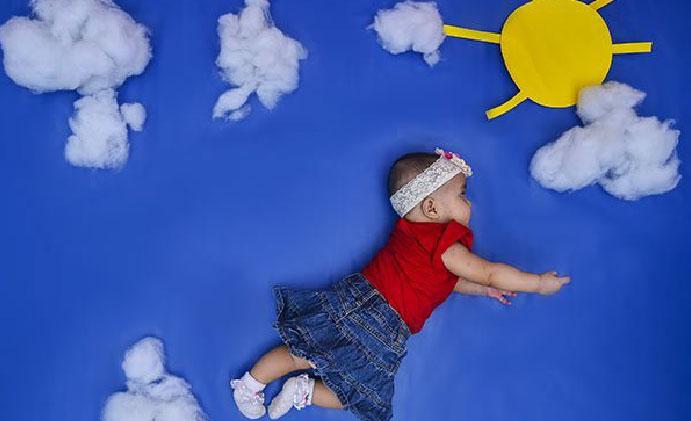 These kinds of DIY portraits have become exceedingly popular among parents as they are easy to execute at home. All you need are some plain colorful bed sheets, cardboard sheets and a few other craft items. Cut out yellow cardboard in the shape of the sun. Place your child on a bed covered with a blue bed sheet and place the cardboard sun on one side of the baby. Shoot your child from the top angle. Go creative with cotton wool for clouds, cardboard rain droplets, the moon or stars.
6. The slate or chalkboard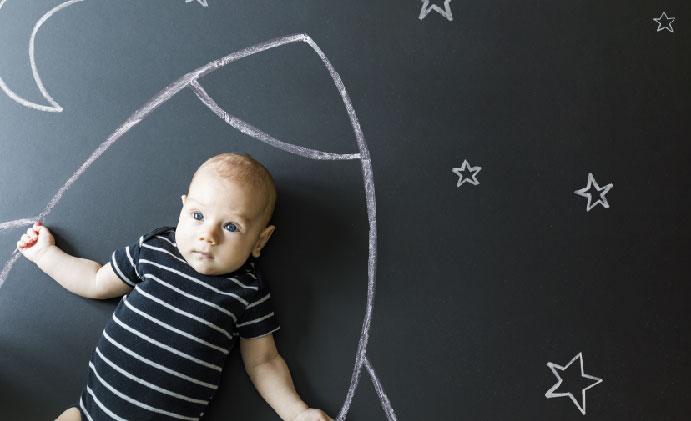 Place your baby on his back on a flat surface and place a slate or small blackboard next to him. Write his name, age, and weight on the board or simply some words to describe the little one. Alternatively, you can place your baby on a surface painted with chalkboard paint and write these details next to him.
Photoshoot ideas for four to eight-month-olds
7. The princess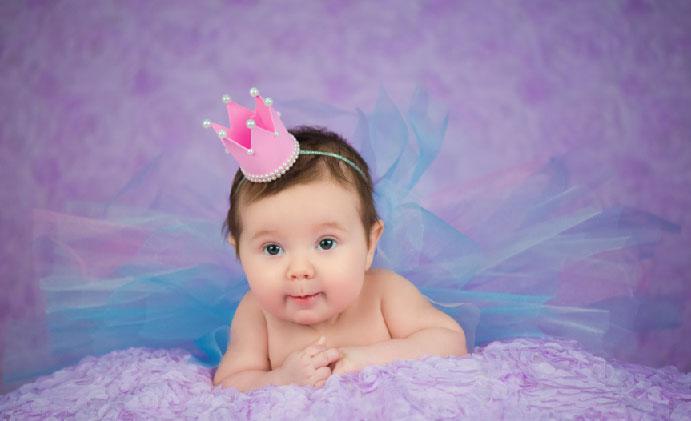 All you have to do is dress up your little bundle of joy in a frilly dress with embellishments; place a tiara or shiny crown-like hairband on her head and position her on a high-backed settee. You can even make her sit on a rug on the floor.
8. The balloon photo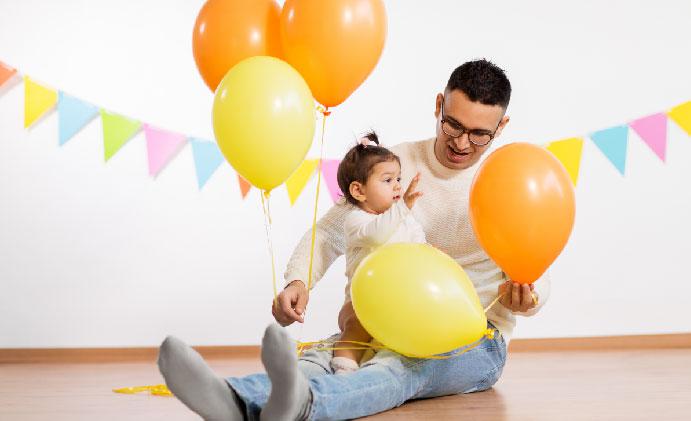 Put your child in a playful mood and make him lie on the bed or sit on the floor. Now, attach some strings to a colorful set of balloons and let your baby hold the ends of the strings. Take natural shots of your baby holding, looking at or playing with the balloons.
9. The sailor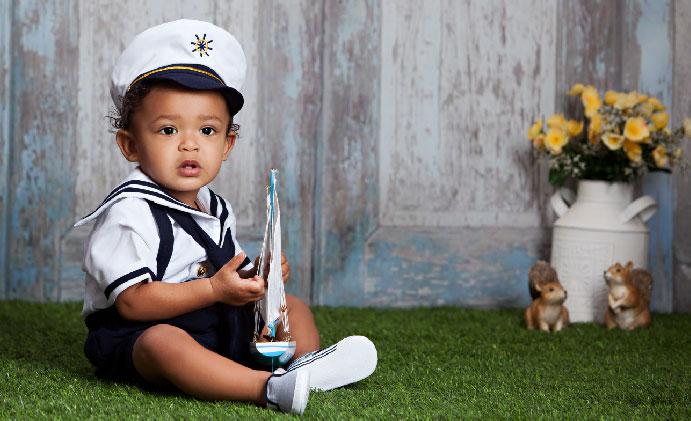 Dress your child in a blue-and-white nautical costume with a trademark collar and cap. Place some toy boats around the little one and capture this cute get-up.
10. The favorite soft toy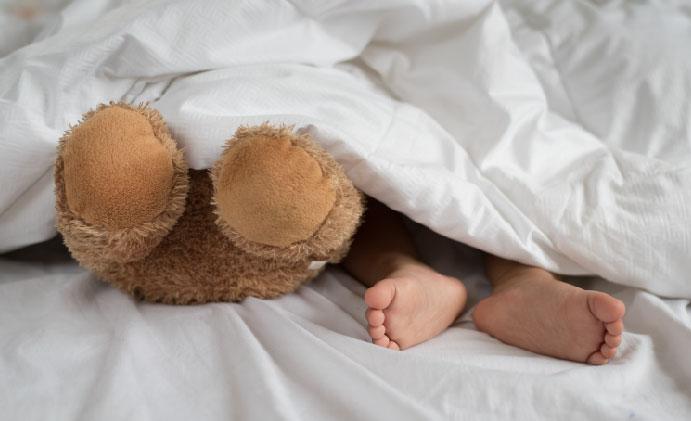 Most babies have a favorite animal toy that they are attached to - a fluffy penguin, a dinosaur or a teddy bear. Make the most of your child's playtime and ask him to pose with his treasured soft toy.
Photoshoot ideas for 9 to 12-month-olds
11. The food photo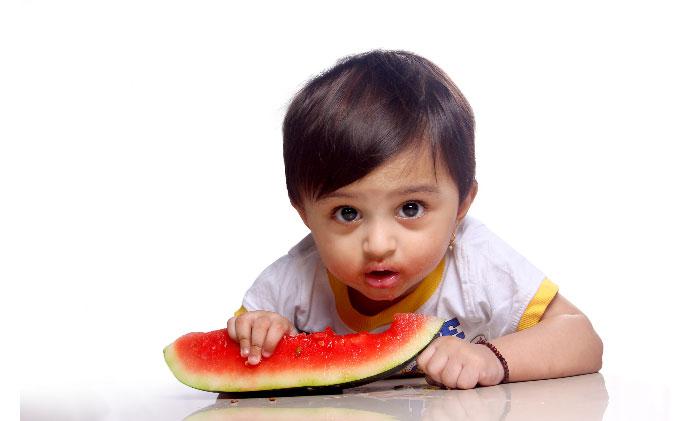 Children make amazing expressions when they taste new food and this is an apt opportunity to get some candid images. Offer your baby foods like strawberries, soft peanut butter and mango puree, and capture the moments when she makes different expressions.
12. The Krishna costume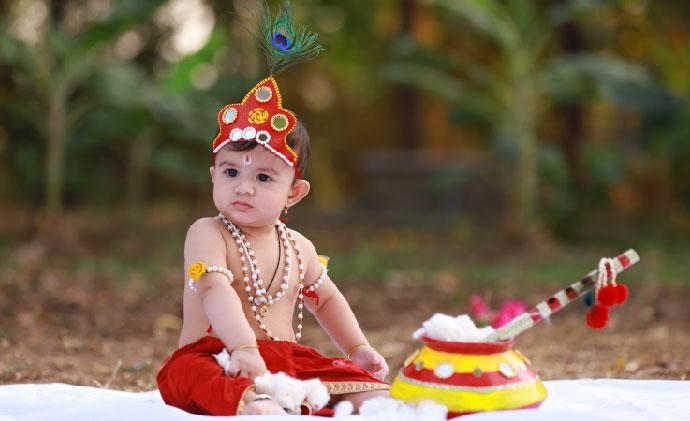 This shoot is popular during Krishna Jayanti celebrations and you can easily pull it off at home. Attach a peacock feather to your child's hair; make him hold a flute; use a yellow-colored stole to dress him in a dhoti (or get a ready-made one); put some shiny ornaments on him and the costume is complete.
Photoshoot ideas for 1+ year-olds
13. The Superman/Superwoman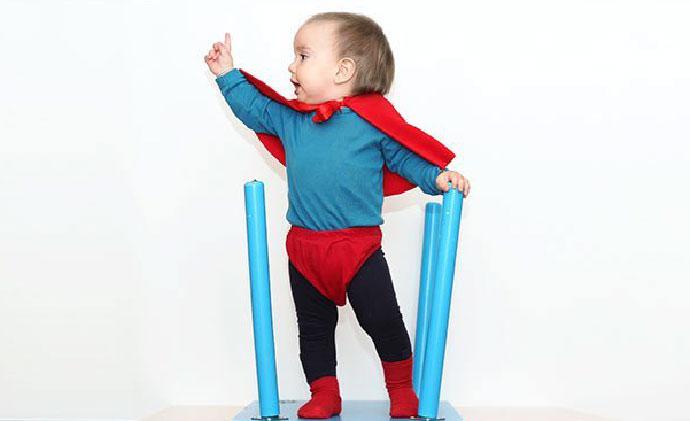 As far as home photography goes, a superhero shoot is popular with parents and kids alike. You can make your own costume complete with a red cape or get one online. Make your little one stand looking sideways with her hands on her hips and take shots from her level.
14. The mirror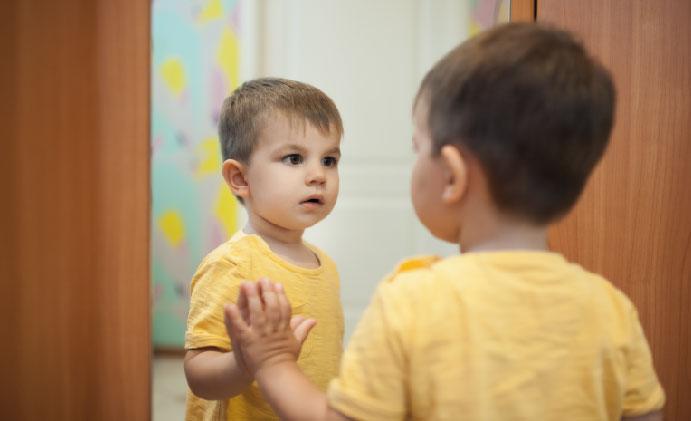 Place a standing mirror on the floor and make your child sit facing the mirror. Ensure there is no clutter around and you get a clean background. Now you can take natural photos of your child's expressions in front of the mirror.
15. The Harry Potter costume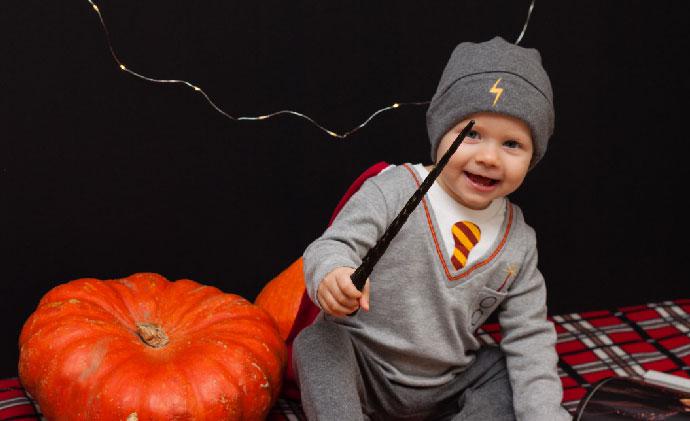 Dress your child up in a black coat and attach a piece of cloth to the shoulders to look like a cape. Make the little one wear toy spectacles with round frames. Complete the look with a magician's wand in one hand.
16. The pet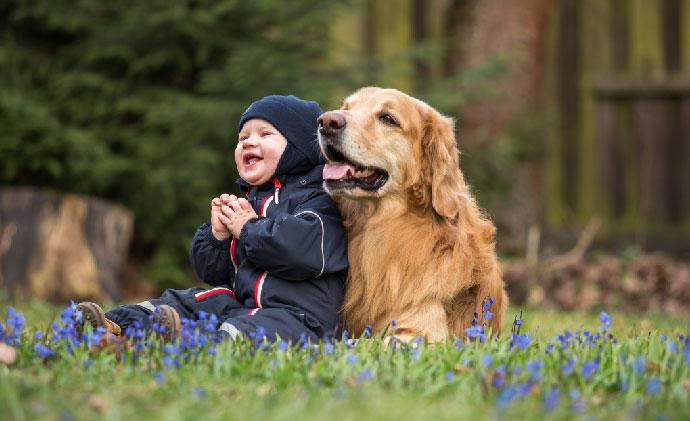 Pets and children make amazing companions and their camaraderie results in stunning photo opportunities. If you have a dog at home, try this shoot. Position your child leaning on the pet, both of them appearing relaxed while seated on a rug on the floor.
17. The candid mother-child photo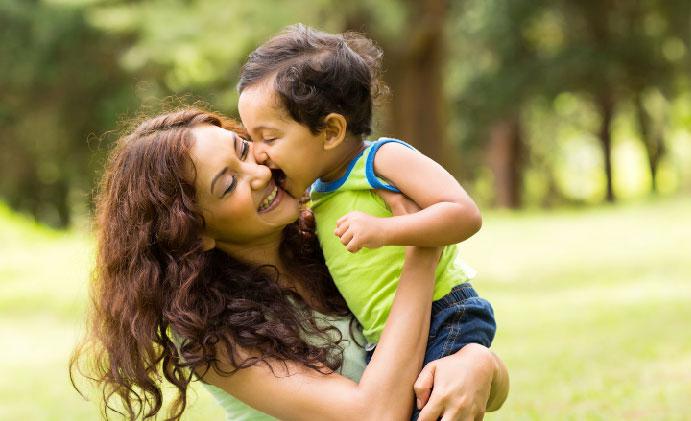 The father can compose some beautiful candid shots of the mother and baby while both are playing on the bed, talking, reading or just having fun. It should be natural and not posed.
Photoshoot ideas for 2+ year-olds
18. The twinning photo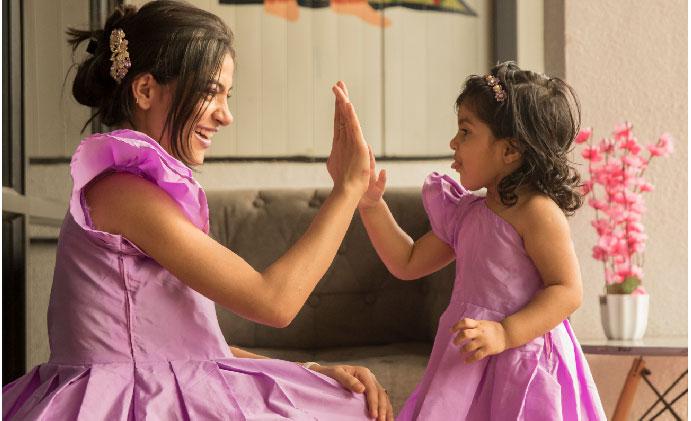 Twinning is a concept that has been trending on social media and is a great idea for a parent-child photo shoot. The parent and child pose together wearing similar clothes, e.g. jeans and a white T-shirt.
19. The older sibling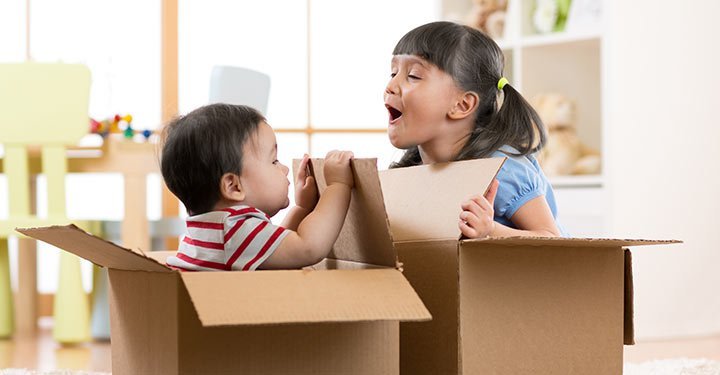 The bonding between a baby and an older sibling can be beautifully captured by a parent. Ensure they are playing or laughing together, or just making faces at each other. They can also be wearing similar-looking garments.
20. The series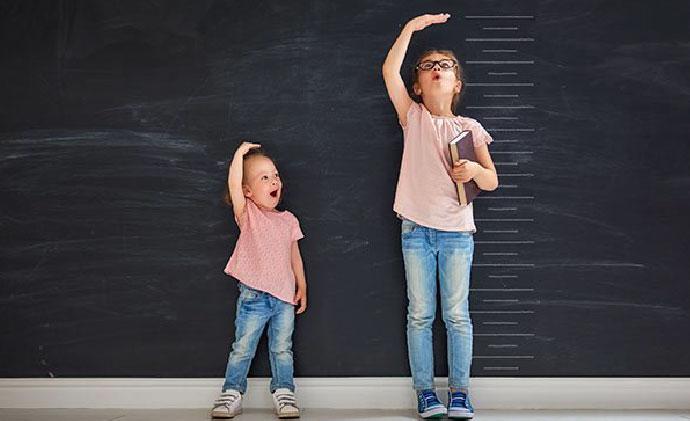 This is a photoshoot idea that not only looks great but also records how your little one has grown over the months. Start by taking a picture of your newborn. Follow it up by taking the same picture with a similar background, every month till she turns one or two years old. You can include elements such as placing a number block next to the child to denote age or make her lie on a height chart to capture how she has grown.
Photoshoot tips to take amazing pictures of your baby
Ensure your baby is in a good mood before taking a picture. If your baby is cranky, wait for a better opportunity.
Prepare to take pictures of your newborn when he is sleeping or when he is about to fall asleep. Make calming or soothing sounds and once asleep, place him quietly in the setting chosen for the shoot.
Plan the shoot according to the baby's feeding and sleeping schedules. Ensure your baby is well-fed, burped and well-rested before starting to take pictures.
Use natural light as much as possible while taking pictures at home, preferably in the early morning or evening. The sun shouldn't be too bright and the sun rays must not hurt your child.
Calming natural light streaming from a window or doorway; a little greenery from indoor plants; and plain flooring with a light-colored rug can make the setting beautiful.
Use calming and soothing colors in the background, on the bed and on upholstery. Let there not be a clash of colors while taking pictures. Light and pastel colors work well.
Avoid clutter around the area where you plan the photoshoot. There shouldn't be people walking around or too many things visible in the background.
Choose a space that is clean, has a plain background and doesn't have too many elements such as decorations, curios, furniture and toys.
Talk to the child or use an interesting or shiny object to help the child focus and stay in one place. Avoid distractions.
Use props such as baskets, rugs, flowers, blankets, blackboards, numbers or letters of the alphabet blocks, soft toys, pretty pillows, woolen throws and similar items to make the composition more beautiful.
Avoid using flash as much as possible while taking baby photos. It can distract the child and hurt her eyes.
Take lots of close-up shots. You can frame some amazing pictures by focussing on different parts of the baby's face.
Acquaint yourself with different photography tools and filters to enhance the photos, once the shoot is done.
Choose interesting and fun costumes for your baby. When dressing up your newborn, use soft, comfortable clothing in soothing colors. Experiment with accessories like sunglasses, caps, headbands, bows, ties and baby shoes.
Take candid and natural photos while shooting the baby with an older sibling. Create a fun atmosphere by cracking silly jokes or making funny faces. Let them play or sing together.
Tips to calm the baby before a photoshoot
Ensure the baby is not hungry
Do not be too fussy or make sudden jerky movements
Take the baby in your arms and rock her lightly
Sing softly or whisper calmly to your little one
Wrap the baby in a soft shawl or blanket
Taking your baby's photographs can be a satisfying and fun experience, as they help you build precious memories. We hope these valuable tips will ensure you have a productive photoshoot session with your child.