Unlike chemical home-cleaning products, natural home cleaners are hard on germs while being gentle on the environment. Try out these easy-to-make eco-friendly cleaners to keep your home spotless
Are you aware that by using commercial home-cleaning products you are putting your family's health at risk? Despite knowing that these products contain harmful chemicals, do you still use them because they are convenient and readily available?
When it comes to cleaning the kitchen, using traditional chemical cleaners to clean the countertops, dishwashers, gas stoves, sink, and kitchen appliances is hardly a wise choice. There is an increased chance of these toxic ingredients contaminating the food, and ultimately compromising your family's health. Small children are particularly sensitive to pollutants in the food, and the chemical constituents present in cleaning products can have long-term effects on their health.
But what if we give you some natural alternatives and tips to effectively clean your home and kitchen without breaking the bank?
5 natural cleaning products to make at home
You can easily prepare natural cleaning solutions at home using environment-friendly ingredients such as white vinegar, washing soda, hydrogen peroxide, vegetable or olive oil, and herbal extractions such as lemongrass oil. Use these homemade cleaning solutions to disinfect the floor, toilets, bathrooms, fabrics, furniture, kitchen fittings and kitchen counter, dishes, and glassware.
1. Homemade dishwasher detergent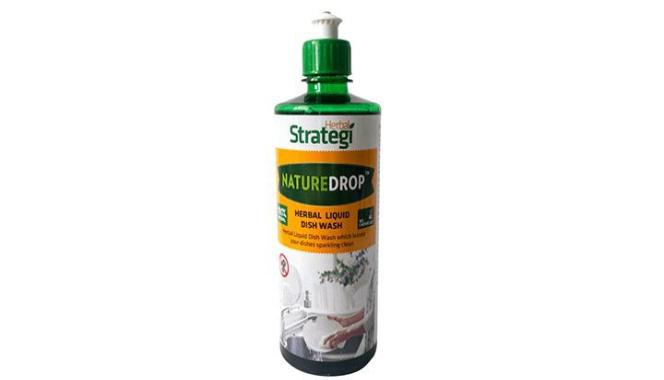 Any detergent that comes into contact with your skin should be free of toxic ingredients. So, it's best to use a nontoxic cleaning agent for cleaning utensils.
To prepare an organic dishwasher liquid, you will need 2-3 lemons, rock salt and white vinegar, and water. Dice the lemons after removing the seeds. Boil the lemons in one cup of water on a low flame. Once the water is reduced, use a blender to blend the solution to a smooth consistency. Filter the solution using a strainer. Add salt and vinegar to the lime extract and stir well. Boil it again until it has a sauce-like consistency. Leave to cool. Use this gel as needed to wash dishes.
If all this seems like too much work, you can buy a herbal liquid dishwasher detergent made with organic, eco-friendly ingredients to effectively remove stains, grease, and germs from your dishes.
2. Natural homemade drain cleaner
To effectively clean a clogged drain or to keep the drain smelling fresh, you need 1/2 cup baking soda, 1/4 cup table salt, 1/2 cup vinegar, and warm water. Mix the baking soda and table salt, and pour the mixture down the drain, followed by the vinegar. This will cause the drain to foam and bubble up. Wait for 30 minutes for the dirt and grease to dissolve. Pour warm water down the drain to flush out the residue. Avoid pouring boiling water if you have a plastic drainpipe.
3. Natural floor cleaner and disinfectant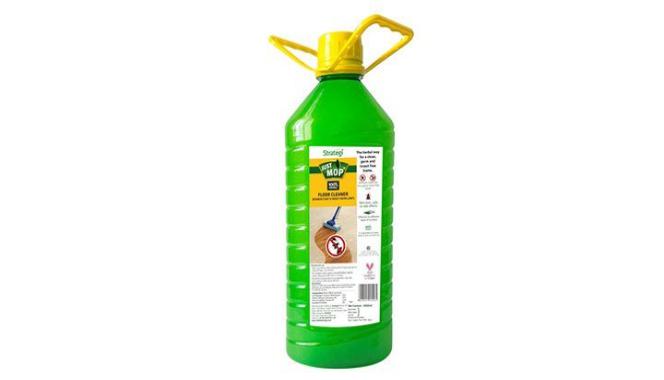 White vinegar, an eco-friendly cleaning product, is very efficient in removing dirt and stains. Also, as it's very effective in killing germs, you can use it to sanitize most surfaces, including tiled floors. To prepare this mopping solution, add 1/2 cup of vinegar and 1/4 cup of baking soda to 2 liters of water and stir well. Add 5-10 drops of essential oil for fragrance. Mop the entire floor using this solution and allow it to air-dry. If you prefer a readymade solution, this non-toxic and biodegradable herbal floor cleaner is an excellent option, as it's made exclusively from natural ingredients and plant extracts.
4. Inexpensive natural lime and rust remover
Are you looking for an effective organic solution to dissolve rust and limescale from walls, stainless-steel fittings, kitchen sinks, and knives? Here are some ideas.
Spray or dab the rusted object or part with undiluted vinegar. After about 30 minutes, you can proceed to rub the rust off with a soft brush. Allow the cleaned surface to dry thoroughly.
Here's another natural solution you can use as a rust remover. Mix some lemon juice with baking soda. Apply it to the rusted areas and let it sit for half an hour. Scrub vigorously with a brush to make the item rust-free. The acid present in the lime also dissolves tough limescale deposits found on chrome fittings and taps.
5. Easy homemade glass cleaner
Use an environment-friendly glass cleaner to remove smudges, dirt, and grease from glass surfaces. To prepare this easy homemade glass cleaner, you will need 1/2 cup vinegar, 1 tablespoon corn starch, and 2 cups of warm water as the base. Mix the ingredients in a bottle and spray over glass surfaces. Rub the glass surfaces with a newspaper to get a shiny and squeaky-clean surface and then wipe with a dry towel. A great example of an environment-friendly glass cleaner is this herbal glass cleaner. This product contains essential oils that remove dirt easily and repels insects as well. Made from 100 percent herbal ingredients, it is a great option for your home and car windows.
Go herbal
So, the next time you clean your home, use the above eco-friendly cleaning solutions to avoid exposing yourself and your family to toxic chemicals. You can also opt for herbal home cleaning products to keep your home smelling fresh while ensuring good health and a clean environment.