The best maternity wear and breastfeeding essentials you can shop right now
Team ParentCircle
2 Mins Read
With some smart buys to see you through the pregnancy and breastfeeding phases, you can now up your style quotient and yet remain comfortable. Check out our curated list of must-buy maternity and breastfeeding wear and accessories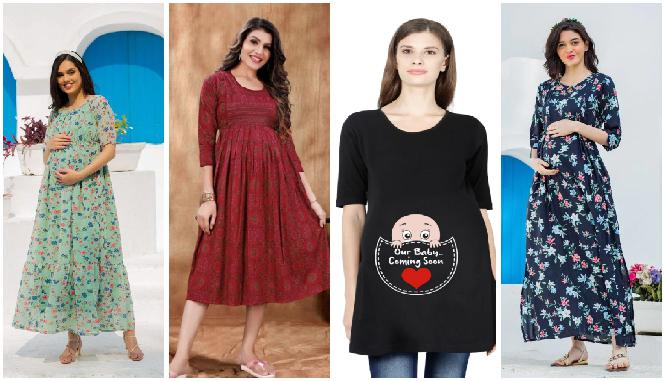 Motherhood and breastfeeding are whole new experiences for a woman. But who says you need to let go of style or comfort when it comes to dressing up after a baby? If you are expecting or a new mom, keep up with maternity fashion with these chic and convenient buys.
Just keep in mind that maternity wear and accessories should always be of good quality, lightweight and made of breathable fabrics.
1. Announce it in style!: Do you want to share the news that you are expecting? Then do it in style. Choose from our range of cute pregnancy announcement T-shirts that will happily do the talking for you. You just need to post a pic of yourself wearing one of these T-shirts, and the T-shirt will take care of the rest.
2. Moms, slay in maternity clothes: Are you one of those parents who thinks that maternity wear is unflattering, and would be useless after the breastfeeding period is over? If so, it's time to check out our trendy range of maternity dresses - breezy, flowy frocks/dresses that you can wear even after the breastfeeding period is over.
3. Dresses that make feeding easy-peasy: Gone are the days when new moms would wear oversized old clothes while feeding newborns. Now, you can still look fashionable while nursing your little one. Designed keeping in mind the needs of nursing moms, these feeding dresses are not just functional but also attractive. Made with cotton fabrics, the dresses could be your go-to style while feeding your baby. They come in two lovely colors, and the combo offer is just too good to resist!
4. Nursing scarves for privacy: Feeling uncomfortable breastfeeding your child in public? You are not alone. Many women shy away from feeding outdoors due to a lack of privacy and end up feeding formula. These stylish nursing scarves would solve that problem, giving you privacy from prying eyes. These multifunctional items can also be used to accessorize your look.
5. Nursing pads to prevent milk leakage: Do you know that breastfeeding moms can have milk leaks even just by hearing or watching other babies cry? Nursing pads come in handy if you also face such issues during breastfeeding. Nursing pads are absorbent disc-like pads that can be placed inside bras to absorb milk leakage.
6. Nursing bras for support: Women's bodies, especially their breasts, go through a lot of changes during pregnancy and breastfeeding. A bra designed to support such bodily changes is a boon for many expecting and new moms. A good-quality nursing bra is a must, as it even reduces back pain and stretch marks. With strategically placed openings, these bras are good to use while feeding in public too.