In an exclusive interview with ParentCircle, Imran Mirza, father of tennis star Sania Mirza, talks about the values he taught his daughter and how much he looks forward to becoming a grandfather.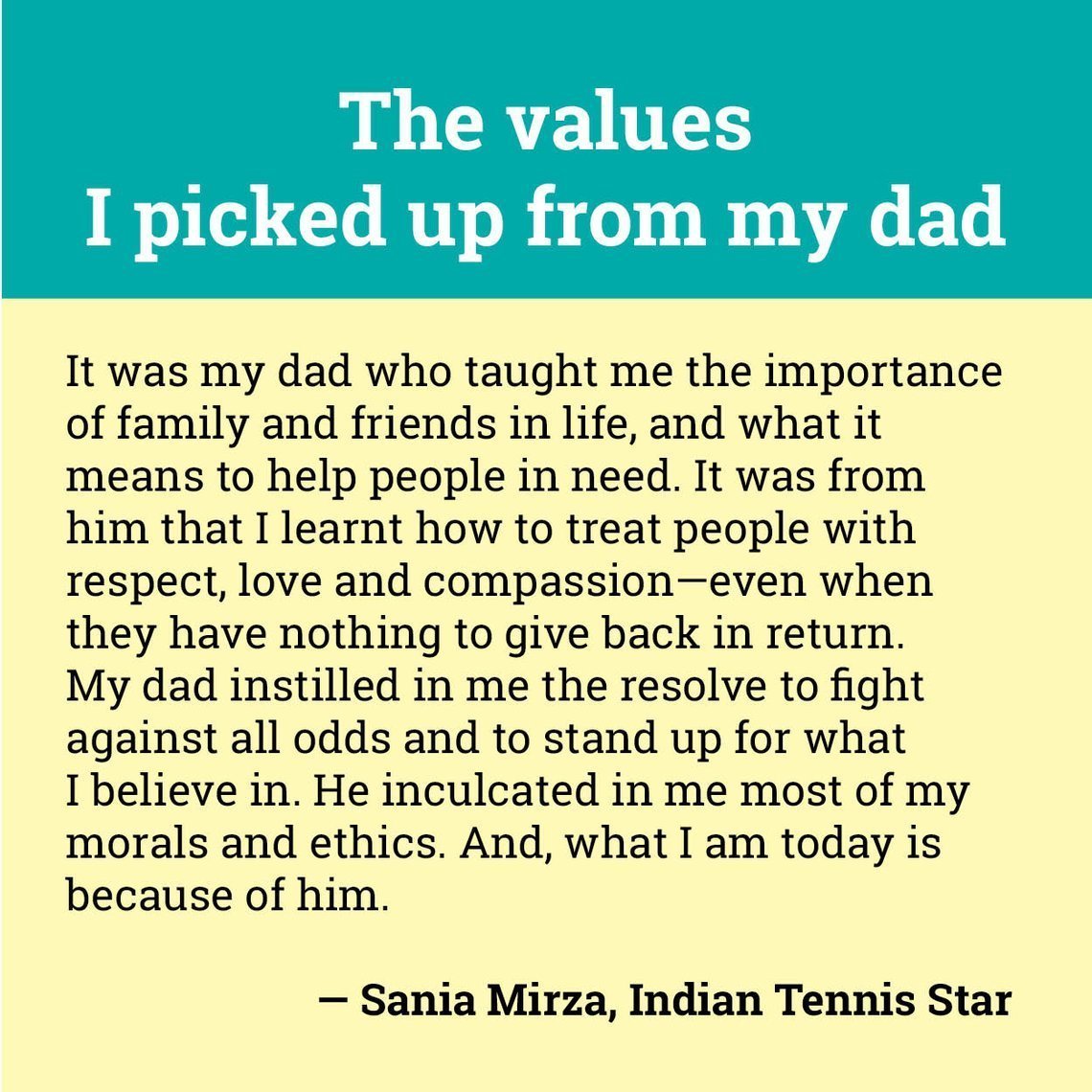 For parents, the most difficult thing to do is to let go of their children as they venture out into the world to make their mark. Watching their children realise their goals and stand tall, fills parents with a sense of pride.

Imran Mirza, father, mentor and coach of Indian tennis star Sania Mirza, saw his little girl pick up the tennis racquet at the tender age of six to grow up to become one of the most celebrated sportspersons of India. He encouraged and supported her through her numerous victories, and stood by her like a rock when she had to deal with controversies and face tough times. For Sania, her dad is not only a source of inspiration but also the individual she credits her success to.
As the ace star gears up to become a first-time mom, the soon-to-be grandfather talks about his daughter's illustrious journey and the values he instilled in her, which helped her become the person she is today.
Here are excerpts from an exclusive interview with Imran Mirza -
The Mirzas are respected for not only the feats on the courts but also for their immense value systems. When Sania started out, what values did you, as a father, teach her about embracing success?
The most important thing I inculcated in Sania right from the time she picked up the racquet was to try her best at all times and never give up. I taught her not to bother about wins or losses. Victories were not something to overly exult about while losses were lessons to learn from. I believe that not attaching too much importance to results took away the pressure of winning from Sania and shaped her temperament - teaching her to be fearless and to always give her best. I taught her to respect her opponents and to never hero-worship them. So, even when she played against Serena Williams or Martina Hingis, she believed she had the ability to match them and proved it by her performances on court.
I believe that, at the highest level of sport, it is aggression under severe pressure, along with consistency, that ultimately decides the winner. Therefore, I was adamant about ensuring that irrespective of whether Sania won or lost, she remained aggressive in her formative years. I stressed on the spirit of fair play. Also, I told her that she should enjoy and relish the privilege and sheer joy of being a sportsperson, and the struggles that come with that role. I also taught her that if she believed in herself, was ready to bounce back from disappointments and win big, life would give her many chances. And, it was up to her to grab these opportunities.
Sports, as a discipline, needs single-minded focus. What did you teach her about mastering the art of self-discipline?
Not just in sports, but in every sphere of life self-discipline is needed. I feel that if a child wants something badly, the ability to focus will automatically come from within. Sania knew exactly what she wanted. Once she set her goals, she was always willing to go the distance and work with single-minded dedication toward achieving them. All I needed to do was to ensure that Sania continued to love the sport and craved to make it her profession. Everything else just followed.
Controversies, adversities and losses are a part of any sportsperson's professional life, and Sania has had her share of them. What did you teach her about facing criticism and failure?
The spirit of fighting against the odds was something that always inspired me in my life during my own personal struggles, which began when I was barely out of my teens. I believe that overcoming failures and bouncing back from lows like career-threatening injuries are the true tests of human character and, as a family, we took pride in facing those challenges. It was ingrained in Sania's mind that along with success, failure was also a part of a sportsperson's life. When losses were not treated as something to feel depressed about, it became easier for Sania - the tennis player - to push herself and fight back in difficult situations. As far as criticism is concerned, we taught her that, if she was right and was convinced about her stand, there was no need to worry about what others said.
Because of her illustrious career, Sania always received a lot of media attention. And, she has received both positive and negative comments. What did you teach her about good sportsmanship and not letting all the attention affect her game?
Good sportsmanship is very important to us even though we want her to play the game hard. No opponent in the last 25 years has ever pointed a finger at Sania for being unsporting and that, in itself, tells a story. We wanted her to play tennis because of her love and passion for the game - never for fame or money. Hence, what the media said was never important. There were times when there was a lot of negativity in the press. During such times, Nasima and I would form a cocoon around Sania; so, what was written and talked about her never reached her.
As a father, it might have been difficult to see your little girl go through a tough phase. What advice did you give her about overcoming obstacles and learning to stand her ground?
I have always loved a fighter - whether in sports or in life. I have overcome a lot of hurdles and bounced back from difficult situations when I was very young. So, I took a lot of pride in watching my girl fight her way through difficult situations. Sania always knew that, come what may, her parents would stand by her through thick and thin. The only advice we gave her was to stand up for what was right and fear nobody, while fighting every inch of the way. Success and failure is in God's hands.
From being a daughter and sister, to a wife and now a soon-to-be mom, what have you taught her about relationships and the value of family?
For us, family is very important and we are very close as a unit. When we are together, we spend a lot of time bonding, joking, laughing, having fun and pulling each other's legs. Relationships are the essence of life and are very dear to us. Each member of our family has a wonderful circle of friends and they are all very important to us.
What have you taught her about the role of a parent, as she is soon about to become one herself?
A child needs to know that her parents are always there for her - through success and failure, and through good and bad times. As parents, we have tried to always stand by our children without being overbearing. We have guided them in achieving everything that they are capable of and let them become individuals who also uphold the values that are important to us. I am sure Sania will carry on this tradition when it comes to nurturing her own children.
As a new parent and a professional, what's your advice to her about managing time?
By nature, I think women are experts in multitasking and I am sure Sania will do a great job of balancing her time between her child and her career. Of course, when the occasion demands, it is the child who must be given the top priority and precedence over everything else. That is the way my wife and I have lived our lives, and I expect Sania to do the same.
You have been her coach and role model for a long time. Now, which role would excite you more - that of a father or a grandfather?
As a father, you love your child, but there is always the responsibility and the pressure of making sure the child is properly disciplined and learns the right things in life. I think as a grandfather, all I need to do is to give the child all the love in the world and spoil him or her as much as I want to. I can safely leave the tough part of disciplining to the parents!
Looking for expert tips and interesting articles on parenting? Subscribe now to our magazine. Connect with us on Facebook | Twitter | Instagram | YouTube