In today's world of instant rewards, how does a child learn the value of money? We present an exclusive conversation with Holly Reid, a best-selling author and a renowned global personal finance expert
"I was petrified when my five-year-old son asked me why I needed to work hard when there are ATMs full of money," says Nicole, a working mom living in Toronto. Nicole's reaction is understandable. We do live in a world where our children feel money is a 'natural resource'. Very different from our times when we knew getting our shoe repaired had a direct correlation with actual hard cash payments and a healthy relationship with money. So, what does it take to inculcate healthy money habits in children these days? To talk about this subject, we have one of the finest names in the personal finance world, Holly Reid - the author of Teach Your Child To Fish: Five Money Habits Every Child Should Master.
Holly is a certified public accountant, an award-winning author, speaker, and financial literacy educator dedicated to helping adults and the next generation manage their finances in responsible ways. She is the founder of The Master Playbook, LLC which was created to connect her passion for personal finance and her faith.
As a personal finance advocate, Holly is on a mission to motivate, inspire, and help others break the cycle of paycheck to paycheck living and create a legacy worth leaving. Holly's philosophy is grounded in the basic principles of living debt-free, saving for the future, and investing wisely. She believes each person has the power to create a healthy financial future.
When we contacted Holly for a conversation, despite her busy schedule, she promptly agreed. Her responses reveal why she is such a crusader when it comes to the importance of teaching children to manage money wisely.
This interview is based on her book, Teach Your Child To Fish: Five Money Habits Every Child Should Master, an easy-to-digest playbook that provides guiding principles and practical activities to teach children money management concepts.
Here are excerpts from a truly engaging conversation. It's a ParentCircle Exclusive:
Q: Thank you, Holly for agreeing to do this interview with us. It is an honour for us to be interacting with you.  First up, in your book 'Teach your child to fish' you talk about important money lessons every parent should teach their child. What prompted you to write the book?
A: Teach Your Child to Fish was born from my personal experiences of overcoming and paying off over $20,000 in debt.
When I was younger, I was told a lot about what not to do with money, but I didn't have a roadmap to manage my money wisely.  Once I became debt-free, I wanted to give other people a playbook they could use to teach & practice healthy money habits early in life.
My hope is that Teach Your Child to Fish will be used by families around the world as a resource that they can refer back to again and again as their child matures and grows.
Q: The #1 money habit is learning the importance of hard work. How can parents inculcate the habit of hard work in children?
A: Parents should consider assigning each child a household chore, or something they are solely responsible for managing, to instill the hard work habit.  The key to this money habit is to hold your child accountable for completing the task or chore.  Make sure it is completed to your satisfaction and then, promptly reward them, whether through praise, a treat, or some other reward you deem reasonable and appropriate for their age.
Q: Are today's children unable to link money to hard work? In this age of instant food ordering, online shopping, buy now-pay later…the message that goes out to children is that everything comes easy…
A: With all of the conveniences we have in our society, you are right, everything appears to come so easy.  It highlights just how important it is for parents to associate hard work with being rewarded as soon as they can.  Start with chores but carve out time to explain how the 'work hard and be rewarded' habit also applies to their school-work and working outside of the home as well.
Q: The #2 money habit is spending wisely. How can we encourage our children to spend consciously, especially as they are exposed to millions of advertisements every day? 
A: We can begin teaching children to spend consciously by exposing the 'marketing tricks and tactics'. That should be done at an early age.  When watching television, make your children understand the difference between the scheduled program or movie, and a commercial or an advertisement.
When searching online, draw their attention to the Internet advertisements that pop up on their screen, or follow them from one site to another. Teach them that advertisements are designed to influence how and where they spend their money.
Q: Should we deny our children some things even if we can afford them?
A: It's tempting to give our children everything they want, especially when we can afford it; but a good parent has to be the bad guy sometimes.  Denying our children teaches our children how to prioritize and deal with disappointment – two very important lessons when it comes to establishing healthy money habits.
Q: What does encouraging your child to get his shoe repaired have to do with inculcating money habits? 
When teaching your child to spend money wisely, they need to understand the trade-offs or opportunity cost of making certain decisions. Encouraging your child to have a shoe repaired versus purchasing a new shoe in order to have more money for other things, begins to teach your child that they have options, and can make different choices to keep more of their money in their pocket.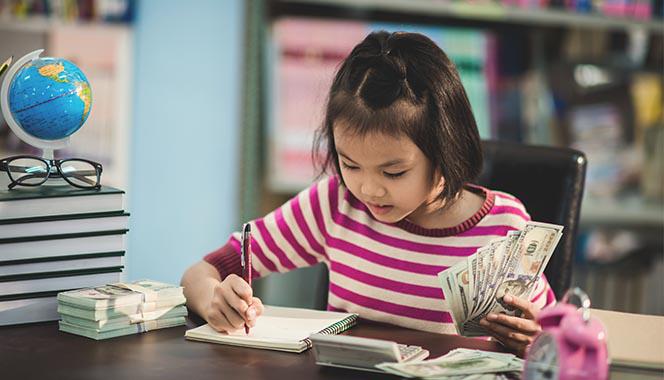 Q: Can you suggest some simple activities to make budgeting an interesting concept for children?   
A: Introduce budgeting to your child by sharing three simple categories of spending: 1. Save 2. Spend 3. Give.  With a sheet of paper for each category, ask your child to draw pictures or cut out images of what they would save their money for, spend their money on, or where they would like to give (or donate) their money.
Another simple activity includes allowing your child to help you plan a shopping trip.  Together, make a shopping list of everything you need to purchase for meals.  Allow your child to participate and have them specifically write the items they would like to eat for breakfast or lunch. Help them think through everything they may need and make a list that can come along on the shopping trip.  After they make the list of everything they want, tell your child that they only have a specific amount in cash to purchase the items. Using that amount, allow your child to prioritize what stays on the list and what is eliminated depending on how much you can spend.
Q: The #3 money habit you talk about is saving. When we were children, the idea of piggy bank was used to teach us the concept of saving. Has it become non-existent today?  
A: Piggy banks are still useful tools to teach children to save money, but you can also use an envelope or a jar.  When they are younger, where children put their money is not as important as practicing the savings habit itself.
As adults, we all know saving money can be hard.  In fact, the savings habit may be the most difficult money habit to master because it requires discipline and self-control – which takes a lot of maturity and practice.
Similar to anything else your child is trying to master – learning a new language, dancing, or playing a sport - they must spend focused effort and energy practicing and BUILDING that muscle. It's the same with saving money.
I have found that teenagers have a little more motivation to save their money when it is attached to something they really want or desire.  Determine what it is - a trip, a cell phone or a gaming system, and help them begin to save for it.  Incentivize them to save their money by offering a savings match.  For example, if they save 60%, you will help them with the remaining 40%.
Q: What would you say to a parent who isn't well-versed with financial management? Or to a parent who finds himself in debt? How can they be still good role models for their children? 
A: First, I would say 'I understand'.  Money management can be very intimidating, and we've all made mistakes or have been in circumstances where we had to take on some debt.
As a parent, don't be afraid to share your personal money missteps with your child. Some of the most important lessons in life are learned from our mistakes. So, take those mistakes and circumstances and turn them into teachable moments for your children.  Share with them the lessons you've learned so they can avoid making those mistakes in the future.
Q: You just made a fine point about talking to children about money mistakes. That brings me to the #4 money habit - teaching children to use credit wisely. Why is that important?
A: I included 'Using Credit Wisely' in the book because our children may be the first generation to live in a cashless society, and we need to prepare them for that.  Pre-teens and teenagers need to understand what credit is and how credit works before they leave and are out on their own.
Because credit is still one the key decisions for bankers, landlords and even potential employers, understanding and building credit is no longer a choice.
A simple way to explain the concept of credit is to explain what it means to borrow something from another person.  Whether it's a pencil, a tool or money, when you borrow something, you must give it back or face consequences.  When it comes to borrowing money, those consequences look like late fees and interest penalties.
Q: In your book, you talk about the 3Ts of giving and that includes time… 
A: The three Ts of giving are Time, Talent and Treasure. They teach our children social responsibility.  Here's how you can master it:
Time: Once children finish school, and their responsibilities at home, I encourage them to spend at least 2 days a month volunteering and doing something for others
Talent: We all have a special gift or skill to give and share with other people.  Our children can use their natural talents and abilities to contribute to a greater cause.
Treasure: This includes Money or material possessions; Connect giving with their interests and they can donate toys, books or money to support a cause or organization they are really interested in.
Q: Why did you choose the title 'Teach your child to fish' for your book? 
A: The title of the book is inspired by a Chinese proverb that says, "Give a man to fish and he'll eat for a day, Teach a man to fish and he'll eat for a lifetime". As parents, we all want the very best for our children. It's easy to just give them the world, but I believe we must teach and prepare our children for the world so they can go farther and faster than we ever could.
In a nutshell
Teach your child the value of hard work. You can inculcate this value by assigning chores to your child and making sure that they are completed to your satisfaction
Teach your child to spend consciously from an early age by discussing the motive behind marketing tricks and tactics
Don't be afraid to share your personal money missteps with your child. Some of the most important lessons in life are learned from our mistakes
Piggy banks are still useful tools to teach children to save money, but you can also use an envelope or a jar
Teach your child to use credit wisely. A simple way to explain the concept of credit is to explain what it means to borrow something from another person
Savings habit may be the most difficult money habit to master because it requires discipline and self-control – which takes a lot of maturity and practice
Teach your child the three Ts of giving- Time, Talent and Treasure- which instill social responsibility
What you can do right away
Give your child three sheets of paper, one for each category - Save, Spend, and Give. Ask your child to draw pictures or cut out and paste images on the sheets of what they would save their money for, spend their money on, or where they would like to give (or donate) their money
Incentivize your teen to save money for something she really wants by offering a savings match.  For example, if she saves 60%, you will help her with the remaining 40%
Prepare a monthly budget for your household expenses and involve your child in the planning and budgeting process