Tired of watching your child whiling away hours on gadgets? We have a solution for that! Here are some traditional games that will not only engage your child but also sharpen her observation skills
Even today, when our grandparents talk to us about their youth, the joint family system and the rituals they followed, we enjoy the conversation. An interesting conversation would perhaps center around how they spent their free time in those days when there was no entertainment.
There were no video games or television. There was no cricket, but gilli danda and there was no Ludo, but dayakattam. These are games that teach us something about our culture and traditions and these games sharpen our observation skills. When we visit temples, how many of us notice these games etched on the temple walls?
"I'd been to a temple in Belur for research. We discovered a stone block on the inside of the well which had the game of aadu puli attam etched on it! The workers must have played the game on it and used the stone later for the well," says Raghu Dharmendra from Mysore, who has been researching traditional games for over a decade.
Many games have been found scratched/etched on the ceiling, and terraces of temple gopurams, walls, pillars and even floors!
The well-known Kapaleeshwar temple in Chennai also has such evidence of people amusing themselves in its precincts.
"Dayakattam, dahdi, ashta chemma and many more games can be found in just this one temple, though others like the Marundeeshwarar temple and Sri Dhenupureeswarar temple also have such exhibits," says Vinitha Siddharth, who runs Kreeda. Kreeda is an organization in Chennai, which is working towards popularizing traditional games among students and corporates.
Some of the games have also spread to other countries.
"In those days, the considerable exchange happened through trading routes. People used to travel for years together. They lived and even married while traveling. That is how people from other countries started playing these games and have adapted some of them into their own culture," explains Vinitha.
It's difficult to date the origin of these games, many of which were devised by combining the elements of chance and strategy. Dayakattam, for instance, has been in existence from the days of the Mahabharata when the Pandavas lost their kingdom and their wife Draupadi to the Kauravas; King Nala too lost his kingdom similarly, to a cousin.
Ever heard of the name parampada sopanam? This is the traditional version of Snakes and Ladders, played by the kings in the olden days.
"Parampada sopanam means steps to the highest place. It was believed to be symbolic of a man's attempt to reach God," says Kamala Gopalan, a traditional games expert. "There are little known games like pandi (hopscotch) we loved playing. A game I fondly remember is the puliamkottai aattam where we would blow a group of tamarind seeds in such a way that one seed would not touch the other," she adds.
Keeping the games alive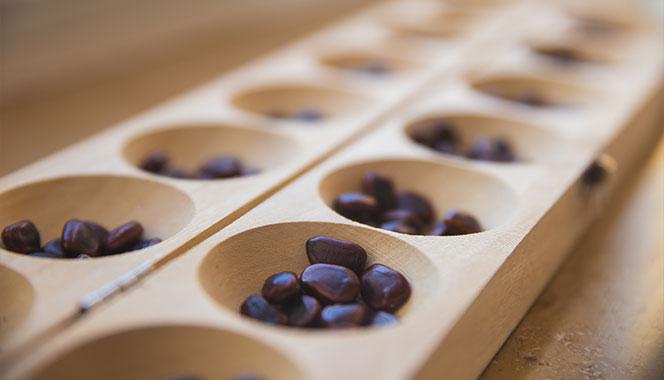 "These games teach adults and children life skills, apart from the sheer pleasure of playing them. In the olden days, whole families used to sit together even if there were differences or disagreements among them and play these games." - Vinitha Siddharth, founder of Kreeda.

The old folks in the villages are still playing these games and keeping them alive. As Raghu has blogged,
"Further south from Nanjangud towards Chamarajanagar is the small village of Hemmaragala. It's sole claim to fame is the ancient Sri Santana Venugopala Swamy Temple. The cement flooring here is marked with half a dozen game boards. The well-used glistening floor and the shallow pits of the game boards give away the fact that the place is a haunt of gamers... The villagers were surprised by the interest shown by me to learn the games... An unwilling Rangaswamy, a man in his fifties, has decided to be my opponent (aadu puli aattam)... It looked like the honor of the entire village was at stake... Rangaswamy's folks are delighted by his win. Later, I learned that this village has several experienced gamers who play for hours at a stretch during their spare time when agricultural activity is at a bare minimum."
When it comes to the revival of these games in the city, there are a few organizations that are working hard to popularize them among the urban crowd. Kreeda, for example, holds workshops in schools and corporate offices to spread these games.
"These games teach adults and children life skills, apart from the sheer pleasure of playing them. In the olden days, whole families used to sit together even if there were differences or disagreements among them and play these games," says Vinitha.
Kreeda is working on developing more such products. The employees often visit old age homes to learn more about these games.
Kreeda Kaushalya, based in Mysore, of which Raghu is a part, is another organization that actively hunts around for traditional games with the sole intent of reviving them. The organization holds exhibitions of these games every year for people to get to know about them. Through such exhibitions, the team at Kreeda Kaushalya also gets to learn more traditional games.
Raghu has blogged about one such incident.
"On the third day of the exhibition, in walked a group of three ladies with five children... the boisterous group learned a few games and shared with us one of their own. Quickly a game board was sketched on the back of a calendar print using a scale and pen. the game was almost like Vimanam… 12 pawns were placed in both homes, a pair of stick dice started to roll. the game took almost two hours to finish."
Kavade is yet another organization in Bengaluru that sells these games and also conducts workshops and tournaments. "I also conduct classes at Kavade for children. They sit with me and learn the games patiently. They are all curious about these games and they love playing it," says G S Sreeranjini who runs the place.
There are many more games waiting to be discovered if only people keep their ears, eyes and minds open.
Parents speak
"In the US, I had very little access to traditional games, which I had always liked. When I came back to India, I started playing these games with my children. They totally got hooked on to it. We make it a habit to play such games during the weekend. Today, traditional games are a huge hit even in parties. During my son's thread ceremony, we had a separate area where the children could sit and play these games. There are some weekends when I may not be able to play, but my children never forget and continue this tradition.
"We've discovered more games in temples that we've visited but are still figuring out the rules of the game," says Vinitha.
The games played
Games played for concentration: Aadu puli aatam, pallanguzhi
Games played for strategy: Ashtaa chemma, dahdi, chaturvimshathi koshtaka, panch kone, and chaupad
Game to recognize numbers: Paramapada sopanam
Games that require hand-eye coordination: Gilli danda