The Art Of Public Speaking — A Useful Skill To Help Your Child Get Ahead In Life
V Saravana Kumar
6 Mins Read
Want to improve your child's public speaking skills? Here are some useful tips on public speaking and how to select the right public speaking topics for kids.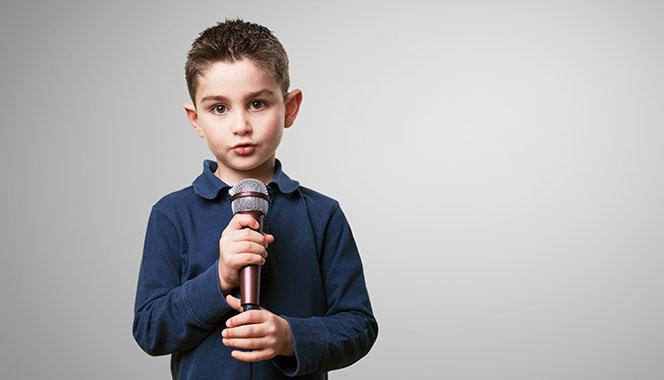 "Speech is power; speech is to persuade, to convert, to compel." - Ralph Waldo Emerson
Yes, such is the power of speech. Therefore, of all the key life skills, public speaking is a very important one for kids.
Effective public speaking is an art that can keep the listeners spellbound. Great speakers around the world have touched the lives of millions of people through their engaging and enthralling speeches. An example is Swami Vivekananda's inspiring speech at the World Parliament of Religions held in Chicago in 1893. It is still remembered as one of the most spirited speeches in the history of mankind.
Benefits of public speaking skills
So, why is public speaking for kids such an important skill? Let's look at some of the benefits of the art of public speaking for children:
Makes them feel confident in communicating with others
Helps them overcome the fear and anxiety associated with voicing their opinions
Encourages them to improve their reading and listening skills
Improves their academic performance and overall knowledge
Enhances leadership and management skills
Teaches planning, discipline, and time management
Promotes logical and analytical thinking
While the art of public speaking comes naturally to some children, most get nervous when asked to speak before a gathering. If your child is reluctant to speak in front of others, or you want to improve her public speaking skills, here are a few vital tips:
Listen to speeches: The best way to acquire public speaking skills is to learn them from those who have mastered them. So, take your child to public events where eminent speakers deliver their speeches. If this isn't possible, have your child listen to good public speakers online. This could ignite in him a passion for public speaking.
Read a lot: Reading is the best way to learn new words and ideas. It also helps in understanding how to frame phrases and sentences. Reading aloud improves diction and expression. Encourage your child to read a lot of books and newspapers. This will not only strengthen her vocabulary but also make her speak with clarity.
Train with peers: Ask your child to become a part of, or get together a group of children interested in public speaking. You can allow the group to meet regularly at your house. This way, the children can listen to and learn from each other's speeches, give feedback, point out mistakes, suggest ideas for improvement, and become more confident. You can also become a part of the group and act as a guide.
Learn to tell stories: Stories always sound interesting to listeners. Any public speaker who has the skill to weave little stories in his speech endears himself to the audience. Encourage your child to read a lot of stories. Usually, stories from sources like the Panchatantra, Jataka Tales, Aesop's Fables, and Arabian Nights come in very handy. Also, teach him how to connect these stories with his speech.
Be humorous: When everything else fails, humor comes to the rescue. A good public speaker delivers a humourous punch to lighten the mood and reconnect with the audience, especially when they begin to show signs of disinterest. Let your child practice the art of cracking a joke in the middle of a speech. For this, she needs to note down good jokes whenever she comes across them, and use them at appropriate times during her speech. She should also develop a natural sense of good humor.
Utilize opportunities: Tell your child to utilize every opportunity to address an audience. The best place to do this is his school. Encourage him to address students whenever his teachers ask him to do so. He can also participate in elocution competitions, debates, and discussions to hone his skills.
Practice speaking: This is probably the most important tip. Everything gets better with practice, and the same applies to the art of public speaking. Ask your child to speak standing in front of a mirror, pretending to address a large audience. This will help him improve his pronunciation and accent, and fine-tune his body language which is vital in impressing the audience. He can also record his speech, play it back and listen to it. This will help him better his speaking skills.
Role of Schools
Schools can play a big role in developing the public speaking skills of students. Although it is not a part of the usual curriculum, public speaking can be promoted as an extra-curricular activity. Here's what schools can do to popularise public speaking for kids:
Organize oratorical and debate competitions in the school, and make students participate in inter-school competitions
Stock up the libraries with books that help students develop speaking skills
Make students listen to speeches of great public speakers
Invite prominent speakers to conduct workshops on public speaking
Encourage students to actively take up public speaking, by offering academic weightage to the skill
Public speaking topics for kids
Here are a few topics that your child can choose from, for practicing the art of public speaking:
Topics for Kindergarteners
Who am I?
Me and my family
Topics for Primary Schoolers
Why I love my parents
Visiting my grandparents
All about my friends
Topics for Middle Schoolers
My favorite game
What I want to become
The foods I love
How do trees help us?
Caring for our pets
My favorite cartoon characters
What I do on a Sunday
Never tell a lie
Topics for High Schoolers
Our last summer vacation
If I were a (doctor, politician, teacher, businessman, etc.)
Saving nature
Helping the poor and the underprivileged
Things that make me happy/angry
How to tackle global warming
My favorite tourist spot
A funny experience I had
Thank you, teachers
How does it rain?
What's in our universe?
Swami Vivekananda's teachings
The importance of farming
Telephones to cell phones
The rivers of India
The life cycle of a butterfly
How do things float on water?
All about the Indus Valley Civilization
Moral stories from Panchatantra
The health benefits of vegetables
How is a rainbow formed?
The greatest scientific invention
Effects of pollution
Health is wealth
A stitch in time saves nine
The importance of punctuality
Ruskin Bond and his stories
My most memorable train journey
United we stand; divided we fall
Hockey legend Dhyan Chand
How do airplanes fly?
The festivals of India
Fortune favors the brave
My favorite subject
An interesting dream I had
Say NO to plastics
Dr. Abdul Kalam - The people's president
Pros and cons of e-commerce
Popular American speaking coach and author Nick Morgan says, "The only reason to give a speech is to change the world." If you want your child to become a public speaker who can change the world, follow our tips to help him sharpen his oratory skills. Who knows, one day your child might inspire the world and enlighten society through his speeches.