Interesting activities to introduce children to the amazing world of Indian handicrafts
Sahana Charan
2 Mins Read
The handicrafts of India reflect the rich culture of the country. Children can learn a lot about their heritage and parents can facilitate this by doing these engaging activities with their kids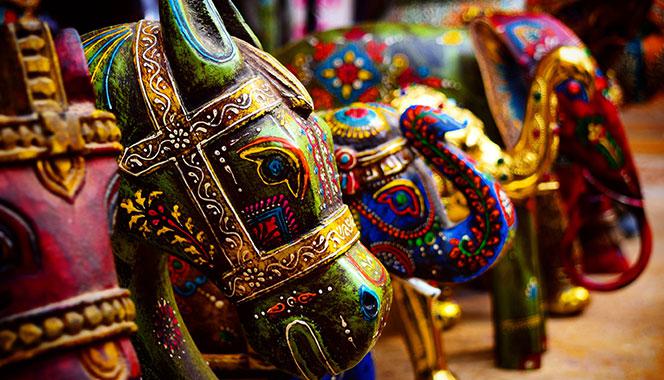 Did you know that India is home to two million artisans who work in the carpet-making industry? Or that the intricate Bidriware of Karnataka has its origins in Persia? Handicrafts are unique to every region and involve intricate craftsmanship and painstaking work.
Here are some interesting activities to do with your children to introduce them to the world of Indian crafts.
Visit a weaver or artisan's village

There are certain places in India that are home to artisan families who work together on a particular craft such as stonework, lacquer, zari work, wood carving, pottery, and so on. Your pre-teen or teenager will have a great time learning about intricate craftsmanship directly from the artisans. It will educate them about the craft and also teach them perseverance, hard work, and meticulousness.
Do block printing at home 

This is a fun activity that will interest young children, besides being a creative skill to learn. Professional artisans use wooden blocks with designs etched on them and vegetable dyes/inks to print vivacious designs on cloth. If you do not have access to wooden blocks, help your child carve patterns on foam/sponge boards and use this to print on a plain piece of cloth by dipping it in any colored ink of your choice. Let this dry and rinse it once before use. You can also make printed handkerchiefs or stoles in this way.
Pay a visit to a handicraft exhibition

With a plethora of art and craft exhibitions going on in different cities, this might be a good time to take your child to visit one of these events. Many of these events might exhibit handicrafts from all over the country, with live demonstrations by artisans. It is a great learning opportunity for children and they will learn more about the rich culture of the country. It may also serve as an inspiration to hone their creative skills.
Do a simple DIY activity together
You need not be a skilled craftsperson to try your hand at handicrafts. Children can try their hand at making paper crafts, beadwork, no-sew bags, and cushions out of old T-shirts, jewelry, or stationery with jean material and so on.
Here we show you an easy way to make a fringe bag from an old T-shirt.