Bird sightings are slowly disappearing in urban India. With parks, trees and lakes disappearing, where does one go to spot our avian friends? Here is the low-down on bird sanctuaries in India.
If you are thinking about places to visit to particularly spot birds with your children - how about a bird sanctuary? Your children will be thrilled to explore a sanctuary and spot birds, with a pair of binoculars or camera hanging around their little necks. Birdwatching is in fact a good exercise in practising patience and staying still!
To make the visit more worthwhile you can show pictures of birds to your budding little ornithologist beforehand. You could start with the legendary Salim Ali's (referred to as the Birdman of India) book titled The Book of Indian Birds. It has 537 pictures of many birds along with descriptions. Also, encourage your children to make a list of all the birds they spot in a journal.
"I love the idea of taking kids to sanctuaries, but I'm also keen on creating more awareness about birds in a child's daily environment. Bird watching cannot be a one off outing, a child needs to understand about the harmony and balance in life and environment," says Dr. Gowri Yale, an enthusiastic bird watcher.
Best time and season to spot birds
Before you finalise on a bird sanctuary, make sure to check the appropriate season of the year to spot birds and the time of the day. Most birds take a siesta in the afternoon, and it might be a trip wasted if you land up during a hot afternoon. Early mornings are perhaps the best time. It is advisable to do your research beforehand.
Here are some books and movies to get your child interested in bird watching


Salim Mamoo and Me by Zai Whitaker, Illustrated by Prabha Mallya: Zai's uncle is the famous 'birdman of India' Salim Ali. Everyone in her family is an expert, and she herself can't so much as identify the pipit sitting right under her nose
The Jungle Radio: Bird Songs of India by Devangana Dash: The Jungle Radio is a picture book for children (5+) around the sounds and calls of 30 birds found in India.
Rio: Produced by Blue Sky Studios, this movie is a story about Macaws in Rio de Janeiro - with a message about endangered bids. A must watch with your little one.
The Big Year: Bird enthusiasts race around USA, in a yearlong bird spotting competition in this Hollywood comedy.
Top 10 bird sanctuaries in India


1. Bharatpur bird sanctuary (Keoladeo), Rajasthan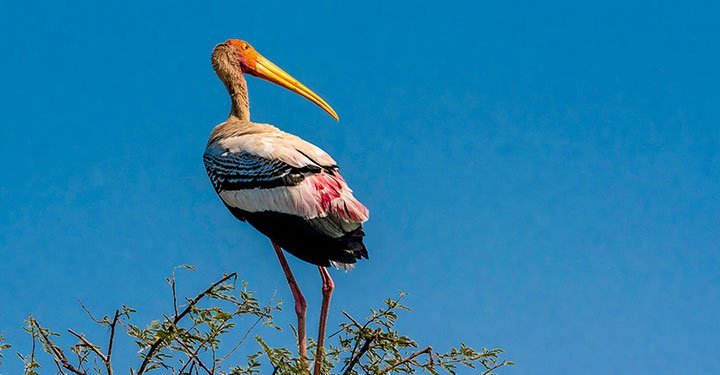 Timings: 6:00 a.m. to 6:00 p.m.
Best Time to Visit: August to November (for resident birds) and October to February (for migratory birds).
How to reach: The nearest airport is situated in Agra, which is 56km from Bharatpur. Delhi is 184km from Bharatpur. The Bharatpur railway station is about 5km away.
If you find yourself in Rajasthan for a family holiday, make sure you make a stop at the Keoladeo National Park, which was formerly known as Bharatpur Bird Sanctuary. Children will enjoy exploring the place and spotting over 370 species of birds and animals such as the basking python, painted storks, deer, nilgai and more. They can choose to move about the sanctuary by elephant rides, jeep safaris, cycles, rickshaws or by foot. One way to beat the crowds is to stay at the Bharatpur Forest Lodge, which is about a 1 km away from the principle entry point of the sanctuary. There are other staying options as well in the nearby vicinity.
2. Salim Ali bird sanctuary, Goa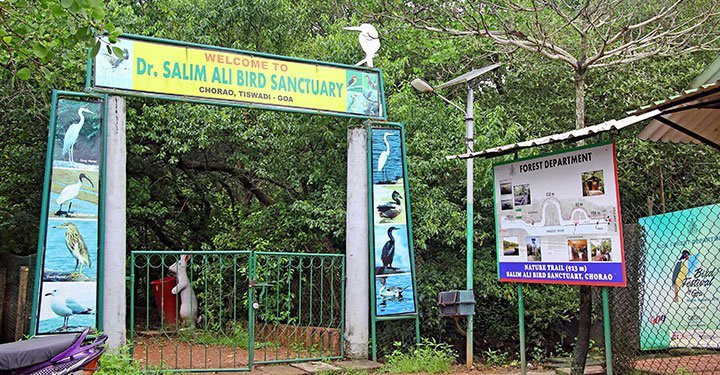 Timings: 6:00 a.m. to 6:00 p.m.
Best time to visit: Winter
How to reach: Take a ferry across the Mandovi River from Ribandar Ferry Point to Chorao Island, where the sanctuary is located.
Goa is not only about beaches and water sports. If you are a bird enthusiast, the Dr. Salim Ali Bird Sanctuary is a must visit during your trip. Spend the morning looking at birds amidst mangroves from a boat as you ferry. You may even spot a crocodile! The long list of birds you might spot here include white egrets, drongos, woodpeckers, blue-tailed bee-eater, black kite, spoonbill, white-throated kingfisher, sandpipers, brown wood owl, purple herons, cormorants, jungle myna, common redshank and curlews. Phew! Apart from the boat ride, there is a watch tower to take in all the views. The sanctuary is a wonderful place for nature walks. One can even hike to Christ Hill (a good place to witness sunsets) or try out one of the bicycle tours. During sunrise and sunset, you just might spot some wild animals. Scary!
3. Kumarakom bird sanctuary, Kerala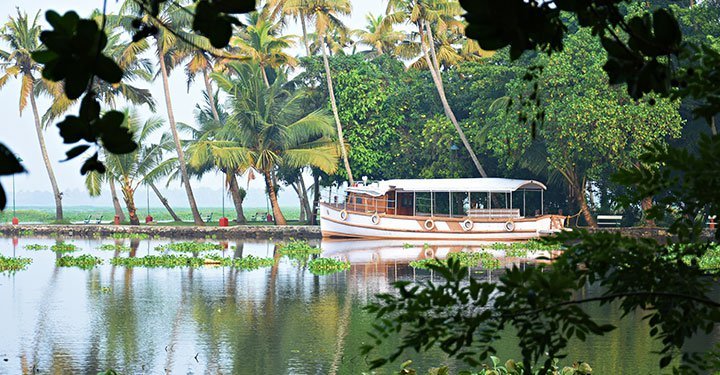 Timings: 6:30 a.m. to 6:30 p.m.
Best time to visit: June to August, November to February (migratory birds).
How to reach: The nearest railway station is Kottayam
Entry fee: Rs.50 (Indians), Rs. 100 (Foreign Nationals).
On your next trip to God's own country, try to spot some exotic and local birds in a beautiful natural setting at the Kumarakom bird sanctuary. The main attractions are the waterfowl, cuckoo, owl, egret, heron and the water duck, as well as the migratory Siberian cranes. Parrots, teal, larks, flycatchers, wood beetle, and other birds also make a stop here in their migratory seasons. The sanctuary is set around the stunning Vemband lake that is spread across 14 acres. You can hire a motorboat or a houseboat (for a more leisurely pace) and spot these feathered beauties. There are several options to stay in Kumarakom.
4. Vedanthangal bird sanctuary, Tamil Nadu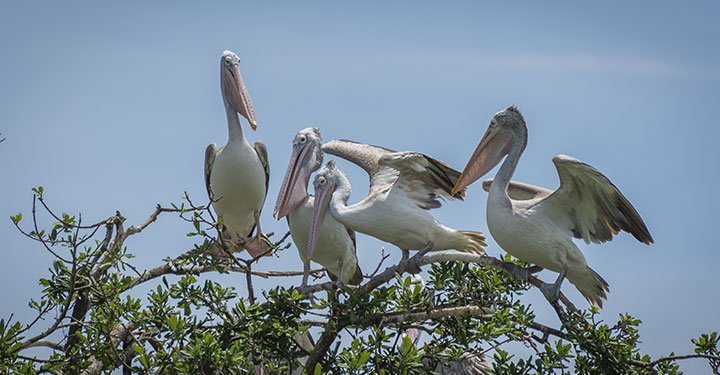 Timings: 6:00 a.m. to 6:00 p.m.
Best time to visit: November to March
How to reach: Distance from Chennai is around 75km
Entry fee: Rs. 25 per adult, Rs. 5 per child.
Vedanthangal bird sanctuary in Chengalpattu district near Chennai, Tamil Nadu is the oldest water bird sanctuary in the country. More than 40,000 birds (including 26 rare species) from various parts of the world visit the sanctuary during the migratory season every year. It is home to migratory birds such as pintail, garganey, grey wagtail, blue-winged teal and the common sandpiper. Weekends are crowded and bird lovers are recommended to arrive at the crack of dawn and leave before the crowds arrive.
"Our family visited Vedanthangal bird sanctuary but due to bad rains didn't get to see many birds. However, one thing that struck me was the complete harmony between the birds that fly, the insects that crawl and the animals that walk. This hit me as I saw a crow on a buffalo's back. Luckily I live close to the Perungudi and Pallikaranai open land which attracts many birds. I see flocks of parrots, egrets, kites and eagles everyday and an occasional kingfisher. These winged species are an amazing pleasure to see," Bharathi Hariharan, avid traveler and mother of a teenager noted.
5. Chilika Lake bird sanctuary, Orissa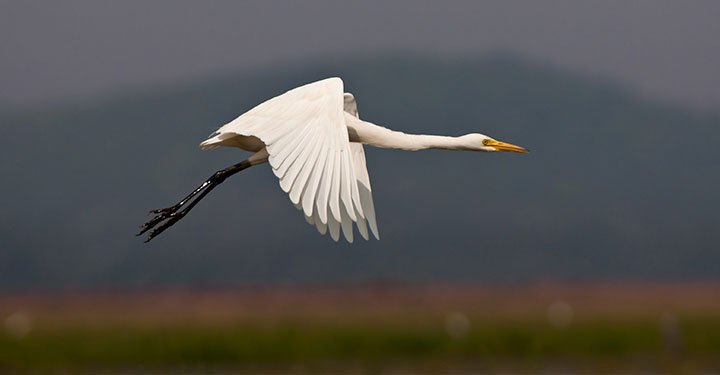 Timings: 6:00 a.m. to 7:00 p.m.
Best time to visit: November to February
How to reach: The nearest airport is Bhubaneshwar 95km away and the nearest rail station is Balugaon.
This sanctuary is famous for the multitude of migratory birds that flock the lake during November and February all the way from Siberia, the Himalayas, Afghanistan and Iran. Some of the birds to look out for are the grey-legged geese, herons, cranes and pink flamingos. If you want to see a symphony of colour and natural beauty, the buck stops here. The Chilika Lake where the sanctuary is based is the largest brackish water lake in Asia and is one of the few places to spot the Irrawaddy Dolphin.
6. Kutch Great Indian Bustard Sanctuary, Gujarat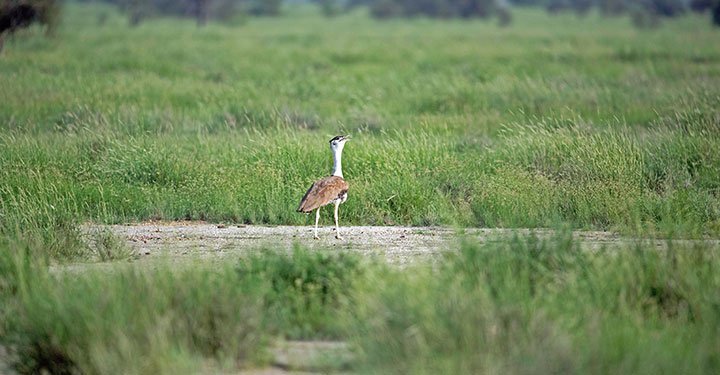 Timings: 7:00 a.m. to 6:00 p.m.
Best time to visit: Onset of monsoon and winter season
How to reach: Nearest airport is Bhuj. Naliya Railway Station is also another option to reach the area of Kutch.
The Kutch Great Indian Bustard Sanctuary (also called the Lala Purjan Sanctuary) is a great place to view various species of the Great Indian Bustard family. The sanctuary was set up in 1992 to protect this endangered bird. If you are lucky you can spot over twenty types of exotic birds at this sanctuary. If you walk in the coastal part of Jakhau, you will be greeted by flocks of flamingos. Now that will be a walk and sight to remember for the kids!
7. Ranganthittu bird sanctuary, Karnataka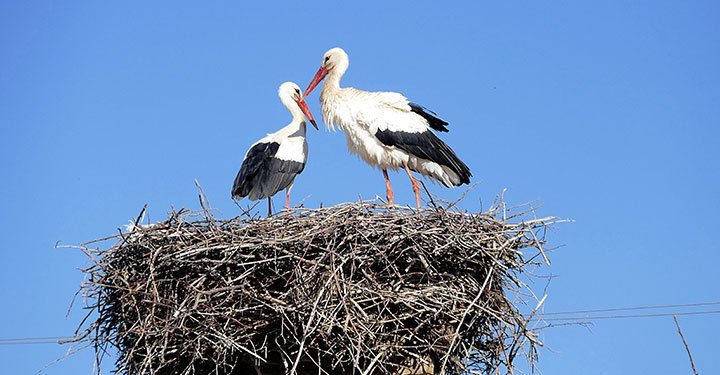 Timings: 9:00 a.m. to 6:00 p.m.
Best time to visit: March to September
How to reach: Mysore is the nearest airport, (19km from Mysore). One can also make it by road or train from Bangalore (128km from Bangalore).
Entry fee: Rs 50 for adults, Rs 25 for children, Rs 300 for foreign nationals.
If you are keen to show the painted stork, common spoonbill, Asian openbill stork, black-headed Ibis, or the woolly-necked stork to your little birdwatchers, go ahead and put Ranganthittu sanctuary on your itinerary. Made up of six islands on the river Kaveri, this sanctuary is a slice of nature's paradise. A great place to unwind with family.
8. Mayani bird sanctuary, Maharashtra
Timings: 7:00 a.m. to 7:00 p.m.a
Best time to visit: November to January (winter)
Entry fee: Rs 15
How to get there: Mumbai is the closest airport, Satara is the nearest rail junction that is well connected by road
Home to over 400 species of birds, the Mayani Bird Santuary in Satara district of Maharashtra is a haven for nature lovers and bird watchers. It attracts serious bird watchers from around the world. The Chand Nadi river at Mayani sees the Siberian flamingoes pass through during the migratory season. Other avian celebrities that photography enthusiasts eagerly wait for are coot, brahminy duck, black ibis, painted stork, common spoonbill and so forth.
9. Pulicat lake bird sanctuary, Andhra Pradesh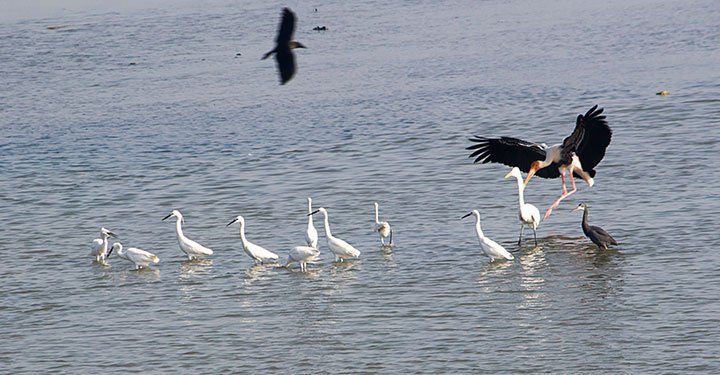 Timings: 6:00 a.m. to 6:00 p.m.
Best time to visit: October to March
How to reach: Chennai is 90km away, Ponneri 19km away. The nearest airport is Chennai, nearest railway station is Sullerpet.
With a diametre of 481 sq km, Pulicat Lake bird sanctuary is a great place for bird watching and soaking in the vibes of nature. It also attracts many migratory birds and is a feeding and nesting ground for aquatic and terrestrial birds such as pelicans and storks. Sighting the flamingos is said to be a once in a lifetime experience. It is good to bear in mind and inform kids that the Pulicat lake is on the brink of extinction due to too much siltation. Conservation efforts are on. There are few accommodation options available at the forest lodges. Kids will enjoy trekking and ecotourism activities.
10. Okhla sanctuary, Uttar Pradesh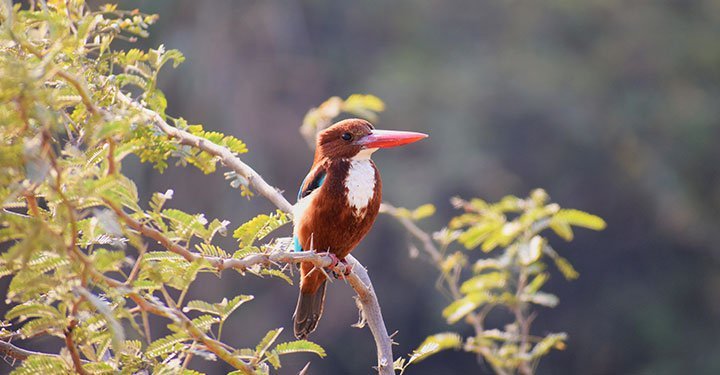 Timings
For Winter: 7:30 a.m. to 5:00 p.m., For summer: 7:00 a.m. to 5:30 p.m.
Best time to Visit: October to February
Fees: Rs 30 for locals
How to get there: The nearest stations of Delhi Metro is Okhla Bird Sanctuary metro station on Magenta line.
The Okhla Bird Sanctuary, officially known as Shaheed Chander Shekhar Azad Sanctuary located in Noida at the Okhla barrage over Yamuna River is a great place to take children. Set in a 4 km radius, it is home to over 400 species year-round and over 1 lakh migratory birds in winter months. Electric rickshaws are available for people with special needs to move about. The list includes critically-endangered species such as the white-rumped vulture and Indian vulture. Parents should make it a point to discuss how rapid urbanisation in Noida and surrounding regions have affected the life of birds, and has made many species vulnerable.
There are several more bird sanctuaries across India for your budding enthusiasts. Bird watching and more importantly caring for nature, cannot be a one-off activity but a lifestyle to be imbibed.