What Autumn Can Teach Your Child About Life, Change And New Beginnings
Ashwin Lobo
4 Mins Read
Autumn marks the transition from summer to winter. Although this season is only briefly experienced in some parts of India, it offers some valuable life lessons for our children.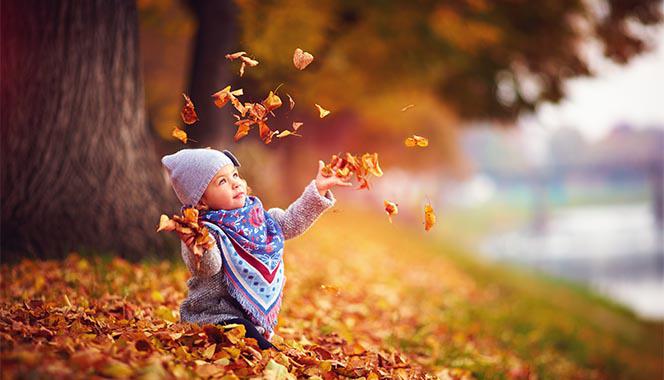 Ashok: "Amma, today our teacher told us about this pigment called chlorophyll which gives leaves a greenish color. But when I look at the trees around our house, so many of their leaves have turned yellow or red. Do you think my teacher made a mistake in class?"
Ashok's mom: "No Ashok, your teacher was right. The leaves are turning red because the seasons are changing. But don't you worry, in a few weeks you'll see little baby leaves emerging from the branches. Tender new green shoots will replace the old ones that have fallen down." 
Everyone remembers summer for the holidays and ice creams, winter for the pleasant weather, and Christmas. The monsoons are viewed with a mixture of awe and dread for although they make everything look fresh and clean, they also cause havoc by flooding our cities. But one season appears so briefly that in India, people barely think of it at all. This is the season of autumn - when leaves change color, trees become bare and humans and animals alike prepare for the cold winter that lies ahead. French philosopher, author, and journalist Albert Camus once described the season as "the second spring, where every leaf is a flower."
Life lessons from autumn
Autumn typically falls in the months of October and November in India. While this season has an earthy beauty to it, it can also teach our children some valuable lessons about life. Here are some things your child can learn from this season:
Accept change: Autumn shows us that nature is ever-changing. The leaves of last year must fall to make way for new ones. Like the trees, mankind too is a part of nature. And even though we may not like it, change is an inescapable part of our lives and the lives of our children. As parents, we try to comfort and protect our children as much as possible. But eventually, they will have to learn how to deal with changes themselves. A change of home, a new school, a death in the family—these are all possible events that could affect their lives in some way. Whether a change is positive or negative, it's important to accept it and know how to adapt to it.
Appreciate what you have: We see green leaves on trees so often that we take them for granted. It's only when they are gone that we begin to miss them. Similarly, our children can be made to realize that there are so many beautiful things in their life that they take for granted—a good school, food on the table, loving parents, and a roof above their heads. It is important to learn how to appreciate these things and be grateful for them.
Let go: In the summer, each tree has bright and beautiful leaves. It is filled with flowers and possibly even fruit. Everyone marvels at its beauty. But come autumn, trees shed their leaves and lose their beauty. But, even though the trees look bare, they are in fact preparing themselves for spring and new leaves. Like the trees, our children also need to learn to let go of the past and embrace the future. As they grow, they will make friends and lose them as they move ahead in life. Autumn teaches us that letting go is part of growing up. When our children learn to let go of the past, only then will they be able to fully live in the present and look forward to the future.
Live life to the fullest: The season of autumn is representative of the cycle of life. The leaves that are once new and green, change color and eventually wither away. The season is a reminder of the impermanence of life. Encourage your children to live life to the fullest when they are still in the spring of their youth.
Accept bad times as well as the good: The trees may look grim and bare in autumn, but you know that they will be full of bright new shoots by the next spring. This happens year after year. Similarly, our children can learn that their lives are sometimes like the trees in autumn. There are times when life is bereft of happiness just as the trees are bereft of leaves. But if only we remain patient for a while, the joy will return, as the new shoots do. This can serve as a valuable lesson to our children in moments of sadness. When they feel like there's no way things can get better, all they need do is remember the trees and the promise of a new spring.
Whether your child likes the season of autumn or not, it is undeniable that through it, mother nature teaches him some valuable lessons. Children need simple tools to understand complex phenomena. Use the metaphor of the trees and their falling leaves to teach your little one some valuable life lessons.