Pregnancy comes with a lot of emotions as you evolve into a parent. You also learn a lot of valuable lessons along the way. How I went through an unbelievable journey of emotions during my pregnancy would touch a chord with many expecting moms
I shook my sleeping husband and showed him the two pink lines on the home pregnancy test kit. He rubbed his eyes in disbelief. The next minute, we were doing a celebratory dance. Soon, we visited a gynecologist near my mother's place. She recommended some tablets and fixed the date of my first scan. Nausea and morning sickness started even before I could fully soak in the glory of the moment.
The night before my first scan date, I had dreamt of twin babies. The next day, during the scan, I heard the doctor say something about twin gestation. I heard it but wasn't listening. They called my mother who had accompanied me. The doctor said, "Can you see? Your daughter has a twin pregnancy." I saw my mother put her hands on her mouth that had turned into an O in surprise. As I laughed at my mother's reaction, I realized how my heart was swelling with joy. Tears rolled down my eyes. My babies were telling me they were coming all this while. My intuitions were right. The whole family went into a frenzy. I was carrying my family's first-ever set of twins.
The whole family went into a frenzy. I was carrying my family's first ever set of twins.
My pregnancy was difficult" the vomiting, the exhaustion and the day-long sickness. I was advised bed rest since I was underweight. I hardly stepped out of the house. I decided to be at my mother's place " a house full of people, chatter, laughter and love. The noise I grew up with helped me stay positive.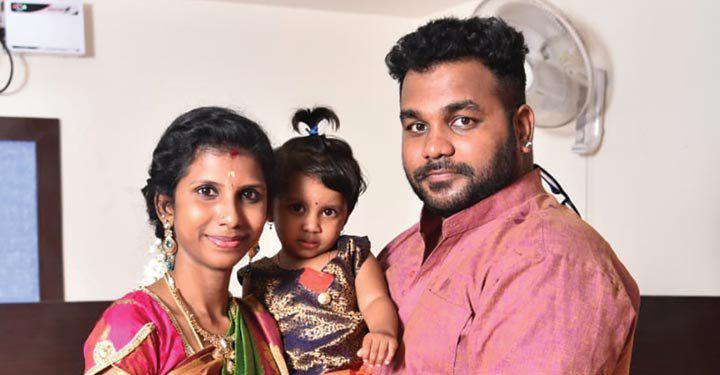 My gynecologist asked me to go to the nearby scan center for my third-month scan. I saw my developing babies. One baby was kicking while the other was calm. I heard their heartbeats. I proudly took the reports to my doctor, who assured us that all was well. When we informed our families, My pregnancy continued to be difficult. When the pain became unbearable one night, I went to the hospital. My gynecologist wasn't there. A junior doctor walked in. I explained the pain and asked her, "Do you think there is any problem?" She wasn't sure, but she gave me an injection to soothe the pain and asked me not to worry. She asked me about my fifth-month scan which was one week away.
I told her that my gynecologist had prescribed another center which was slightly far away from home. Sensing my reluctance in going there due to the distance, she insisted that I go there, as they were apparently leading researchers in the field of fertility and pregnancy.
On the day of my fifth-month scan, my husband and I left early. We stopped at the Parthasarathy Temple for a few minutes. I had been having an extremely unsettling feeling all week. Now that I was going to see my babies again, I was at peace. I went in for my scan. The doctor held the probe and moved it along my abdomen. She said it was going to take some time. Within the first ten minutes, I saw her face tighten. Is everything okay? I asked. She said succinctly, "I have just begun." I tried to find solace in peeping at my babies. The one on the left was active and naughty while the other one was calm as usual. The doctor asked, "Have you been taking your folic acid tablets?" I said, "um, not regularly. My body rejects everything, be it food or tablets." She nodded and carried on. After 2.5 hours, she said, "I'm going to check your other baby now". When she put the probe on the other side, I saw some relief in her face.
After nearly 3.5 hours, I said, "If there's anything wrong, tell me." She replied, "I can't confirm without consulting my senior." After four hours, she asked me to go wash up. I stepped out and saw my husband and broke down. He consoled me and asked me not to imagine things. We went inside to meet the senior physician. She patiently explained that in one baby, the spine's growth was incomplete, and the child would be bedridden not having any control over its senses if we continued with the pregnancy. She called it a neural defect that affects the brain and spine.
"Even now, if you see, this baby isn't moving much." The words sank in. I don't remember feeling that sort of a helpless pain ever before in my life. I wailed and bit into my husband's arm to stop myself from crying. I tried to listen to the rest of what the doctor said. The doctor advised us to reduce the fetus within the womb using an injection. She added that our other baby was perfectly healthy. She wanted us to make a decision soon, as it was already late. "You must've known about this in the third-month scan itself. Don't know how they missed noticing it," she added.
We went to the Marina beach after the scan. My husband asked me shakily what I had decided. "Let's not have this baby, Goutham. Do you think it will be easy for the child to see her twin skip away while she lies in the bed not even knowing if she was peeing or pooping? I don't want that for my baby." My husband supported my decision.
The next day, we went to my gynecologist, heartbroken and angry at not having known about it earlier. We also had that little hope she would say something positive. However, she seemed like she wasn't sure how to handle the situation. She tried to offer some consolation, but I largely found her very unempathetic. I never looked back at her or that hospital.
I luckily found a patient, supportive and experienced gynecologist the very next day. Dr Dakshayani R, from Life Care DKJ Hospital, Chennai.
I went into the scan center for the reduction process that week. Half of my big family, ten of them came with me. The doctor inside the procedure room explained that they would be inserting a 15cm needle into my abdomen to reach the heart of the baby and make it stop. They were monitoring the babies with ultrasound as they began the procedure. I saw their hearts beat. I bitterly said goodbye to one of them. When she inserted the needle into my abdomen, I yelped. The pain was unbearable. The doctor asked me to stay calm and not to move. "It will take three minutes for the procedure. The baby is moving as you move," she said. My baby doesn't want to die, I wept to myself. I held tight, gritted my teeth and lay still. In three minutes, the procedure was done. Tears streamed down my eyes without a break. I came back home. I received hugs and love from my family and I can't thank them enough for their support. That night, I couldn't cry anymore. I slept.
I woke up the next morning to a strange sensation. My baby, the other one had just kicked me! My joy knew no bounds. We had a small ceremony to commemorate the fifth month of pregnancy. My baby kicked all through the ceremony. Whenever I thought about my dead baby, like a godsent force my other baby kicked as if the baby was telling me, "Hey, I'm here. Right here." I wanted the child to be a girl and started referring to the baby as she. Soon my tummy started growing in size. My baby started responding to familiar voices and songs.
On the eve of Krishna Jayanthi, when we went in for my check-up, my gynecologist explained I didn't have enough water and suggested we go for an emergency C-section. Everyone thought it was going to be a boy. A boy on Krishna Jayanthi! they thought. But, my daughter, Kadhambari came kicking through all the expectations into our lives like a fountain of joy.
She looked healthy and beautiful. I had almost forgotten about the other one. "The other one was also a girl. Your husband and sister-in-law saw the dead baby," the sweeper who came into my room the next day mentioned casually. They had not told me. I have tears in my eyes as I finish this story.
Kadhambari came kicking through all the expectations into our lives like a fountain of joy
But I want you to know a few things.
A doctor who does not spend time explaining what is going on in your body, or someone who does not tell you why you have been prescribed the medicines, is not worth taking along this beautiful journey of pregnancy.
You are not alone. Hold on to the good. Life has a miraculous way of setting things right if you focus on the positive aspects of it.
Even today, when I see twins somewhere, there is a longing in me. But when I think of the lost twin, Kadhambari puts her hand or feet on me, although she'd be sleeping. I can't tell if it's a mere coincidence. This is beyond me. Life is beautiful.