In an exclusive interview, storyteller and founder of Kathalaya, Geeta Ramanujam, talks about her journey, the power of stories and why it's important for parents to tell stories to their children
Geeta Ramanujam tells the best stories. Listening to her stories is like getting a big, squishy hug from a dear friend. It leaves you with a huge smile and a warm, fuzzy feeling inside. Geeta attributes this to the power of stories (we think it might have something to with her as well, though).
A pioneer of the storytelling movement in India, Geeta originally had no intention of becoming a storyteller. She was working as a schoolteacher when she was "led into storytelling by destiny," as she likes to describe it. Today, Geeta an internationally renowned storyteller, educator and academician. She is the founder of Kathalaya - The House of Stories and the International Academy of Storytelling, which is the only globally recognized academy for storytelling in the world. She is an Ashoka Fellow and has widely travelled across India and to over 43 countries around the world in her drive to establish storytelling as a learning tool.
In an exclusive interview with ParentCircle, Geetha talks about her journey into storytelling, how Kathalaya was formed and why storytelling is important for kids.
Here are edited excerpts from the article.
You are a much-loved storyteller, especially among children. How did you get into storytelling? Tell us about your journey.
Nothing happens on its own. When something comes to you, sometimes your body and mind says, "This is my cup of tea". That's what perhaps happened to me. I had no great ambitions in life. I worked as a history teacher in a school, where I used to tell stories to children. They would get interested in the lessons because of the stories I would tell them. I would take them out of the classroom, take them to the radio station to listen to interviews and let them climb up trees while listening to my lesson, or my stories, rather.
Many people at the school began to feel that this was not the right way to teach. So, they removed me from the role of a teacher and made me the librarian. I was very disheartened and wanted to resign from the job. Then I thought about my father who had always told me, 'Never react to anything, respond to it. Everything happens for a reason'.
So, I took up the librarian's job. I soon discovered that children weren't reading at all. I thought, let me tell them a story. I start telling the children who came into the library stories from the books kept there. Often, when we were midway through a story, the bell would ring, and the children would beg me to finish the story. I would give them the book and ask them to read the rest from it. All of them would rush for the book. I thought this was a good way to make children read. Children began coming to the library more often and reading more.
One day, a parent of one of the children came to me and said, "This is a beautiful way to engage with children, why don't you conduct a workshop in the city?" I said, "yes!" She said, "Should we call it creative writing?" I said, "Maybe we can call it 'storytelling'?" (chuckles) This was in 1996. Back then, no one used the term, 'storytelling'.
We had a one-week workshop in the city. Again, destiny came into play because a parent of one of the children at the workshop turned out to be a reporter for the Times of India. He heard me tell stories when he came to pick up his child. The next day, I saw a column in the newspaper about me. After that the phone kept ringing and my first offer itself was to train 300 teachers in the art of storytelling. As I said, the star was probably just above my head that day. Of course, there was no looking back from there.
What inspired you to start the Kathalaya International Academy of Storytelling? 
When I started out as a storyteller, I was working with children because I had over 20 years of experience teaching them. So, I thought I would concentrate on children and how to make learning interesting through stories. Children have curious minds; they are always ready to listen when you are telling them a story. However, I soon realized that adults have very fixed mindsets. Convincing teachers to change their teaching methods was difficult. So, I began to train teachers. Later, someone asked me why I was only training teachers, why not do it for all adults? This got me thinking ... Meanwhile, I also had this idea of starting an academy to train people in the art of storytelling.
Again, destiny played its role. In 2003, I had to go to the US for a wedding. I wanted to attend the International Storytelling Festival that was happening there at the same time. But I had no money. I had saved the money I made from storytelling for the airplane fare and I was to stay with a friend to manage my accommodation costs.
After the wedding, my friend and I went to the Library of Congress in Washington. There, we met with a minor 'accident'. I was carrying many books and accidently walked into someone. That person helped me pick up the books and asked me, "Are you from India?" I said, yes. We got talking and she invited me to have tea with her. When I went into her room, there was a board that said American Folklife Center. Her name was Peggy Bulger, she was a director there! When she found out that I was a storyteller, she said that I should go to the International Storytelling Festival. I told her that I had come for a wedding and moreover, couldn't afford to go. She refused to listen to me and said that she would write to Jimmy Neil Smith, who was the founder and president emeritus of the International Storytelling Center in Jonesborough, Tennessee.
I had no hopes of this working out. But to my surprise, I got a call from Jimmy saying that he wanted me to be the guest of honor at the festival. He made all the arrangements for my travel and stay. So, there I was, the guest of honor at the festival with nearly 10,000 people!
While I was there, I told Jimmy that I wanted to start an academy to train people in the art of storytelling. He said that he would be more than happy to help me and that he would give me an affiliation with his university. Later, he also helped me organize the first international storytelling festival in India which went into the Limca Book of Records. I soon started the academy with my first batch of students and now we have just completed our 137th batch online!
So that's Kathalaya's story, very briefly. A lot of luck, destiny and effort.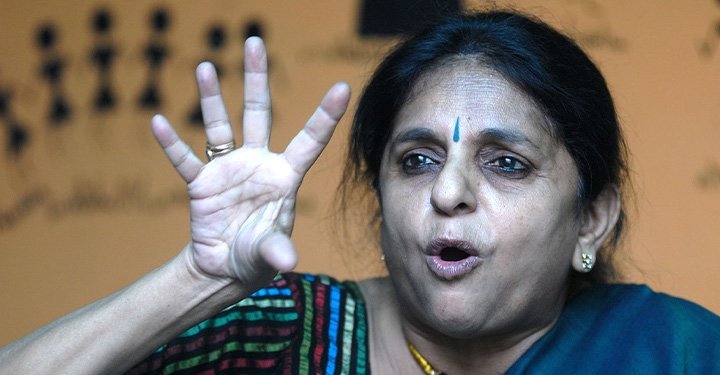 You have worked extensively with children. How does storytelling help them?
Children have a sense of wonder. They have curious minds that are filled with questions. If you see, most of our scientists, explorers and discoverers-they were all curious, right from their childhood.
Why is there lightning? Why is the sky blue? Why is it limitless? Why is only the crow black? Why not other birds? Who created these birds? Sometimes these questions children ask can be irritating. But their curious minds cannot take just data for an answer. You cannot tell them the bird variety, the species and genus-it becomes boring for them. You will find textbooks that just give the wingspan, the height, the weight and other such details to describe birds. Children find it hard to engage with this. However, if you tell them a story and then tell them the facts, they will be more interested. The story will attract them and transmit the facts into their mind. They have very imaginative minds. They can see the story happen. Once they visualize the story, it stays with them for a lifetime. In fact, in the epics, they say that people have remembered stories across janmas or births.
Stories look seemingly very light, but they are very powerful because they can shape the mindset of children. When those curious minds are open and fresh, a story can be the best tool to impart knowledge. They will listen and learn at the same time.
Why is it important for parents to tell stories to children?
One of the things we have in our culture is the 'neti neti theory', which states that 'what is not, is'. So, let us remove all that is negative. Suppose I am a parent, and I attend a storytelling course to learn how to tell stories to my child. At the end of the course, if I still sit down with my child but my tone is harsh, will the child respond well? I shout, "Sit down, I'm going to tell you a story! How long have I been saying this! You should like stories!" My tone is very aggressive, it is advisory, and it is full of expectations. These are all things you should remove. No comparison, no expectations, no severity. Don't ask them, "Have you learnt something from this?" No morals. Just tell them a story. No fringes, no outer ring road, no inner ring road (laughs). Just tell them a story. If they haven't listened, it's fine. Something would still have registered in their minds.
This happens with music, for instance. If there is music playing in the background, you don't have to know what the raga is or who is playing, but after many years, you will still remember the song. I recently asked my mother after 35 years about the song she used to play when I was little. Stories, too, work the same way. So, just tell your child a story. Tell it sincerely, with all your heart.
How can parents equip themselves to tell stories?
Children love animation. So, add a little voice modulation, bring the characters alive. You cannot tell them stories the same way you talk to other adults. You have to add in more expressions, actions, voice and sounds. If you know music, sing along. Sing your story, make a poem of it.
And you must read! It is very, very, very important. If you don't read, you can't get stories. Read at least one page a day. Children love to imitate what you do. If you read, they will read. So, at least pretend to read. Open a book. Keep books around you. This way children will at least dabble with the books and smell them. I believe that this makes a difference. Reading definitely broadens the horizon.