In an exclusive chat with Parent Circle, table tennis star Achanta Sharath Kamal recounts his journey and says his dream is to win an Olympic medal for India
As soon as we enter Sharath Kamal's home, we are captivated by a wall full of medals, trophies, awards, photographs with famous personalities and many other honors.
While we look around in awe, a voice breaks into our silence. It is Sharath Kamal himself. He explains that due to lack of space, his other medals and trophies are kept at the sports club. Shortly after, we begin our conversation with Sharath Kamal.
Q. Nine Commonwealth Games medals, two Asian Games medals, an Arjuna award and the Padma Shri. Your hard work has paid off. How do you feel?
A. Receiving the Padma Shri was like recognition for my whole career. It felt like I was rewarded for all the hard work and toil that my family and I have gone through. It is a recognition for all the sacrifices, my parents, my wife and my children have made. I am on cloud nine!
Q. After your 2015 injury, it must have been tough to recover. But you bounced back. Tell us about your struggles and how your parents helped you?
A. It was a tough time for me. I had a severe tear in my hamstring and got operated upon in Germany. I didn't know if I could get back to playing or even, be able to walk again, for that matter. When I started treatment, there was no question of playing again. I lacked motivation and energy, so I preferred to just stay at home and do nothing. I didn't want to go back to India because I didn't want my mom to see me in that state, for I knew it will be hard for her to see me in that condition.
However, I returned home for eight to nine days, spent time with friends and family, and went back. In September that year, I started playing again.
Q. You have followed in your father's footsteps. What are your key takeaways from his career and the way he coached you?
A. He made me follow the sport without giving any option (chuckles). Well, jokes apart, he introduced me to the game, but it was my interest and passion that built it into a career. As they say, it doesn't matter how hard the parents push, it is up to the kids to develop or have a liking for what they do. My father took me to classes and I gradually picked up the game.
Q. Can you tell us something about your education?
A. I studied in Padma Seshadri, where I had a physical trainer who was passionate about table tennis. The Director of the school always supported students with extracurricular activities. I was allowed to spend extra time at practice sessions, take special exams and attend school during holidays. During my 12th boards, I was assigned a teacher to help me prepare for the final exams as I had to skipped revisions to play for my first international.
We weren't financially stable as well. In my 12th grade, my father asked me to take up a job because he was the only earning member of the family. At the same time, he also wanted me to go to college. I went to Loyola college for a year.
Q. Is there any way to balance sports and studies?
A. Sportspeople are generally good at academics because they are able to focus better. Their grasping power is better than others and they also learn to survive. They need to concentrate and think of all the ways to beat the opponent and win the game, which leads to logical thinking and problem-solving. So, I wasn't any different.
Q. Your father entrusted the job of coaching you to his brother Muralidhara Rao. How was it to train under your uncle?
A. When your father tells you something, you tend to take it lightly. But when the advice comes from someone else, you listen and work on it! My father had an emotional bonding with the sport and whenever I would lose, he would get frustrated. As a coach, one should be calm and encourage the child to do better. That is the gap my uncle bridged when he became my coach. I still follow the rules uncle made such as always be clean-shaven for a match, wear tucked-in t-shirts and exhibit proper behavior on the court.
For the last four years, my younger brother has been my coach. I always felt he was more talented. He would have reached greater heights if he hadn't suffered a major injury resulting in a shoulder dislocation, at the age of 23.
Q. You are a father to two beautiful children. They will soon be making their choices in life. Do you hope they will make sports a career?
A. My daughter is seven and is very clear that she doesn't want to play. We are amazed at her clarity. She is more like her mom, she likes art. My son is one and already imitating me! It looks like we might have another sports person soon. But 10 years down the line, if he wants a career change, I would still be okay.
Q. What life lessons would you pass on to your children?
A. Sports teaches us several values. Discipline is the first thing I would pass on to my children. As a youngster, I used to be annoyed every time my father lectured me about discipline. Today I understand that discipline is to condition the mind to work in a certain way, which becomes the reason for your success or failure.
Secondly, the ability to work for what you want. Then, other things are being passionate, punctual and committed to whatever you do. These are some basic things sports has taught me, and I shall pass them on to my children.
Q. In interviews, you have regretted not spending enough time with your daughter. Career demands mean that you are away from family. What is the parenting struggle you go through?
A. More than me, I think my wife should be answering that question. She does most of the upbringing and I step in whenever I'm at home. Since I am an early riser, I get to spend some time with my daughter, as she is in school now. I wake her up, get her ready and drop her at school. As a parent, the most difficult thing for me is to tell goodbye to my kids, when I must go to a tournament. It's hard when they have tears in their eyes and ask me not to go, but still, I must go.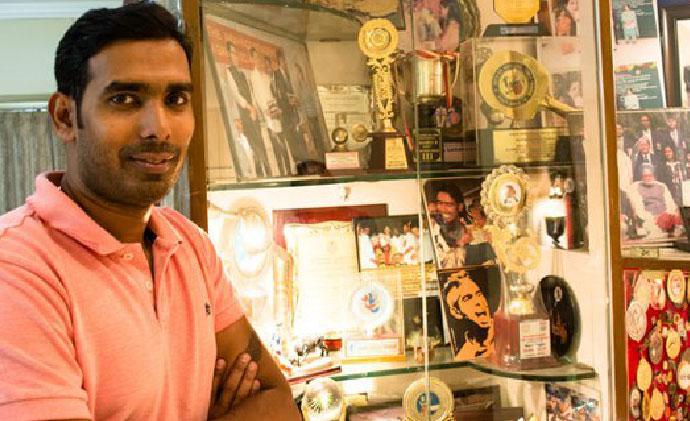 Q. What's your advice to young parents to inspire their kids to take up sports?
A. If you don't know what your kid likes, give him a variety of opportunities to choose from. But if he has shown any form of talent, nurture it. At the same time, he should also understand that the daily work is monotonous. You should make sure that the kid doesn't lose interest here. Children need new things every day. Parents should know for themselves when to and when not to push the child.
Excerpts from a chat with Sharath's dad Srinivasa Rao:
Q. Hailing from a small town in Andhra Pradesh, you have coached scores of young girls and boys, and have also been nominated for the Dronacharya Award. How does it feel?
A. I feel truly blessed and excited and feel inspired to produce more and more Sharath Kamal's. My brother and I have been doing this since 1983.
Q. Tell us about your struggles through the sporting journey?
A. When we started, we had no infrastructure, no coaching centres and no motivation. We learned by watching our seniors play in that small town with only one table. It is impossible for kids of this generation to come up like that.
Q. You have faced several troubles in your sports career. How did that change the way you raised and taught Sharath?
A. When I started, my ambition was to learn more about the game and play for the country. But when things went wrong, me and my brother understood that my dream would be difficult to achieve. Then we took up National Institute of Sports (NIS) course so that we could coach and nurture children into champions. Santhome school in Chennai was where we first started coaching.
Q. You are a proud father of a Padma Shri awardee and a sports icon. What is your advice for budding table tennis players and sportspersons?
A. As soon as parents put their children into a game, they are eager to get results. We should have the patience to let them learn and improvise step by step. Sharath waited for twenty years to have his first break. But parents these days are not ready to wait even two years. Initially, when Sharath was four years old, I took him out to play so he would not trouble his mother. But he developed an interest in sports and we nurtured it.