Archer Deepika Kumari has made history, yet again! She has won 3 gold medals at the Archery World Cup in Paris. In this exclusive interview, she talks about training during the pandemic, parenting, and the importance of sports for children
Deepika Kumari, the champion archer, has done it again. She has won a treble of gold medals at the Archery World Cup stage 3 in Paris and, in the process, become the new world number 1.
An extraordinaire archer, she was just fifteen when she won the 11th Youth World Archery Championship (2009) in Utah, US. Since then, she has won two gold medals in the 2010 Commonwealth Games in New Delhi and clinched a gold medal at stage three of the World Cup (2018) in Salt Lake City, US. The former World No.1 in archery has won accolades and awards galore! She received the Arjuna Awards for Outstanding Performance in Sports and Games for her sporting honor in 2012 and was also awarded Padma Shri in 2016.
Born in Jharkhand, Deepika came from humble beginnings. Her story is one of hard work and perseverance. Despite a tumultuous career graph, she has always strived to stay positive and fight all odds to follow her dreams. Her success is a testament to the fact that sometimes stubbornness can indeed go a long way! In an interview with Parent Circle, Deepika talks about the need for more opportunities for women in sports and how children need to spend more time away from their phones.
Deepika Kumari has taken the pledge to participate in #GadgetFreeHour 
Here are the excerpts from the interview
Q. How has COVID-19 affected archery? How can archers continue training in this situation?
A. This has been a challenging time for athletes. As of now, our archery camp has started, and we have resumed our training. If archers have access to their ground along with targets, they can practice. However, many are finding it difficult to receive coaching. Luckily, our federation, the Sports Authority of India (SAI), has started online coaching classes to train the archers.
Along with coaching, we need to take care of our mental fitness we have to stay strong and try to accept the current situation. It's not possible to stay at home indefinitely. So, we have to live our life by adjusting to this new situation and by adhering to safety measures. We should try to focus on what we can do rather than think about things we cant do.
Q. What inspired you to take up archery? What role did your parents play in your success?
A. My parents have played a huge role in my career they have suffered a lot so that I could be the person I am today. No one in our family was from the sports field. In fact, no one knew anything about sports, and there was no awareness about archery. Everyone around us was convinced that there's no career in sports! Initially, my parents too found it hard to understand why I was keen on archery. However, because I was so adamant, they allowed me to give it a try. I guess my parents had faith in me, they believed that I could achieve my dreams.
My parents have been my biggest support system. They never pressured me to win. They always supported me even when I lost matches, they never discouraged me. They would only say that maybe I had not given my best. this would motivate me to try harder. They have helped me to deal with the ups and downs of life.
Q. What are your views on biopics on sports personalities? Do they reflect reality?
A. Biopics have a lot of inspiring incidents or moments. However, they also include a lot of masala to make the story exciting. otherwise, the audience won't be interested in the movie! Real-life is very different from the one shown in the reel.
In most biopics, the stories are real as players do struggle a lot to reach the top. Generally, people only see the success of the players. They don't know the real struggle behind that success . all the hard work. the failures. So, I believe it's very important that the common man gets to see the grit that led to success. In this regard, I think all the filmmakers are doing a wonderful job.
Q. Sportspersons need mental strength to win. How can parents teach their children to be mentally strong?
A. Well, I'm not a parent yet. so I'm not sure how I can answer this question. However, I think we need to stop pressuring kids. These days, competition is far more intense. We are asking kids to score 95% marks and telling them if they don't, they won't find a job or be able to do anything in life. This puts them under a lot of pressure, which makes children give up on things quickly. They want instant results and don't have the patience to try things out and persevere.
So, I think parents should communicate with their children. If you want them to score 95% marks, speak to them about it, make them understand how they can achieve it, instead of just pressuring them to deliver results. For example, I know that I have to hit the X target, but if don't know how to do it, I will not be able to do it. So, if you are setting a goal for your child, you also need to tell them how they can achieve that goal and help them in the process.
Q. You have had lots of ups and downs in your career. How did you cope with negativity and self-doubt?
A. Every person grapples with self-doubt, but when I failed, I discovered that failure is not a bad thing. When you fail, you get the opportunity to learn the things you don't learn when you win. When you fail, you get the time to rewind and understand what you missed this helps you identify the areas you need to improve.
I believe that failure happens when you're not ready for victory. You need to work harder to reach the goal. If you stay focused, you will come out of the experience victorious. So, whenever self-doubt occurs, don't go toward negativity. Instead, focus on what you can do. This way, you will develop a positive outlook and gradually things will get easier for you.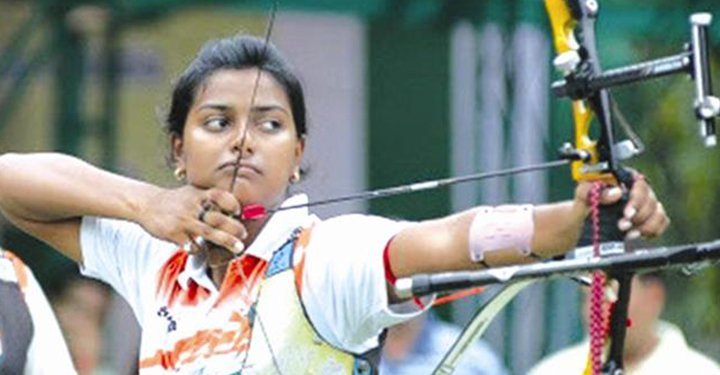 Q. How can we increase women's participation in sports?
A. The main reason why India is lagging behind in this regard is that we don't have enough competitions or tournaments for women to compete in. Participating in tournaments is crucial to improving your game. When you play in a tournament, you learn what your weaknesses are and what areas you need to improve. You get a sense of where your game is, at which level. and you know what you have to achieve.
You will see many young players doing well in national events, but failing at the international level. This is because they tend to overthink or become nervous this makes them forget what they have to do during the match. That's why it's important to participate in many tournaments. If you play more, obviously you learn to hold your nerve and control your fear. You won't believe it, but abroad, they have 23 tournaments every month. We need to have more competitions, maybe having national tournaments once a month would help our players.
Q. What is your mantra for success?
A. Stubbornness (Laughs)
Focus is definitely very important in archery. If you look at the game from the outside, it appears easy. You just need to hit the target. However, games that look easy from the outside are often very difficult. What I am trying to say is that mental training is very important in archery. This is because it's a very peaceful sport. It's not loud or aggressive as many other games. In archery, you need to deal calmly with a lot of things. The weather conditions, for instance, are beyond your control. You need to deal with your physical and mental health as well as your personal problems. The human mind is like a monkey that doesn't sit still. To succeed in archery, you have to train your mind to be as calm and composed as the game requires you to be.
Q. How can we use sports to keep children away from gadgets?
A. I think parents shouldn't give phones to young children. However, it might be difficult to restrict their use of computers because they are essential for studies these days. The problem with mobile phone overuse is that it affects children's eyes. It can also disturb their minds.
Parents should try to stop their kids from using mobiles, and send them out to play instead this will help them interact with other children and develop their social skills. Every human being is born with a different personality, and to survive in this world, children need to know how to get along with each other. By spending time with each other, they'll also be able to learn from each other.
Q. You recently got married to a fellow archer, Atanu Das. Is there any competition among you two?
A. There's no competition between us, but yes, when there's a problem, we share and discuss it with each other. I do, at least. My husband mostly takes care of things by himself. From the beginning itself, right before marriage, we have tried to keep our personal and professional life separate. We don't intend to mix our personal and professional lives ever.
Q. Do you regret that you couldn't have a big wedding or invite many guests because of the pandemic?
A. Many people think that because a wedding happens only once in a lifetime, you need to have a dream wedding. But I don't believe in this. I think one needs to adjust to the situation. True, we could invite only limited guests, but we have been hosting them separately and are trying to meet everyone while adhering to safety precautions. In fact, I am quite happy with my wedding I had everything I wanted! Of course, no wedding is perfect. There are always a few things missing, and ours was no different. That is how we like to look at it.