Ruskin Bond is loved by many. And with good reason too! His simple and lucid style manages to capture the trials and tribulations of life in a way that few other authors can
"I write so many books in a year that sometimes, I don't know which is the latest," laughs Ruskin Bond in his trademark cheerful manner as he shares his childhood memories, his take on writing for children, life and his love for the mountains in a chat (online session) with Roopa Pai, one of India's best-known writers for children with over 25 books to her name. The session was part of The Write Circle Initiative presented by The Prabha Khaitan Foundation. The objective of the initiative is to bring together authors and readers in an informal setting to focus on rejoicing literature.
Ruskin Bond, who is much-loved by adults and children, especially the latter, has come out with yet another book, All-Time Favourites for Children, which is a collection of his stories for children plus three to four new ones. The Mussoorie-based writer was at his candid best during the live session that was thoroughly enjoyed by his fans.
Roopa Pai (RP) in conversation with Ruskin Bond (RB)
RP. Can you share with your readers how your first literary venture, The Room on the Roof, which won the John Llewellyn Rhys Memorial Prize in 1957, came about?
RB.  Before I begin, I must mention that even today, there is a growing number of readers, both children and adults, who enjoy reading The Room on the Roof. But the book has an interesting history to it. Did you know that it took me almost two years to get a publisher? It did not create ripples when it was first published although it won the John Llewellyn Rhys Memorial Prize. It was after many years of its publication that the book sales began to pick up and readers started appreciating the book, which helped to establish me as a known writer.
Today, many young writers think that success is gained overnight but that is not always the case. At least, it wasn't for me. In fact, when I announced my intention to become a writer, my mother did not even take me seriously (laughs).
RP. I know that you did your schooling in India before going away to England in 1951. You juggled various jobs while writing The Room on the Roof and the first thing that you did with the advance from the publisher was to buy a ticket back to India. Tell us more about this experience.
RB. I remember missing home and India, a lot, ever since I sailed to England. While writing my first novel, I did all kinds of jobs – I worked at a grocery store and even in the public health department. From the royalty advance (I still remember the 50 pounds) that I was paid for The Room on the Roof, I immediately bought a ticket to take me back home – to India. I still remember my friends begging me for a party to celebrate this triumph and so, pakoras and fizzy drinks, it was. Nothing fancy like the parties of today. Still, we enjoyed the party and the food immensely.
Back home, magazines and newspapers were the choices of the reading public, not novels and books. It was only after an editor published my novel in serial form in a newspaper that the novel started to gain popularity with the public.
RP. Can you tell us something about your latest work, All-Time Favourites for Children?
RB. All-Time Favourites for Children is a nicely put-together book that has some of my, and if I may say, public favorites like A Bicycle Ride with Uncle Ken, The Woman on Platform 8 and more. I recently received a letter from an 8-year-old girl who had read The Thief. She wanted to know if the work was truth or fiction. I also think it is important for all children's books to have illustrations.
RP. Just out of curiosity, do you still use a typewriter?
RB. I stopped typing almost five years back and have (exhales) been writing by hand ever since. Although I seem to have moved backward in terms of writing technology, I have fairly good handwriting. So, my publishers do not mind (laughs). Besides, the computer hurts my neck.
RP. When did you start writing for children specifically?
RB. Many would not know this, but it was only around the age of 40 that I wrote my first work specifically for children titled Angry River. I submitted my work to a publisher in England but they replied saying it was too short for a novel and if I would work on it a little and make it simple to read, they would publish it as a children's book.
RP. While writing for children, is there something you keep in mind?
RB. You must always ensure the story begins on a lively note and continues in that vein so that children can remain engaged throughout. Also, a writer must fill the story with interesting characters, which the readers can identify with.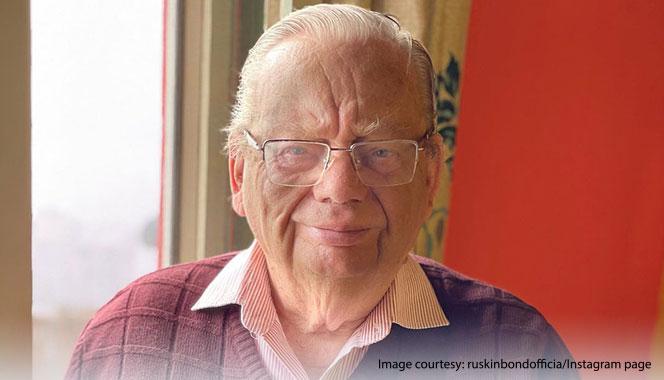 RP. We heard you were a hockey goalkeeper…

RB. Yes, I was and I believed that the position of a goalkeeper was a good one as you did not have to constantly run around and instead, wait for someone to come at you with the stick… And ball of course.
RP. In one of your works, Crazy Times With Uncle Ken, you have mentioned how one can feel the breeze on a cycle whereas cars are too fast and everything whizzes past you. A person riding a bicycle lives life at a leisurely pace. It seems to encapsulate your life philosophy. Can you explain?
RB. I believe that I am a bicycle myself as I love to do most things at a steady, leisurely place and hate rushing through things.
And there you have it. Rusty at his sparkling best. No matter your age, the works of Ruskin Bond never fail to stir in you the heartbreak of your first love, the cool breeze of the mountains, the evergreen childhood memories and more.
Based in Kolkata, The Prabha Khaitan Foundation is a non-profit trust founded by the late Dr Prabha Khaitan in the early 1980s. It is dedicated to promoting performing arts, culture, education, literature, gender equality and women's empowerment.