Timely career guidance and counselling can steer your child in the right direction. Read more about the benefits of career counselling for students.
"Career choice is always a search for the self and for work more fitting to that self."
- Richard N Bolles
Most students are required to make one of the most important decisions of their lives - choosing a career - at an age in which they have never been introduced to the concept of work. For most of them, therefore, choosing the right career is not an easy task. Also, there may be innumerable opportunities awaiting them in the future, but the gateway to those choices is limited by the narrow choice of subjects available in the present academic streams in Class 12. This calls for some serious decision-making by the students.
While there are some students who know exactly what they want to do, most are either clueless or confused. To make things worse, they are often coerced or misled into choosing subjects. The bigger problem lies in the disabling, outdated belief that a high score in a subject is often the only criterion for making a choice. This is where career counselling for students comes in.
Importance of career counselling for students
Career counselling offers school students a more systematic and thoughtful way to make a better choice for themselves. Career information offers factual data about the subjects available, course content, job requirements and the opportunities available. Career guidance for students enables deep inner exploration to understand their core interests, family influences, aptitude, personality, skills and attitudes. These elements can be combined to derive a personal career profile, which will help the students choose subjects and a career which they are more likely to enjoy and find satisfying in the long term.
What does a career guidance counsellor do?
It is common for class 10 students to find it difficult to choose a stream after board exams are over, as they lack adequate knowledge about the choices that lie ahead of them. Class 12 students face a larger dilemma of choosing the right career option from a plethora of choices.
It is important to seek help from a career guidance counsellor at such times. The role of a career guidance counsellor is to help students select the right subjects or stream and to keep them aware of all the great career options they can choose from.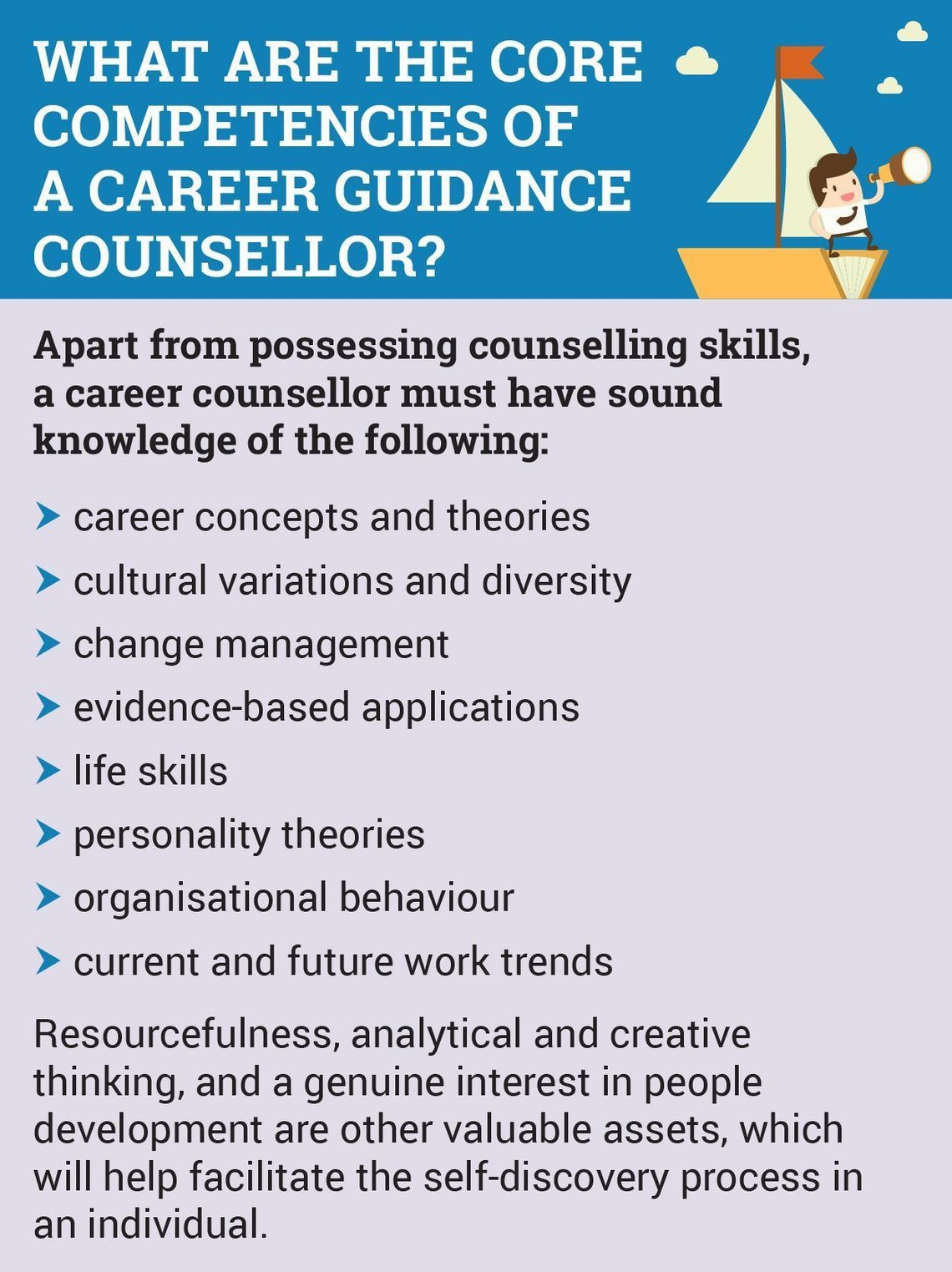 How is career guidance helpful to school students?
Career guidance uses a scientific approach to map an individual's career profile. It offers students information and support in making choices and leads them from conflict and confusion to clarity about what they truly want to do in life. Most importantly, it gets them actively involved in making a major decision. When they love the work they do, they are motivated, energised and confident, and will seize any opportunity that comes their way.
What is the right time to begin career guidance?
The subtle influences of early childhood play an important part in shaping a child's future career choices. Introducing children to the world of work is the first informal step to career guidance.
Class 8 is a suitable time for you, as parents, to start having casual conversations with your children about life after school, your own career journey, how you made choices, the key factors within and beyond your control that influenced your decisions, and what you like and dislike about your work. You should encourage the child's curiosity. You can also share interesting stories, talk about your successes and setbacks, and your hopes and aspirations.
In Class 9, these conversations can be extended to explore the career experiences of other family members, including grandparents, older siblings, relatives and friends. You can also teach your children how to ask questions about other people's work and get to know about various career profiles. Also, participating in extra-curricular activities will give children an opportunity to begin learning work-related skills such as getting along with people, researching information and resources, planning and organising, engaging in teamwork, solving problems, coping with frustrations, turning setbacks and failures into learning experiences, expressing creativity and managing time.
How can it help students choose a suitable career?
The formal career guidance process uses a scientific approach based on multiple human science theories and their applications. While it cannot, of course, offer any guarantees, it can suggest subjects and career pathways that the child is most likely to enjoy and be successful at. Most importantly, the process will make him aware of personal and social biases and any misinformation he may have picked up.
What should your child do to make the most of a career guidance session?
You should ask your child to keep an open mind and be attentive. This will help her ask pertinent questions and have her doubts clarified. She must also be aware of her socio-economic circumstances and look for ways to overcome any obstacles she may face. She should ask people about their experiences - likes and dislikes about the work they do, growth pattern and possibilities in the field, and the required qualifications. She needs to explore and understand the future of the industry she is interested in for the next twenty years, the risks involved and the opportunities. She should also find out how people have used their unique skill-sets to enhance their work or create new avenues and pathways for themselves.
As a parent, you can help your child understand the difference between aptitude and interests. An aptitude assessment measures a person's cognitive or thinking skills. The scores indicate how well the child can grasp concepts in various subjects. These inputs are combined with a student's core interests and career profile to create a career path that is most likely to be suitable for him. Often, there is a high correlation between the two.
What are the tools or processes used by career guidance experts?
Career counsellors use a variety of assessment and guidance tools. These tools help them in identifying the key components and competencies of a student. They may be administered individually or in groups; often, a combination of both is used.
A unique feature of the personal approach is the self-exploration process which many find very satisfying. The merits of the group approach are that it reaches out to large numbers and is therefore time efficient. Questionnaires, worksheets, discussions, standardised tests and assessments are used for guidance. Web searches, seminars and career fairs are mainly used for giving information about subject content, courses available and college admissions.
A skilled counsellor or a well-designed questionnaire can detect whether a student's mood or mental state is influencing the analysis.
Analysis and feedback are points for discussion between the student and the career counsellor. The students can express and get their doubts clarified and ask questions arising from the new insights they have gained. A thorough understanding of the analysis and recommendations will lead to clarity for the students and point them in the right direction.
As with all information on the Internet, one must be cautious about the authenticity and credibility of the assessment tools. The resources must be standardised material and culture-sensitive too.
What is the role of a parent in career guidance?
As a parent, you have a key role to play in helping your child make career choices. She requires your active participation and guidance as she may not yet be ready to make this big decision entirely on her own.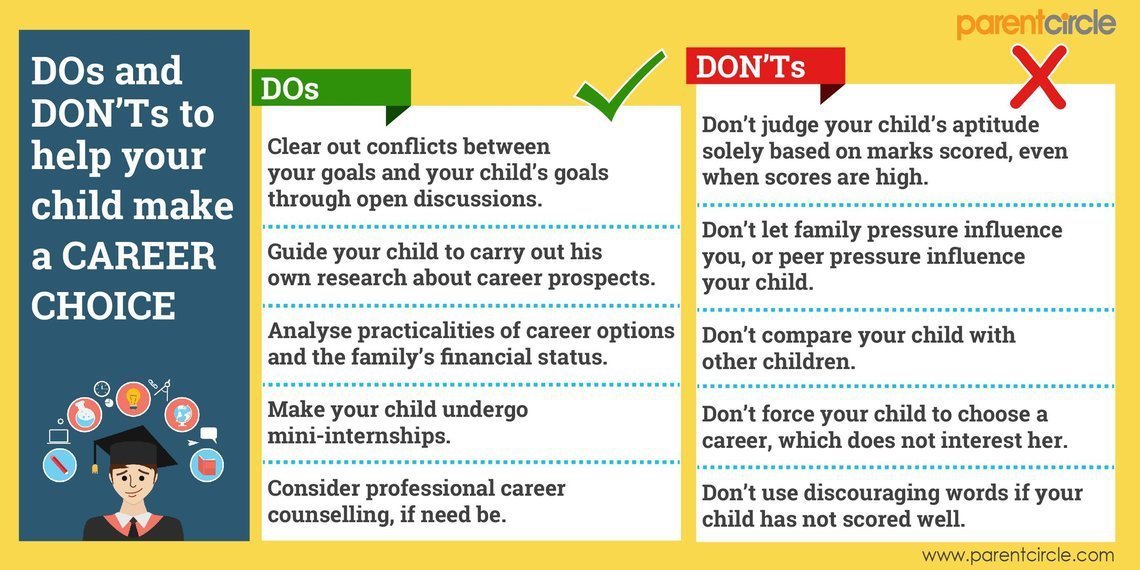 Allow your child to do the research himself. This engagement with information broadens his thinking and stimulates his interest besides leading him to discover something new. Assist him in his search with your support and understanding. It is important to discuss the options available for further study and employment after school. Listen to him when he talks about his doubts, fears, hopes and ambitions. Explain family constraints, abilities, finances, social norms, etc. Discuss, debate and research separately and together. Be aware of your own needs and unfulfilled desires, family pressures, expectations and interference.
Your child can choose subjects that enable her to work to her strengths, that she enjoys learning and those which challenge her to make the most of her capabilities. Do remember that as your child matures and finds out more information, she is likely to change her understanding about the choices she wants to make. All said and done, her subject choices for Classes 11 and 12 must be made carefully. Ensure that she does not inadvertently close any doors by making too narrow a choice. For example, if she omits a subject, she may not be able to take it up again for higher studies. Let her talk to as many people as possible, so that the decision you make together about the subjects she chooses is one that she will feel most comfortable with.
You may wonder whether career guidance is the perfect approach to finding the right career for your child. You may also ask yourself whether there will be a difference in the results of the aptitude tests, if done a few years or months later. Remember, there is no perfect approach. Different things work for different people. Core interests develop from various life experiences and influences. Hence, these interests do not change. Children may acquire new interests, some of them connected to existing ones, some entirely new. However, the differences will lie only in minor variations. Therefore, there will not be any major change in the results. So, go ahead and guide your teen early on, on the right career path.
Making the right career choice will mean a life-time of contentment. With these pointers, hope you ensure your child enjoys that contentment.

About the expert:
Written by Arundhati Swamy on 21 June 2017; updated on 18 February 2020
Arundhati Swamy is a family counsellor and Head of the Parent Engagement Program at ParentCircle.
Looking for expert tips and interesting articles on parenting? Subscribe now to our magazine. Connect with us on Facebook | Twitter | Instagram | YouTube

Join our Circles to share, discuss and learn from fellow parents and experts!