Try these quick and simple Indian home remedies to treat seasonal allergies
Lakshmi Krishnamoorthy
4 Mins Read
Children fall sick every time there's a sudden shower or a chill breeze. If you're looking at alternative ways to protect your child from changes in weather, check out these time-tested recipes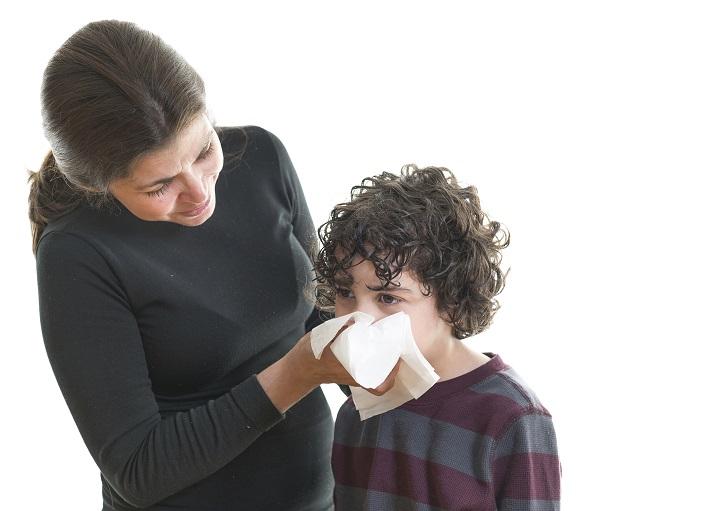 Sneha suffered from allergies whenever there was a change in the climate. When spring turned to summer or the rains gave way to winter, the little girl would wake up with a stuffy nose and itchy eyes. The stuffy nose would turn runny as the day progressed and she set off her torrent of sneezes, much to the amusement of her classmates. The allergic reaction only got aggravated further by the pollution.
Sneha's mother, Asha, had watched her suffer year after year and come to realize that allopathic medicines did not bring her any relief. Desperation to see her child get better led her to seek information about the use of home remedies in treating allergies from the grandmothers of her apartment complex.
Soon, Asha had gathered enough information about the use of various herbs and spices off her kitchen shelves in the treatment of common illnesses including the dreaded seasonal allergy her dear daughter suffered from. Asha tried the tips she had received to stop the runny nose and ward off the sneeze in a judicious manner. She experimented with one herb at a time and gradually mastered the art of administering home remedies.
Holy basil tea (Tulsi kashayam)
Ingredients:
A handful of tulsi leaves
4 peppercorns
1/2 tsp cumin
1/4 inch ginger, peeled
1/2 tsp honey
To make the kashayam:
Clean the tulsi leaves. Grind together with the other ingredients in a mixer adding very little water.
Transfer to a small container and add half a glass of drinking water. Heat the liquid and let it boil for 5 minutes
Allow it to cool till it is lukewarm. Then, strain, add a little honey and serve
Benefits:
 Tulsi boosts the child's immunity and can fight infections.
It helps get rid of cough and cold. Ginger has anti-inflammatory properties and helps relieve sore throat.
Give this kashayam to your child for 3 to 5 days for relief from allergic cold
Ginger-honey-licorice(Mulethi) root and lemon drink
Our ancestors have laid enough emphasis on the benefits of using herbs and roots in our daily cooking. Renowned herbalist, Laurel Vukovic, in her book, User's Guide to Echinacea/Cold Flu Fighters: How Vitamins and Herbs Can Get You Back on Your Feet Safely and Quickly,  reinforces the efficacy of these herbs by stating that, "Warming herbs such as ginger (Zingiber officinalis) and cinnamon (Cinnamomum zelandicum) make delicious tea's for helping to chase the chills that often accompany a cold or flu. Ginger, cinnamon and licorice root have infection-fighting properties, and lemon adds a healthy dose of vitamin C. Honey has expectorant action and helps to loosen congestion."
Here's Vukovic's recipe to make 'chill-chasing herbal tea'
Ingredients:
2 tbsp grated fresh ginger root
1 stick cinnamon bark
2 tsp licorice(Mulethi) root
1/2 lemon
1 tbsp honey
3 cups water
To make the drink: 
To make a tea, simmer the ginger with a stick of cinnamon and licorice root in 3 cups of water in a covered pot over low heat for 10 minutes
Remove from heat and allow to steep for another 10 minutes
Add the juice of one-half lemon, and one tablespoon of honey
Drink the hot tea, one-half cup up to three times a day
Sore throat gargle
Ingredients:
1 cup of water
1/2 tsp rock salt
To prepare:
Boil one cup of water, add salt and stir
Allow it to cool down a little and gargle with the warm solution several times a day
Raisin-pepper-cinnamon and licorice (mulethi) drink
The National Health Portal recommends the management of common cold caused by seasonal changes with kitchen-based preparations. Inflammation of the nasal passage, sniffling and excessive sneezing can all be managed with this simple drink
Ingredients:
4 raisins
3 peppercorns (kali mirch)
1 stick of cinnamon
1 piece of licorice root
1 corn of Malabar nut (Adusa/valmilaku)
1 tsp brown sugar
To prepare:
Boil all the ingredients in 200 ml of water for 10 minutes in a covered container
Allow it to steep, strain and serve warm thrice daily for 3 to 5 days
This concoction will give your child's allergy a run for its money
You may wonder about the scientific proof of the benefits of these remedies, but it would help to rely on the age-old wisdom that backs this treatment. Try them and your child will build immunity against the allergies helping her live a normal, healthy life.