Breastfeeding mothers must follow a good diet chart plan to increase breast milk and its quality. Here is a list of Indian foods for lactating moms and the foods to avoid while breastfeeding
The calorie intake for an average Indian woman is 1,800-2,000 kcal. Did you know that a lactating mother requires an additional intake of 550 kcal per day? Since they produce 2-3L of milk every day, it is very important for new mothers to have a wholesome, nutritious diet. Also, there are many Indian foods that help increase the quality of breast milk in mothers.
Good maternal nutrition is vital for health and reproductive performance of women, as well as the well-being of their children. However, these reproductive years are periods of nutritional stress for many Indian women. Pregnancy-related health and nutritional problems affect the quality of their lives and that of their infants well beyond delivery. Therefore, emphasis must be given on the foods for breastfeeding mothers to increase breast milk.
Here is a list of some of the best Indian foods to increase breast milk for breastfeeding mothers along with their nutritional content. Also included are a diet plan chart for lactating moms and a list of foods to avoid while breastfeeding.
Best foods for breastfeeding mothers
1. Foods rich in iron
Vegetarian sources
(non-heme iron)
Possible options
Cereals
Rice bran, rice flakes, puffed rice, buckwheat, whole wheat, oats and maize
Pulses
Chickpeas, soya beans, red kidney beans, Bengal gram (dal and roasted), cowpeas, whole green gram, sprouts, black gram and horse gram
Nuts and seeds
Almonds, cashew nuts, dried coconut, figs, raisins and sesame seeds
Note: Consume tea and coffee at least one hour after your meal as they decrease iron absorption.
Include foods rich in vitamin C like gooseberry, guava, lime, sweet lime, oranges, broccoli and tomatoes for enhanced iron absorption.
2. Foods rich in calcium
| | |
| --- | --- |
| Calcium sources  | Possible options |
| Cereal grains | Finger millet (ragi) |
| Pulses and legumes | Bengal gram whole, black gram dal, green gram whole, horse gram, moth beans, kidney beans and soya bean |
| Green leafy vegetables | Amaranth, cauliflower, colocasia, fennel, turnip greens, curry leaves, fenugreek leaves, drumstick, mustard greens, betel leaves and tamarind leaves |
| Other vegetables | Field beans, chayote, marrow, dry lotus stem and celery |
| Nuts and oilseeds | Almonds, walnuts, dry coconut, gingelly seeds, mustard seeds, poppy seeds and pistachio |
| Fruits | Apricot (dry), dates, lime, wood apple and raisins |
| Dairy products | Milk and curd |
3. Foods rich in protein
| | |
| --- | --- |
| Protein sources  | Possible options  |
| Lean meat | Chicken breast (without skin), fish (non-fried) and eggs |
| Dairy products | Low-fat milk and other milk products such as curd, paneer and cheese |
| Soya | Soya milk, tofu, soya beans, chunks and granules |
| Nuts | Roasted almonds and walnuts, and unsalted groundnuts, etc. |
| Beans and pluses | Red kidney beans, chickpea (chana and Bengal gram), horse gram, black gram, cowpea and green gram (all whole) |
| Mixed grains | Sprouts, green and dried peas, and split gram (dal) |
Note: In case of bloating and excessive flatulence, use sprouted pulses and soaked dal.
4. Vegetables and fruits to increase breast milk
Vegetables 
Fruits 
Green leafy vegetables like:


Amaranth
Radish leaves
Mustard leaves
Colocasia
Green mint
Knol-khol green

Other vegetables like:

Pointed gourd (parwal)
Spring onion
Broccoli
Dry lotus steam
Green plantain

Watermelon
Pineapple
Custard apple
Apricot
Pomegranate
Banana
Chikoo
Avocado
Green papaya
Cantaloupe
Red or pink grapes
Mangoes
Oranges
Prunes
Diet for breastfeeding mothers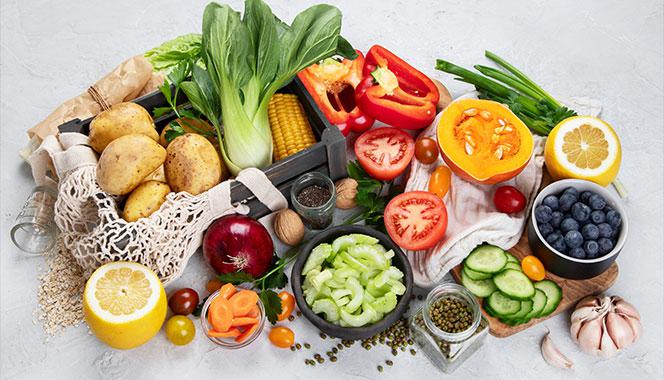 Include these foods in your daily diet while nursing your baby:
Eat a variety of foods from all food groups (cereals, pulses, dairy, fruits and vegetables, oils and nuts, and sugar).
Fluid intake of at least 3L per day (including water, juice, soups, buttermilk, lime water and milk) is a must.
Have small, frequent meals, three major meals and 2-3 minor snacks per day.
Maintain a 1-2-hour gap between dinner and bedtime.
Have at least one portion of dry fruits (raw, peeled almonds, walnuts, two figs, raisins, etc.) each day.
Incorporate seasonal fruits and vegetables to meet the requirements of vitamins A, E and C as well as B complex. Consume fruits in the mid-morning or evening only.
Have a combination of cereals (rice, whole wheat, broken wheat, ragi, jowar and oats) for both meals.
Restrict foods containing too much saturated fat (butter, ghee, cheese or cream), ready-to-eat foods that contain preservatives, deep-fried foods, dried coconut, alcoholic drinks, soft drinks, savories, sweets, packaged juices and white sugar.
Limit intake of coffee and tea to keep a check on weight gain.
Avoid taking any medicine or herbal supplements without consulting your doctor/dietician.
Note: Include galactagogues (the substance that improves lactation) such as garlic, fenugreek, fennel, flax seeds, pumpkin seeds, oatmeal and dill (shepu leaves).
Diet chart - sample
Dietary Recommendation For Lactating Women
Nutrition requirement
Lactation month
Energy (kcals/day)
0-6 month  - 2000
6-12 month -1800
Protein (gm/day)
0-6 month - 80
6-12 month - 70
Visible fat (gm/day)
0-6 month - 30
6-12 month - 30
calcium (mg/day)
0-6 month - 1200
6-12 month - 1200
Iron (mg/day)
0-6 month - 25
6-12 month - 25
Folic acid
0-6 month - 300
6-12 month - 300
This diet will provide 2000Kcals of energy, 80g of protein and 30g of fat.
Mealtime: 6:00 am
Menu: 1 glass of warm water and 6 almonds
( blanched and peeled)
Mealtime: 7:00 am
Menu: 1 cup light tea/coffee/milk (skimmed milk)
Mealtime: 8:00-8:30 am
Menu:
4 idlis (brown or red rice or rava) with 2 tbsp gram chutney and 1 ladle of sambar
or
3 wheat/ragi/plain/pesaratu dosas with 2 tbsp gram chutney and 1 ladle sambar 
or
2 chapati/paratha with 1 cup vegetable and 1 cup curd/raita
or
2 chapati/paratha with 1 cup vegetable and 1 cup curd/raita
or
2 slices brown bread/multigrain with paneer or tofu/omelet made of egg white or 1 boiled egg
or
1 cup vegetable upma (broken wheat/oats/semolina) or 1 cup poha with 2 tbsp gram chutney 
or
1 cup porridge (oats/broken wheat) or wheat flakes with milk (skimmed)
or
2 ragi rotis (with onion and vegetables) with 2 tbsp gram chutney
Mealtime: 11:00-11:30 am
Menu: Buttermilk/vegetable juice, 1 cup of salad/cut fruit and mixed dry fruits (50g of raisins/dates/figs/walnut
Mealtime: 1:00-1:30pm
Menu:
3 medium-sized chapatis
or
cup of rice and 2 chapatis
or
1 cup broken wheat or millet rice (kichdi/pongal or pulao) with 1 cup sambar or dal (whole dal/soya)bean/chole/paneer/tofu)/2 cups vegetables (one green leafy vegetable), 1 cup salad and 1 cup curd
Note: Non-vegetarian dishes like 2 pieces of fish/steamed/boiled or grilled chicken can be eaten on alternate days.
Mealtime: 4:00 pm
Menu: 1 cup of tea/coffee/milk with 2 biscuits (oats, ragi, multigrain)/puffed rice
Mealtime: 5:30-6:30 pm
Menu: 1 cup of vegetable soup and boiled sprouts/2 boiled egg whites
Mealtime: 8:00-8:30 pm
Menu: 2 medium-sized chapatis/multigrain dosas (ragi, wheat, jowar and millet) with 1 cup of dal, 1 cup of vegetable and 1 cup of salad
Mealtime: 10:00 pm
Menu: 1 cup milk (skimmed)
    Instructions:
1 cup = 100mL, 1 glass = 200mL
Oil allowance = 2-3 tsp/day
Foods to avoid while breastfeeding
Certain foods cause indigestion, gas trouble or allergy and must be avoided by nursing mothers because they may make the baby sick.
Foods containing monosodium glutamate
Deep-fried or fatty foods
Alcohol
Excess tea and coffee, since tannin and caffeine inhibit the absorption of micronutrients
Peanut/egg/soya/mushroom because they are common allergens
Herbal home remedies
The practice of giving lactating mothers age-old remedies still exists in many Indian households. Herbs and spices such as cumin, oregano, fennel seeds, mint, ginger, garlic, fenugreek, pepper and turmeric are used in general which increases milk production.
Alcohol consumption
Regular intake of alcohol decreases milk production by 20%. In case a nursing mother consumes alcohol occasionally, a time lag of 2 to 3 hours per unit after drinking must be maintained before nursing. This time is essential for the alcohol to be eliminated from the breast milk.
Supplements
A diet rich in iron and calcium is generally sufficient for lactating mothers who are breastfeeding. But mothers who get an inadequate supply of these nutrients must take iron and calcium supplements.
Moms, we understand breastfeeding could be hard. But who's stopping you from enjoying this amazing journey? Check out these cool breastfeeding accessories, breast pumps and nursing wear.



Breastfeeding accessories

Breast pump for feeding mothers

Maternity wear for women feeding
Tip to stay healthy
Eat fresh, home-cooked food while nursing, with five kinds of vegetables and three kinds of fruit daily. Also, drink 3-4 glasses of milk every day.
Eat a healthy diet while you are breastfeeding because what you eat determines the health of your baby.