Your child's busy at school and you are busy at work. No 'time' for vacations? Well, don't lose hope as weekends are very much there. Bring them alive with these short, yet stunning getaways.
"Better to see something once than hear about it a thousand times." - Asian proverb
Caught in the hustle and bustle of the daily life, all of us need a little break from time to time to recharge and rediscover ourselves. But, where is the time, you may ask? With most of us living in five-day work week scenarios, it only takes a 'bit of an effort' from you to make weekends count. With no elaborate planning or pre-booking, weekend trips can make for the most memorable experiences. We have put together a list of places around three big cities (Mumbai, Delhi and Kolkata) where you can head for that perfect weekend experience.
And, Kolkata is one destination that can appeal to both adults and children alike. While the many cultural attractions and historical monuments that dot the city is sure to appeal to the history enthusiast in you or your child, the gastronomic delights found in every street will satiate your taste buds.
To make your trip to the city a tad bit easier, we have put together a list of places around Kolkata where you can head for that perfect weekend experience.
Best places to visit in Kolkata:


1. Bishnupur: The city of the terracotta temples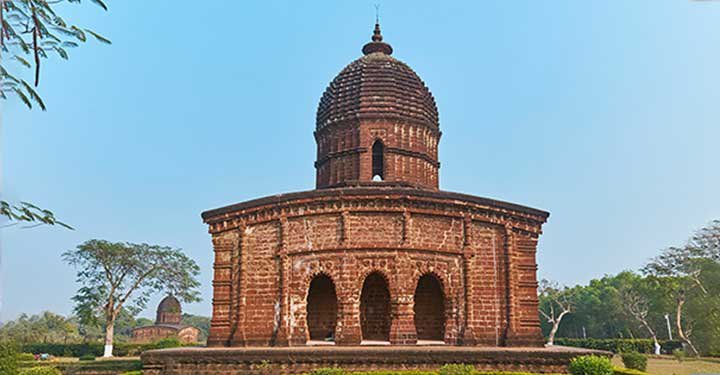 Distance from Kolkata: 135 km
Traveling time: 4 hours
Best time to visit Bishnupur: October to March
Located in the Bankura District of West Bengal, Bishnupur is a town known for its rich architecture, handicrafts and music. Here, you can explore the exquisite Hindu temples made from local terracotta, marvel at the architecture and beauty of the perfect pyramid-shaped ancient temple, study the ornate carvings on mud and terracotta walls, and recollect scenes from Mahabharata. Today, Bishnupur is the seat of craft and culture, being home to the Baluchari saree, Bishnupur Gharana Hindustani classical music, and the Bishnupur school of painting. Bring back exquisite souvenirs such as Bankura horse, conch shell beads and 'Dash Avatar' playing cards.
Places to visit in Bishnupur during a weekend getaway
Rasmancha temple: Visit the pyramid-shaped temple, established around 1600.
Jor Bangla temple: Check out the famous ornate carvings that adorn the walls.
Madan Mohan temple: Explore a unique temple, decorated with scenes from Hindu legends, including the 'Mahabharata'.
Dalmadal cannon: Get a feel of history by visiting one of the largest bored-cannons built to defend against the Marathas.
Bishnupur museum: Get mesmerized by the display of manuscripts and ancient sculptures.
2. Shantiniketan: The home of Tagore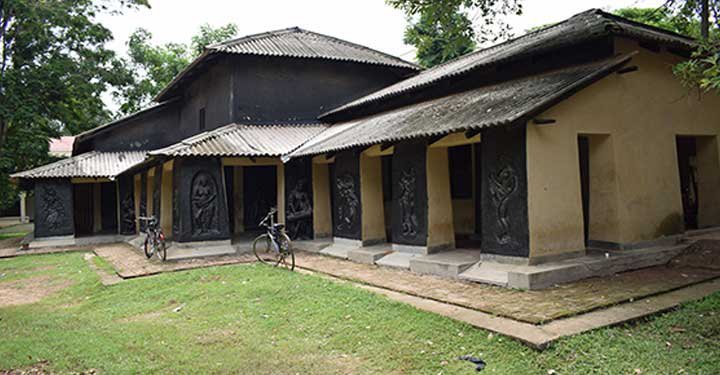 Distance from Kolkata: 160 km
Traveling time: 3 hours 45 mins
Best time to visit Shantiniketan: July to February
Shantiniketan is one of the outstanding creations of the Nobel Laureate Rabindranath Tagore. His vision of setting up a school along the lines of a Gurukul system, where learning goes beyond the confines of a classroom, laid the foundation for the Vishva Bharati University. The entire area of his residence, town and university is commonly referred to as Shantiniketan. Experience the concept of open-air education at Vishva Bharati. The art department, Kala Bhavan is a must visit. Shop for books, pottery and exquisite modern stoneware; it's a great place to shop directly from the artisans at throwaway prices.
Over the years, Shantiniketan has become one of the most culturally developed destinations in India.
Places to visit in Shantiniketan during a weekend getaway
Uttarayan Complex: Visit the five houses built during the different phases of Rabindranath Tagore's life that stand here proud.
Bichitra: Explore the houses, the library and the museum, which display his original manuscripts, Noble Prize, other awards and paintings.
Vishva Bharati University campus: Feel the history lessons come alive by visiting India's most renowned place of higher learning, which boasts of Amartya Sen, Indira Gandhi, Satyajit Ray as its illustrious alumni.
3. Sundarbans: Home of the 'swimming Bengal Tiger'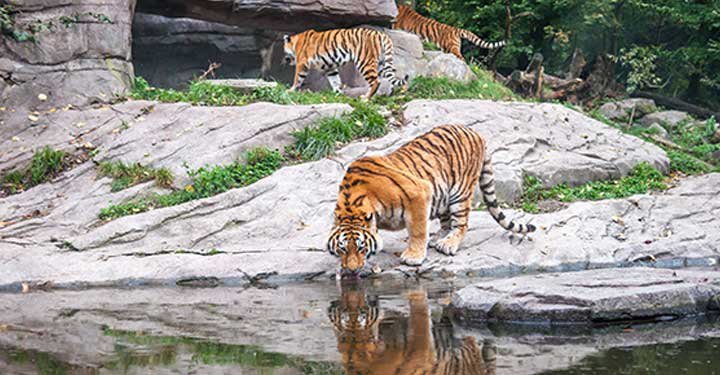 Distance from Kolkata: 135 km
Traveling time: 4 hours
Best time to visit Sundarbans: October to March
Translating literally into 'beautiful forests', the Sundarbans is all about wilderness with its meandering rivers, springs, creeks and estuaries. It is also home to the Royal Bengal Tiger. Spread over an impressive 10,000 sq. km, this tiger reserve is shared by India and Bangladesh. Don't miss taking a walk with the turtles at the island of Kanak.
Places to visit in Sundarbans during a weekend getaway
Boat cruise: Spot the ferocious Royal Bengal Tigers and Gangatic dolphins while enjoying a great boat ride.
Sajnekhali: Explore the large bird sanctuary that is home to a variety of colorful birds.
Netidhopani watch tower: View the ruins of a 400-year-old Shiva temple.
Gangasagar: Visit the confluence of the holy rivers Ganges and Brahmaputra.
Other nearby weekend getaway destinations from Kolkata include Mayapur, Digha and Henry's island. So, what are you waiting for? Pack your bags and head to these destinations and return with a lifetime of happy memories!
About the author:
Written by Mandavi Jaiswal on 25 September 2019.
Mandavi Jaiswal is a freelancer writer from Mumbai.

Join our Circles to share, discuss and learn from fellow parents and experts!
Looking for expert tips and interesting articles on parenting? Subscribe now to our magazine. Connect with us on Facebook | Twitter | Instagram | YouTube