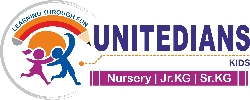 United Kids, Nirant Cross Road
The Unitedians Kids sees itself as a part of a larger community and authentic connections to the community are a vital part of the educational philosophy of the school. Because daily exposure to the natural environment is essential for the healthy development of children, experiences in and around nature are a key component of the school's educational beliefs. The school recognizes the role that families play in creating deep and meaningful experiences for children. With this in mind, The Unitedians Kids is always open to the unique perspective and points of view of parents and other important care givers in the lives of the children.
Website
www.unitedianskids.com/
Address
No. 1, Rajdhani Tenament, Nirant Cross Road, Vastral, Ahmedabad, Pincode:382418, Gujarat.
Features
AC Class room, Indoor Playground, Library, Outdoor Playground, Toy Room

[]

['Preschool']
Working hours
7.30 am to 10.30 am - 11 am to 2 pm

7.30 am to 10.30 am - 11 am to 2 pm

7.30 am to 10.30 am - 11 am to 2 pm

7.30 am to 10.30 am - 11 am to 2 pm

7.30 am to 10.30 am - 11 am to 2 pm

Holiday/closed

Holiday/closed
Related Listings