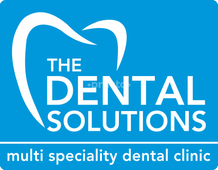 The Dental Solutions
Welcome to Dental Solutions, a specialized laser, implant and cosmetic dental clinic since September 2000. Dr. Smita Musani and her team of doctors & staff at Dental Solutions, are devoted to restoring and enhancing the natural beauty of your smile using minimally invasive, state-of-the-art procedures that will result in beautiful, long lasting confident smiles. Here we strive to provide gentle and tailored care in a friendly and relaxed environment, with the greatest skills and quality. Our primary commitment is to maintain the highest standards of service, sterilization, and above all – patient care. Dental Treatments have been always associated with pain and fear, at Dental Solutions we ensure that this factor is addressed and therefore we have incorporated non-threatening treatment modalities like laser dentistry and use of nitrous oxide and oxygen to relieve anxiety. It is our endeavor to constantly bring in new technologies and upgrade our skills. Our motto is life long learning for superior patient care.
Address
1132/3, First Floor, Vishnu Darshan, Fergusson College Road, Next to Hotel Lalit Mahal, Shivaji Nagar, Pune, Pincode:411016, Maharashtra.
Working hours
10 am to 8 pm - 2 pm to 4 pm

10 am to 8 pm - 2 pm to 4 pm

10 am to 8 pm - 2 pm to 4 pm

10 am to 8 pm - 2 pm to 4 pm

10 am to 8 pm - 2 pm to 4 pm

10 am to 8 pm - 4 pm to 4 pm

Holiday/closed
Related Listings