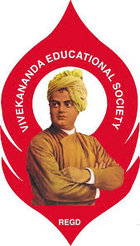 Smt. Narbada Devi J Agarwal Vivekananda Vidyalaya Junior College
Smt. Narbada Devi J. Agarwal Vivekananda Vidyalaya Sr. Secondary School. , fourth unit of Vivekananda Educational Society is a unique institution imparting Man-Making Education to children. It seeks excellence in the sacred field of learning and fulfils a long felt need to provide culturally oriented quality education with effective emphasis on the eternal moral value enshrined in our hoary tradition and culture. The Vidyalaya had its humble beginning with a student strength of 174 in a small rented building in 1977, grown today into Junior College with classes upto XII with a student strength of about 3320. The Vidyalaya has a modern building complex, complete with huge auditorium, indoor auditorium, prayer hall, computer center, junior computer lab, multimedia room, two-tier library hall, well equipped Science and Maths laboratories, a Gymnasium and a colourful children's corner. Our vidyalaya campus is chaste and lovely with several play fields to conduct almost all games.
Address
3rd Main Road, Vyasarpadi, Post Office, Vyasarpadi, Chennai, Pincode:600039, Tamil Nadu.