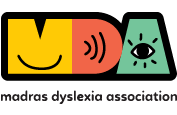 Madras Dyslexia Association
Madras Dyslexia Association (MDA) is a non-profit service organization established to take a pragmatic approach to helping children with "Dyslexia". MDA has been functioning for the past two decades in providing remedial help and support to these children, their parents, as well as spreading awareness to the community at large, helping schools set up resource rooms and conducting teacher training programmes. We dedicate ourselves to the cause of dyslexia and provide services in all the related areas focusing on the child with dyslexia. Since dyslexia hidden disability which does not allow the child to perform to his/her actual is a potential, the under achievement of an otherwise intelligent child is puzzling to both teachers and parents alike. Timely identification and appropriate help will ensure that these children continue in the mainstream of education and their potential is fully tapped.
Website
www.mdachennai.com/
Address
No. 94, Park View, 1st Floor, G. N. Chetty Road, -, T. Nagar, Chennai, Pincode:600017, Tamil Nadu.
Features
Working hours
10 am to 3.30 pm

10 am to 3.30 pm

10 am to 3.30 pm

10 am to 3.30 pm

10 am to 3.30 pm

Holiday/closed

Holiday/closed
Related Listings