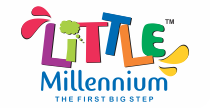 Little Millennium
Millennium stablished in year 2008 Little Millennium is the best preschool chain in India. The guiding principle of 'Little Millennium Preschool' is to provide children with a culturally soundenvironment, the right values, love and protection needed for a healthy body, mind and soul in the most critical phase of a child's growing years. Select India's best play school for your child and nourish your child's formative years with love and care!.
Website
www.littlemillennium.com/
Address
Kamal Kunj Society, 1, Swaminarayan Temple Lane, Rambagh, Maninagar, Maninagar, Ahmedabad, Pincode:380008, Gujarat.
Features
Arts & Crafts, Chess, Dance, Drawing & Painting, Games, Music, Sports, Storytelling, Tuition

After School, Before School

Before & After School Care, Indoor Play Area, Library, Multi-purpose Hall, Outdoor Play Area

Co-Ed

English, Regional Languages

Play-way Schools

Arts & Crafts, Dance, Drawing & Painting, Games, Music

School Bus, School Van
Working hours
9.30 am to 5 pm

9.30 am to 5 pm

9.30 am to 5 pm

9.30 am to 5 pm

9.30 am to 5 pm

9.30 am to 5 pm

Holiday/closed
Related Listings