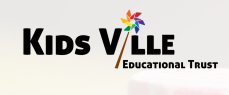 Kids Ville Academy
In the field of education, traditional approach is good but never enough. At the very basic level, children are all alike. However, as we go beyond the basics, we begin to see how each one is different. This difference defines their personality. Some of the concerns that bother parents and children in a traditional setup include:Stress on traditional learningLack of interactive learningRigid framework of boardsWhen do children need alternative education? Alternative education is suitable in situations where children show distinctive learning differences. Kids V'lle Educational Trust provides special education with a supportive and a nurturing environment for children. We have the expertise to handle children with learning disorders such as:Autism Spectrum Disorder, Dyslexia, ADHD, Down's Syndrome, slow learner, Speech and Language delay & social behavioral disorder. The pedagogical methodology at the academy encompasses myriad learning strategies that are formulated to meet the heightened learning challenges of these children, coupled with the following benefits:Integrated learning approach (teacher-learner-parent)Personalized educational experienceFocus on natural environment of the childNon-competitive and non-graded environmentCompassion-a way of lifeEnrichment within and beyond the confines of the classroomFavorable teacher-student ratio (1:3)Our special educators work together with the parents towards bridging the gap in the learning curve of children with learning differences. This team work helps in providing a robust learning environment that enables children to realize their true potential.
Website
kidsvlleeducationaltrust.com/
Address
No.1566, 27th Main, Sector 2, Opposite Power Station, Hsr Layout, Bangalore, Pincode:560102, Karnataka.
Features
Arts & Crafts, Dance, Drawing & Painting, Field Trips, Games, Music, Sports, Storytelling, Tuition

All Day

Indoor Play Area, Library, Outdoor Play Area

Co-Ed

English, Hindi, Regional Languages

Play-way Schools

Arts & Crafts, Dance, Drawing & Painting, Field Trips, Games, Music, Sand Play

School Bus, School Van
Working hours
9 am to 6 pm

9 am to 6 pm

9 am to 6 pm

9 am to 6 pm

9 am to 6 pm

Holiday/closed

Holiday/closed
Related Listings