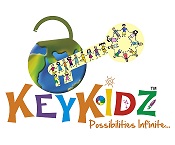 Keykidz Electronic City
Children hold the key to our lives If you are looking for Best Preschool and Day Care on Bannerghatta Road & Electronic City. . . your search ends here/ you are at right place Keykidz is the preschool and day care centre on Bannerghatta Road and Electronic City that has been rated as the best playschool and day care by parents. The core belief at our preschool and day care is that children hold the KEY to our lives. At our playschool and day care centres we know children hold the KEY to the world and have the potential to unlock infinite possibilities, if nurtured well. We offer the award winning* '7 E' curriculum. This, along with our passionate and trained facilitators makes us the best preschool and day care option in Bangalore. This focus on the KEY aspects of child's learning requirements makes us the best preschool and day care in Electronic City Phase 1 and Bannerghatta Road for children. Here the child is nurtured to grow into happy and responsible global human being. The KEY principle of Keykidz preschools and day cares' philosophy is to make learning experiential, while maintaining the significant balance between Choice & Structure.
Address
203, 3rd Cross Road, Neeladri Nagar, Electronics City Phase 1, Electronic City, Electronic City, Bangalore, Pincode:560100, Karnataka.
Features
Arts & Crafts, Chess, Dance, Drawing & Painting, Games, Music, Sports, Storytelling, Tuition

After School, Before School

Before & After School Care, Indoor Play Area, Library, Multi-purpose Hall, Outdoor Play Area

Co-Ed

English, Regional Languages

Play-way Schools

Arts & Crafts, Dance, Drawing & Painting, Games, Music

info@keykidz.com

www.keykidz.com

School Bus, School Van
Working hours
8.30 am to 7 pm

8.30 am to 7 pm

8.30 am to 7 pm

8.30 am to 7 pm

8.30 am to 7 pm

9.30 am to 1.30 pm

Holiday/closed
Related Listings