You are not alone if you dread going out in the sun fearing suntan. Protect your skin from the harmful UV rays with ayurvedic ingredients and step out with confidence. Find out how
Summer season is notorious for causing damage to the skin and sun tanning is a huge problem for many of us. Tanning can damage skin in more than one way and Surbhi Goel's experience is the perfect example. Surbhi, who works for a film production company, often has to go out in the sun to scout for location and other work-related tasks. Even after slathering sunscreen on her skin every time she steps out, she gets heavily tanned. Over the years, exposure to the sun has made her facial skin dark, uneven and even blemished.
What causes suntan?
Ultraviolet (UV) rays of the sun are the main cause behind suntan. The UV rays the Sun damages the epidermis or the upper layers of the skin which leads to tanning. Once UVA rays penetrate to the lower layers of the epidermis, they trigger a process which a brown pigment named melanin that makes the skin appear darker and burnt. Apart from that, exposure to environmental pollutants also causes pigmentation in the skin.
Damages caused by sun tanning are:
It damages the sensitive outer layer of the skin
It makes the skin texture look uneven
Overexposure to the sun could lead to severe skin issues
Sun damage also causes open pores and black heads
Most people stay away from sun because of these ill effects of sun tanning. But what about people like Surbhi, who must go out in the sun for work?
With right skin care routine, everyone can fight sun tanning and go out in the sun without fear of skin damage. A good suntan removal product like a face wash is a must in daily skin care routine.
Ayurvedic ingredients that aid in tan removal:
Natural products are your best bet when it comes to lightening or removing sun tan from your skin. While looking your tan removal skin care products, look for products that are antioxidants and help in deep cleaning of the skin.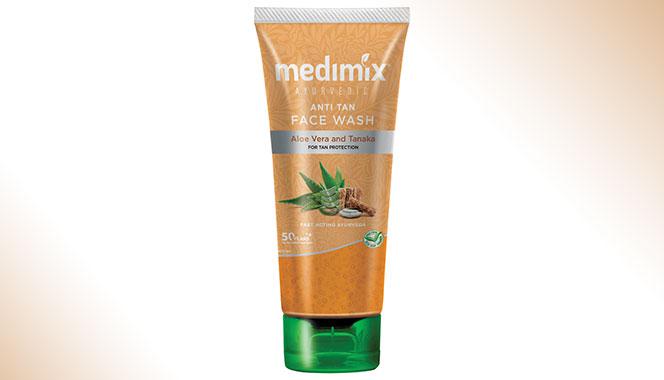 There is a specific tree bark named Tanaka which is found in Myanmar, finely ground powder of the bark of this tree is used in Medimix Anti-tan facewash to clear blemishes from the face. This ingredient also produces antioxidants which help in deep cleaning of the skin. It removes excess oil from the face too. Tanaka barks are also known to nourish the skin.
Like Tanaka, nature is full of ingredients which has the power to fight off sun tan. The other ingredients used in Medimix face wash, such as Kapittha, Yastimadhu and Karcura, are also known for their anti-tan properties. Along with Tanaka, these Ayurvedic ingredients packed a punch in removing sun tan.
Those who vouch for home remedies, find potato juice, cumber extract and even coconut milk hugely effective in sun tan removal.
Apart from facial skin, other exposed areas like neck, hands and feet also get dark due to tanning. To remove that, you try these home remedies.
Oatmeal and buttermilk: These two ingredients are used for ages to remove suntan.
To apply, soak 2 table spoon of oats in 1 cup of water for five minutes, mix with 2-3teaspoon of plain buttermilk to make a paste. This paste also help remove excess oil from the face and also nourishes the skin.
Saffron and milk: Saffron is known benefit skin in various ways. It is good to lighten sun-darkened skin. To apply, soak few strands of saffron in 2 tablespoon of milk or cream and apply all over face or on affected areas.
Lemon and honey: Nature is full of ingredients which has the power to fight off suntan and lemon juice is one of them. To apply, squeeze 2 table spoon of fresh lemon juice and mix little bit of honey to it. Now, apply on your face and leave for 15 minutes before washing your face.
Aloe vera as natural sun cream: Gel from the aloe vera plant is widely used as a natural sun cream in skin care. If you applying it directly from the plant is too cumbersome, you can opt for skin care product that uses aloe vera.
 Medimix Anti tan face wash: This ayurvedic face was uses ingredients such as Kapittha, Yastimadhu and Karcura. Known for their anti-tan properties, these Ayurvedic ingredients packed a punch in removing suntan.
Skin dehydration
Skin dehydration is another problem area for some people, and this could even lead to dry and dull skin. The effective way to deal with this is to use products which prevents dehydration. Apart from kitchen shelve ingredients like besan and milk, Medimix Anti tan face wash works on the skin within days of application as it gently tones and exfoliates the skin.
Ayurveda suntan removal
Ingredients like turmeric and sandalwood are your effective shield against suntan removal. Make a paste with sandalwood powder and a pinch of turmeric and apply on your face to remove dullness and pigmentation caused by suntan.
Alternatively, you can use Anti Tan Face Wash by Medimix. It brings you the right mix of Ayurveda and science and are highly effective. Designed to keep your skin protected all day long, this face wash helps in removing the stubborn pigmentation from the face caused by over exposure to sun.
Protect your skin from free radicals
Environmental pollutants also damage skin and if you have to go out, there is no escape from it. But with right skin care you can even reverse sun damage to your skin.
Dead skin removal and sun tan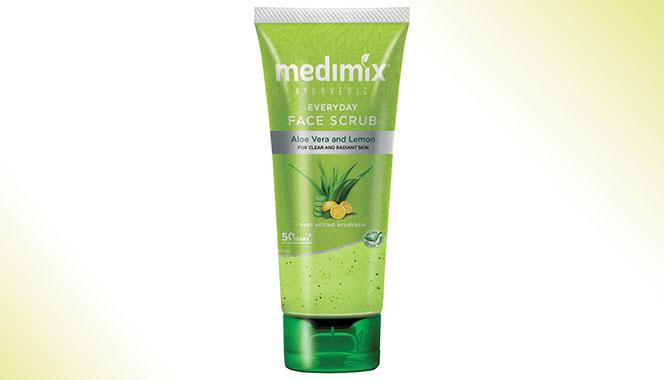 Clearing out dead skin cells from the outer layer of the skin is one of the few steps to remove suntan. Using a scrub like the Medimix Everyday Face scrub in your daily skin care routine would help keep your skin clean.
Blackheads and open pores
Sun damage can also cause large open pores on the face as a result of excessive sebum production. When these large pores get filled with dirt and grime, they cause blackheads to appear. Blackheads makes the skin appear blemished and darker. If you aspire for a clearer skin, work on reducing open pores and removing black heads from your skin.
Skin care is all about using the righty products with a disciplined daily routine. Healthy skin can make you feel beautiful from within.