Concerned about child sexual abuse? Here are some pointers on creating a safe environment for your little one.
'Child sexual abuse is not really common, and will not happen to my child.' That is one of the most common myths about this very real issue. Any young child, whether boy or girl, can be sexually abused. It is your responsibility as parents to do everything you can to make your child aware of the possibility of sexual abuse, and take all steps to prevent it.
What is CSA?
Child Sexual Abuse (CSA) can be defined as any interaction between a child and an adult or older child in which the child is used for the sexual stimulation of the perpetrator or an observer. (A child is any person below 18 years). CSA includes both touching and activity that doesn't involve touching.
Touching includes using an object or any part of the body to penetrate the vagina, mouth, urethra or anus to any extent, or making the child carry out the penetration on herself or any other person. It is also considered CSA when a person touches or makes a child touch the vagina, penis, anus or breast, or does any other act with sexual intent which involves physical contact without penetration.
CSA that does not involve touching includes showing pornography to a child, deliberately exposing an adult's genitals to him, photographing him in sexual poses, encouraging him to watch or listen to sexual acts or inappropriately watching him undress or use the bathroom.
The offence is considered 'aggravated' if the perpetrator is a person in a position of trust or authority, like a teacher, police officer or parent, if the child is below 12 years of age, is disabled, or if, as a result of the abuse, the child becomes pregnant or suffers grievous injury.
Prevalence of CSA
According to the Study on Child Abuse: India 2007 published by the Ministry of Women and Child Development (MWCD), about 53% of children in India are abused. The highest numbers of cases were reported from Uttar Pradesh, Assam, Delhi, Andhra Pradesh and Bihar. As per the National Crimes Records Bureau, 15,039 children were identified as victims of assault under the Protection of Children from Sexual Offences (POCSO) Act in 2015.
The global prevalence of child sexual abuse is estimated at 19.7% for females and 7.9% for males. The highest incidence of sexual assault was reported among children on the street, at work and in institutional care.
It only happens to girls. Really?
It is commonly believed that only girls are victims of CSA. But that's a myth. The MWCD study found that 52.94% of CSA victims were boys and 47.06% girls. According to a survey in Delhi, almost as many boys were victims of sexual abuse as girls, but the problem was far less reported or talked about. Studies have shown that boys who are sexually traumatised often grow up to be perpetrators of violence.
Are some children more vulnerable than others?
Children from all walks of life can be victims of sexual abuse. However, children with physical, psychological or mental disabilities are at increased risk. Children belonging to the lower socio-economic status, those under the influence of alcohol/drugs and victims of child marriages are at higher risk. The absence of one or both biological parents, marital conflicts, and/or parental substance abuse increases vulnerability. Children are most vulnerable to CSA between the ages of 5 and 12.
The psychological and physical effects of CSA
Physical effects of CSA depend on the age and size of the child, and the degree of force used. Injuries including internal cuts and bleeding could occur. Severe damage to internal organs may cause death. Abuse may cause infections and STDs. Research has shown that traumatic stress due to sexual abuse can cause neurological damage too.
Some psychological effects of CSA are anger, fear, helplessness, guilt, shame and feelings of isolation and betrayal. Children often blame themselves for the abuse. They withdraw from adults, including parents (even the non-abusive one), especially in cases of incest. Children also have nightmares and/or panic attacks.
Sometimes, victims of CSA suffer from long-term effects like depression, anxiety, low self-esteem and sleep disorders. 'Damaged goods' syndrome is common, where the victim develops a negative body image due to self-blame. This may be intensified if physical pain was experienced during the abusive incident. Continued dissociation and isolation lead to problems in forming and maintaining relationships. Victims might also exhibit self-destructive behaviour like substance abuse or suicide attempts. Fear of intimacy sometimes causes sexual difficulties. When they in turn become parents, they might fear failing in their responsibilities and abusing their children, or might be overprotective.
Who are the perpetrators?
Child abusers come from all classes, racial and religious backgrounds and may be homosexual or heterosexual. While male offenders are commonly heard of, women also sexually abuse children. Sometimes, young people or adolescents are also capable of causing sexual harm to younger children.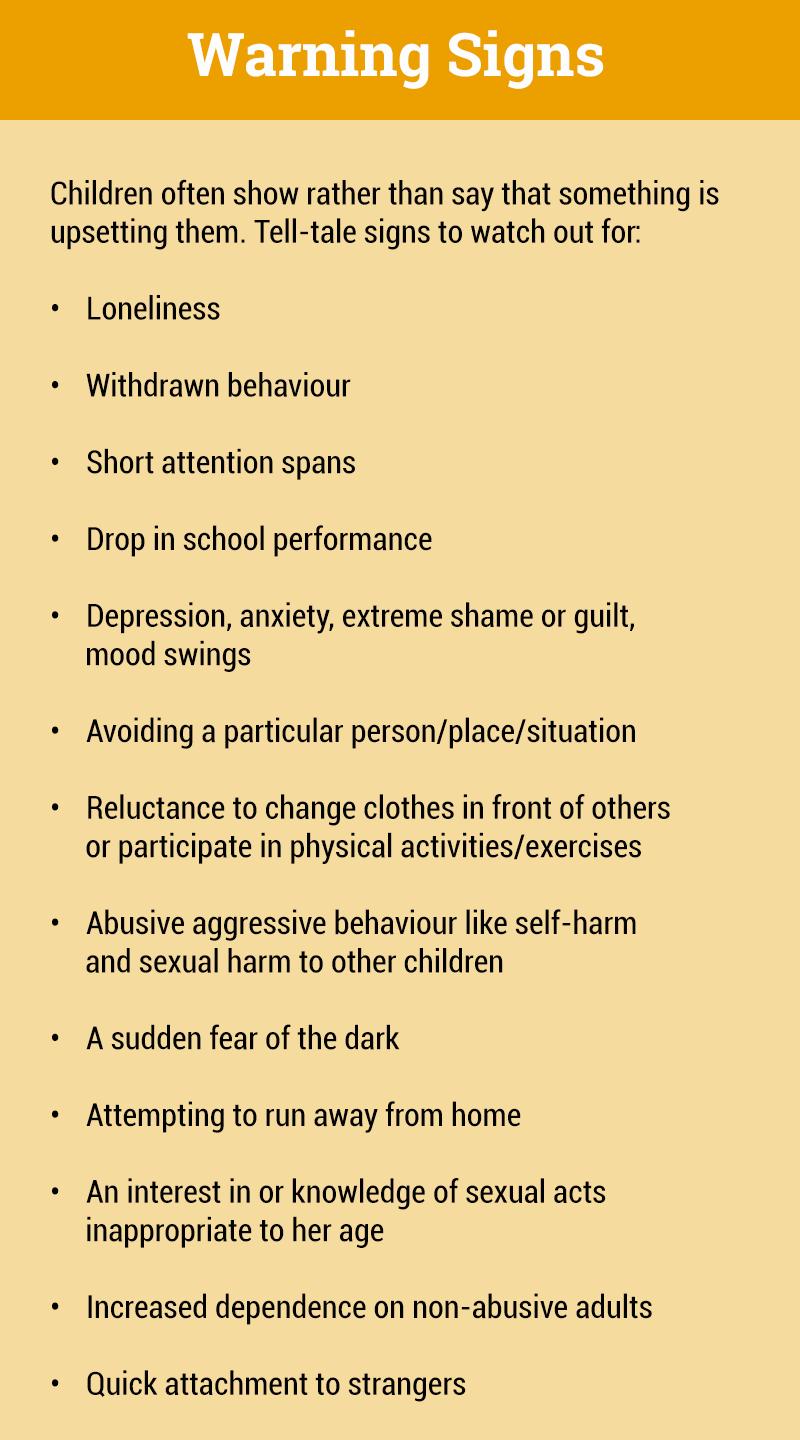 Talking to a child about sexual abuse
As parents, you have to take the initiative in teaching your child the difference between safe touch and unsafe touch, while taking care not to alarm him unduly.
Start by explaining how certain parts of her body - the mouth, chest, genital area and buttocks - are private and should not be touched by anyone other than the parents and primary caregivers, for purposes of cleaning. Don't use made-up names for private parts. Teach your child the real terms - penis, testicles, vagina, breasts, etc. - so that she understands that she can be open about discussing these areas.
Teach your child the No, Go, Tell routine. He must shout 'No' if someone touches his private parts or even if he feels uncomfortable, Go/ run away from that place and Tell a trusted person about the incident. Help your child choose three elders to reach out to for help at any point of time.
Sex abusers manipulate children by telling them to keep secrets. Remind your child frequently that no adult, including you, should ever ask her to keep secrets.
Establish a relationship of faith and trust with your child. Let him know that if he comes to you for help, you will take him seriously, and you won't get angry with him.
The Youtube video Komal is a good resource to use.
What to do when your child complains of sexual abuse
Your immediate reaction when a child complains to you about sexual abuse is key to her recovery and subsequent well-being.
Here are some tips to handle the situation:
Remain calm. If you display anger, the child may think you are going to punish him.

Believe and support the child. Children rarely lie about abuse. Being taken seriously and having family support can help the child cope with the trauma.

Reassure the child. Make sure she knows you love her, and keep telling her she has done nothing wrong. Never give her the impression that you blame her.

Do not pressure the child in any way. Listen to what he has to say, but don't press for more information.

Observe behavioural and bodily changes.

Ensure that the child feels safe following disclosure.

Act on the disclosure. If your child asks you to keep his disclosure a secret, don't make any false promises. Report the incident. Don't worry about what other family members or society may say. Remember, being aware of a child abuse case and not reporting it is illegal under the POCSO Act.

Get professional help to guide your child to safety and healing.

Do not confront the perpetrator yourself.

The national helpline number, 1098, is manned by a team of volunteers who will help.
You can also contact child rescue organisations present in nearly every state and city to assist the child and family. Mumbai-based Arpan, Bosco in Bengaluru, Rahi in Delhi, El-Shaddai in Goa and Tulir in Chennai are some of these. Save The Child has centres all over the country.

Taking action against the offender
File a police complaint under the POCSO Act. An investigation is normally conducted within three months of the complaint. A Special Court will take up the matter a month later, and give a ruling within two months.
The Government recently introduced a POCSO e-Box on the National Commission for Protection of Child Rights (NCPCR) website. Complaints lodged here will reach the NCPCR directly.
Preventing CSA
Think beyond 'Stranger Danger': 80%-90% of CSA is committed by someone the child knows well. Check who your child spends time with on a daily basis.
Be wary of one-on-one time: The perpetrator may suggest private tutoring time, one-on-one lessons, etc. Don't allow this.
Be aware of 'groomers': 'Grooming' refers to a series of steps an abuser takes, such as gaining access to the child, developing a relationship, making the child feel 'special' by providing extra attention and gifts. This manipulation is why children find it difficult to say 'no' when the abuser introduces inappropriate action.
Get involved in your child's life: Be conscious of your children's environment, pay surprise visits to these places. Know your children's schedule and tell them to keep you updated if there is a change in plans. Meet their teachers, caretakers, friends and their parents often. Check the media they have access to. Encourage them to play in open public spaces.
By equipping yourself with all this information on CSA, you can surely prevent your child from becoming a victim.
Safecity is a platform that crowdsources personal stories of sexual harassment in public spaces.