Do you know that creative children are better at analytical thinking? Engaging in art activities helps them to be a better communicator as well. Guide your child to be more creative with structured art learning. Find out how!
Doodling and coloring come naturally to all children. But do you realize that your child's creativity in the sphere of arts could help his career in the future? Yes, creativity in children is a desirable trait these days. One that is paying rich dividends.
The National Education policy 2020 (NEP 2020) has also given much importance to creativity in studies. If you are planning to enroll your child in an art class to keep him busy, also consider the other benefits art activities can bring to him.
Practicing art helps kids think differently and it is good for developing motor skills. Apart from that, art helps in building a sense of self. Even for young children, expressing through a drawing helps them vent their emotions better.
How creativity is an important life skill for children
Does your child come up with interesting solutions to the day-to-day problems he or she faces? (For example, using a lid of a bottle to draw a mandala circle). Then, he is being creative in his thinking. When you think differently and come up with practical yet unique ideas to solve an issue, it is known as creative thinking.
In today's competitive world, if you want your child to do well, being creative in his thinking greatly helps him stand out in a crowd.
Do you know that using colors can make your child happy? Children express their emotions better with art. And it helps them de-stress too. As the pandemic has forced everyone to be home, it becomes more imperative that children channelize their emotions through art. Drawing and coloring is a useful hobby too, something that would stay with them forever.
Why choose
Globalart

for your child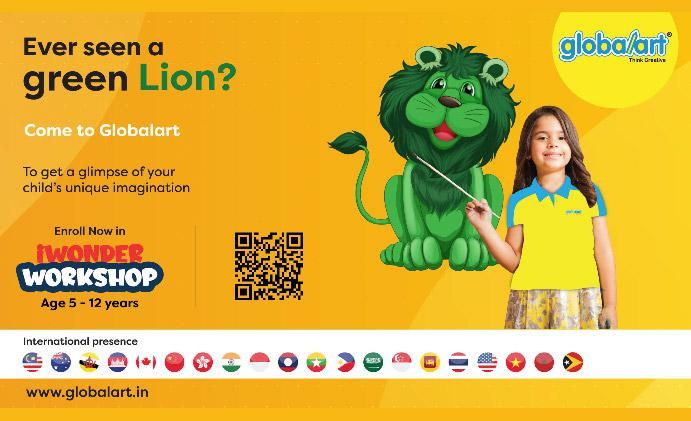 If you are looking for ways to creatively engage your child, opt for art classes that encourage individuality and independent thinking in children.
9 reasons to choose Globalart for your child
With a successful history of imparting education since 1999, it is present in 19 countries.
Endorsed by industry experts, it is one of the largest creative art program for children in the age group of 5 to 15 years.
SIP Academy India, an organization known for its varied courses for children, launched the Globalart program in India in 2005.
With 130+ centers across the country, so far, the program has benefitted over 65,000 children.
With 20 centers in Bangalore, the program has both international and national accreditations.
During the pandemic, the entire program was successfully run online.
The program puts emphasis on self-expression, observation, concentration and makes children more confident.
Earlier students of the program have successfully chosen new-age careers like architecture, interior, web and graphic designing courses, etc.
Even in traditional careers like medicine, engineering, and science, there is a need for creative solutions. Students who have a foundation in creative thinking are better equipped to handle such complex projects.
How can your child enroll in the program?
You can enroll your child for the program in the centers run by Edupreneurs across various cities. Since the pandemic, your child can opt for an online class too.
Expansion plan in Bangalore
Parents these days understand and appreciate the value of creativity in kids. Owing to the overwhelming responses from parents and students, Globalart has growth plans for cities like Bangalore.
Encouraging entrepreneurship
The company wants to get associated with like-minded people. Team up with them if you love art and creativity, and love working with children.