Research shows that storytelling can contribute significantly to early childhood learning. The HeyCloudy App does this precisely by delivering audio stories for kids in a screen-free manner
In a world where children are 'growing up digital', a major concern that parents face is how to keep them engaged in a screen-free learning environment.
Storytelling is one off-screen activity that can do wonders in contributing to early childhood education. The easiest way to capture the attention of kids is by telling them a story. The stories of gods, kings, demons, robbers and animals in the jungle will keep them enthralled for hours. Also, listening to these stories will help instill values of compassion, honesty and resilience in them.
Gone are the days when children used to pester grandparents to tell them their favorite stories. Today, children are spending more time on gadgets from an early age.
Introducing HeyCloudy – your child's favorite audio storytelling app!
HeyCloudy is an audio storytelling app that promises to narrow the gap between the age-old method of learning from stories and the digital mode of learning.
The HeyCloudy app caters to all learning aspects of early childhood. It is a beautiful library of thoughtfully curated and designed audio stories spanning three languages and genres. It offers a screen-free learning experience to children in the age group of 2–8 years.
Features of HeyCloudy app
1. Learn with fun stories 
Free access to 300+ age-appropriate stories backed by a team of early childhood educators and learning experts
Stories that include everything from Indian mythology to folk tales from around the world
Stories that introduce young learners to the basics of science, math and literacy in the most interesting ways
2. Music for moods
Free access to a huge collection of musicals that can captivate a child's attention in various moods
3. Tickles for brain
Free access to some amazing mind teasers for your little ones to keep their brains active and alert
4. Screen-free and ad-free learning
HeyCloudy is a completely screen-free audio story-based learning app
The ad-free approach ensures that your child can keep listening and learning with minimum intervention
Benefits of learning through stories
A skilled narrator can transport children to faraway lands and allow them to experience magical moments just with the power of words. When children listen to stories being read aloud, it –
develops their early literacy skills
enhances their vocabulary and pronunciation
improves their focus and listening skills
increases their attention span
boosts their brain development and critical thinking
helps inculcate life skills in them
makes them dynamic in their thoughts and action
helps them connect better with the real world
Why parents and children love HeyCloudy
Using the HeyCloudy app requires minimal intervention from parents. With HeyCloudy, a child can choose to play a story and switch the screen off without interrupting the listening experience, making it a very child-friendly app.
Let's hear what parents have to say about the app: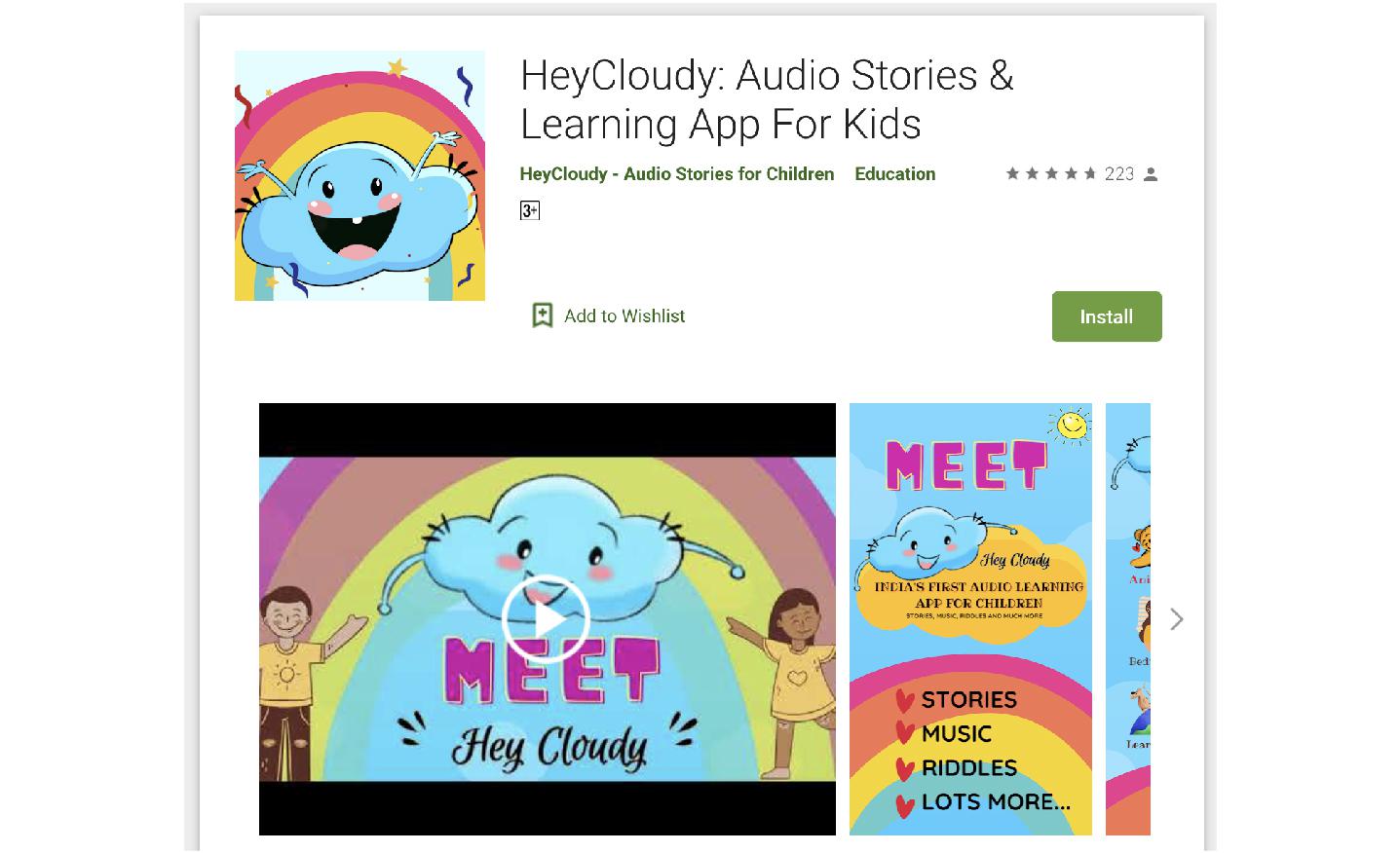 It is a very useful app and my daughter loves the stories. The stories are very innovative and inspiring. As a parent, I feel this app is very helpful in changing my kid's attitude through simple short stories. 
- Priya S
It is a much-needed app in today's time when it's really difficult to keep kids away from screens. My child is four, and he needs his screen time at least twice a day; but, since we started listening to Hey Cloudy, it has really helped me to keep him off the screen. The stories are interesting, short and catchy and the voice modulation is gentle for the kids. I would totally recommend parents to try this app and see the difference in their kids. I believe it has made my son more attentive and a good listener.
- Shweta Vallecha
It is an amazing app for children. It is fun and easy. Stories for children are wonderful. When I am tired, I play this on and let my child listen to stories. Bedtime is our favorite time for HeyCloudy. Also, the riddles, or should I say tickles, are super-duper fun. Try it.
- Vasco De Jenero
Thanks HeyCloudy for this app! I listen to it on my way back from work and narrate the stories to my child during bedtime. I wait the entire day for the moment I could cuddle up with my bunny and tell her these stories. Makes her bond with me in spite of my absence during the day. We love bedtime stories.
- Sakshi Garg
HeyCloudy stories have helped me immensely when my daughter recently fell ill. She is a very active child and kept crying to go out and play. I convinced her to stay in bed and rest – thanks to HeyCloudy Stories! Now she wants to listen to the stories at bedtime every night.
- Puran Sahu
When you go on HeyCloudy…
You get access to explore and listen to over 100 plus free stories. However, to access some of the best stories on HeyCloudy, you will need to go for a paid subscription.

Not every human culture in the world is literate, but every single culture has stories to tell. Storytelling is an incredible way to influence young minds, shape their thoughts and feelings, and lead them in the right direction.

HeyCloudy is an amazing app that is precisely designed to provide a resourceful learning experience to new-age children through the medium of storytelling.