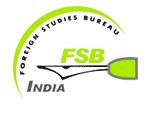 Foreign Studies Bureau
Foreign Studies of Bureau was setup by Prof. A. Sugumaran, to offer an honest service in student recruitment line for higher studies in Singapore. As of now we operate from India, Sri Lanka, Malaysia & Singapore. We aim to provide the best service for students in finding out the most suitable course available. We market, counsel, guide and recruit students to Singapore as Asia's upcoming education hub providing quality education and high-standard life for the candidates. Professor A. Sugumaran, the founder of this noble effort, was a Gold-medalist & University First Rank holder in M. A. English Literature. He is also into a few other businesses like Gold Jewellery Retail, Catering & Food stalls, Advertising & Marketing, Digital Design and Photography. FSB was launched in 2000 with Singapore as the main destination for Indian Students. The 1st batch of 35 students (including his own son), was successfully recruited into Nanyang Polytechnic, Singapore in 2001. His son, S. Amrith Ganesh, was one of them. Looking at the theme not only as a businessman, not only as a Professor, but also and as a parent, he confirmed to himself that Singapore is a safe choice in several aspects for higher studies. Ever since this confirmation, he had been successfully recommending Singapore Universities, Colleges and Polys to hundreds of Chennai and South Tamil Nadu students. Several dozens of students have successfully completed their studies there and have settled as PRs and Citizens in decent jobs. Any number of references can be given from satisfied parents & students.
Website
www.foreignstudies.in/
Address
12-B, Grassland Apartments, Mount Porur Road, Heritage Super Market, Mugalivakkam, Chennai, Pincode:600016, Tamil Nadu.
Working hours
9.30 am to 6.30 pm

9.30 am to 6.30 pm

9.30 am to 6.30 pm

9.30 am to 6.30 pm

9.30 am to 6.30 pm

9.30 am to 6.30 pm

Holiday/closed
Related Listings