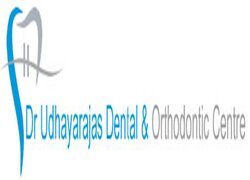 Dr. Udhayarajas Dental & Orthodontic Centre
Dr. Udhayaraja is Specialized in Orthodontics and Dental Surgeon with Masters Degree in Orthodontics. He had his advanced level Orthodontic training at National University of Singapore and Kesling and Rocke Orthodontic Centre, La Porte, Indiana, USA soon after Post Graduation He had been an Observer at Tsurumi University, Japan and taken part in Global Symposiums on MBT Tecnique several years with Dr. Mc Laughlin , San Diego. Dr. Udhayaraja has attended annual conferences of American Association of Orthodontists, in USA every year as an International Member every year. He has also attended all the International conferences of WFO, World federation of Orthodontists for several years. He has also taken special interest in Implantology and had advanced level training of Implantology with American Academy of Implant Dentistry, USA. His special interest and passion is cosmetic Dentistry and Micro surgeries in Dentistry. He is also skilled and trained in Laser Dentistry.
Website
www.drudhayaraja.com/
Address
New No. 54, Old No. 105, 1st Floor, Gopathi Narayanaswami Chetty Road, Accord Metropolitan Hotel, T. Nagar, Chennai, Pincode:600017, Tamil Nadu.
Working hours
9 am to 7.30 pm - 12.30 pm to 5.30 pm

9 am to 7.30 pm - 12.30 pm to 5.30 pm

9 am to 7.30 pm - 12.30 pm to 5.30 pm

9 am to 7.30 pm - 12.30 pm to 5.30 pm

9 am to 7.30 pm - 12.30 pm to 5.30 pm

9 am to 7.30 pm - 12.30 pm to 5.30 pm

Holiday/closed
Related Listings