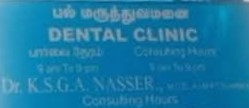 Dr. Nasser Dental Clinic
We are premier dental clinic of India located in the heart of the chennai city in Tamilnadu, India and strive to provide quality dental implants laser dentistry and cosmetic dentistry. Wish to make a unique private dental clinic with warm atmosphere and hospitality combined with modern equipment and technology to serve the people. Away from traditional dental clinic, we decided to conform it into trendy lifestyle, concentrating on the esthetic dental treatment, providing first class services by the specialist in any kind of treatment. Dr. Nasser dental clinic is providing multidisciplinary services in dental treatments. We know that its smile, which can make ones personality and this valuable feature, is always nursed by us in the most sophisticated manner. Apart from the routine dental treatment, we have comprehensive dental treatment, ranging from aesthetic dentistry, implant, orthodontia, gum surgery, bone augmentation procedures, pediatric treatment and all invasive as well as non invasive painless and needle less dental treatments. The clinic has well managed infrastructure, which consists of synergistic man-machine relationship to provide the best to our patients.
Website
www.dentalindia.com/
Address
No. 8/13, Ritherdon Road, Vepery, Doveton Bridge, Periyamet, Chennai, Pincode:600007, Tamil Nadu.
Working hours
10 am to 9 pm - 1 pm to 5.30 pm

10 am to 9 pm - 1 pm to 5.30 pm

10 am to 9 pm - 1 pm to 5.30 pm

10 am to 9 pm - 1 pm to 5.30 pm

10 am to 9 pm - 1 pm to 5.30 pm

10 am to 9 pm - 1 pm to 5.30 pm

Holiday/closed
Related Listings