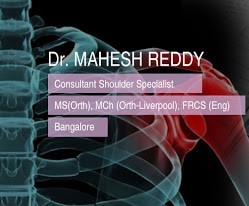 Dr. Mahesh Reddy Clinic
Dr. Mahesh Reddy MBBS, MS, MCh - is one of India's top experts in the field of shoulder surgery. He is the Co-founder and Director of Nova Specialty Surgery, a chain of short stay surgical centers and was also responsible for setting up the Shoulder Clinic at Manipal Hospital, Bangalore. In recognition of his more than eleven years of expertise and impact as a top-notch shoulder surgeon, he was recently honored by the College Of Surgeons of FRCS (Eng). Dr. Mahesh Reddy's qualifications and training in Orthopedics was completed at the University of Liverpool, after which he did further training with the NHS in the UK. Upon his return to India, he was associated with Kasturba Medical College in Manipal, Manipal Hospital in Bangalore and Nova Specialty Surgery. He is the first doctor in India to have a practice that focuses only on the shoulder, and given that this is his area of specialty, he is the honorary doctor for the Swimming Federation of Karnataka and the Red Rooster Racing Club at Bangalore. Dr. Mahesh Reddy specializes in providing minimal access surgery through his short stay surgical centers at Nova Medical Center. His key areas of interest are dealing with Periarthritis (frozen shoulder); total shoulder replacement and revision surgery and shoulder resurfacing. Dr. Reddy received the Bharat Jyothi Award in 2008 for excellence in the field of medicine. He also enjoys international stature as a shoulder expert - as reviewer for two international journals - the Journal of Bone and Joint Surgery and the Journal of Shoulder and Elbow Surgery, for the latter he also serves as Sub-Editor for the Asia region.
Website
www.drmaheshreddy.com/
Address
No. 143, 1st Cross, 5th Block, ., Koramangala, Bangalore, Pincode:560034, Karnataka.
Working hours
8 am to 8 pm

8 am to 8 pm

8 am to 8 pm

8 am to 8 pm

8 am to 8 pm

8 am to 8 pm

Holiday/closed
Related Listings