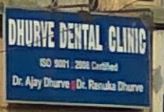 Dhurve Dental Clinic
Dhurve Dental Clinic is a Dentistry Clinic in Warje, Pune. The clinic is visited by doctors like Dr. Ajay A. Dhurve. The timings of Dhurve Dental Clinic are: Mon-Sat: 10:00-12:30, 17:30-20:30. Some of the services provided by the Clinic are: BPS Dentures Fixing, Straightening Teeth (Invisalign), Cosmetic/ Aesthetic Dentistry, Dental Services and Crowns and Bridges Fixing etc. Click on map to find directions to reach Dhurve Dental Clinic.
Address
Flat No. 5, A Wing Akshaya Palace, Near Flyover Bridge, Warje, Pune, Pincode:411058, Maharashtra.
Working hours
10 am to 12.30 pm - 5.30 pm to 8.30 pm

10 am to 12.30 pm - 5.30 pm to 8.30 pm

10 am to 12.30 pm - 5.30 pm to 8.30 pm

10 am to 12.30 pm - 5.30 pm to 8.30 pm

10 am to 12.30 pm - 5.30 pm to 8.30 pm

10 am to 12.30 pm - 5.30 pm to 8.30 pm

Holiday/closed
Related Listings