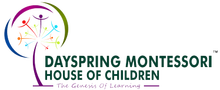 Dayspring Montessori House of Children
Montessori Education is the education system developed by the Educator at ourMontessori for the kids between the age group of 2. 5 and 6 years. This approach provides complete independence and freedom of expression to the kids within the framework of the defined syllabus. The Montessori approach has been accepted worldwide including the schools in India. "Our care of the child should be governed, not by the desire to make him learn things, but by the endeavor always to keep burning within him that light which is called intelligence. "Only through freedom and environmental experience is it practically possible for human development to occur.
Website
dayspringacademy.in/
Address
F2-11. Skylark Arcadia II, Kodigehalli Main Road, Sadaramangala, Krishnarajapura, Bangalore, Pincode:560067, Karnataka.
Videos
Features
Arts & Crafts, Chess, Dance, Drawing & Painting, Games, Music, Sports, Storytelling, Tuition

After School, Before School

Before & After School Care, Indoor Play Area, Library, Multi-purpose Hall, Outdoor Play Area

Co-Ed

English, Regional Languages

Play-way Schools

Arts & Crafts, Dance, Drawing & Painting, Games, Music

info@dayspringacademy.in

School Bus, School Van
Working hours
8.30 am to 6 pm

8.30 am to 6 pm

8.30 am to 6 pm

8.30 am to 6 pm

8.30 am to 6 pm

Holiday/closed

Holiday/closed
Related Listings