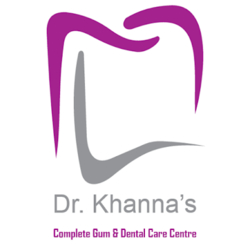 Complete Gum and Dental Care Center
We all know, from our own or our friend's experiences that a tooth pain is unbearable and that episode is one that is always remembered throughout our life. For treatment of the same, we reach for the nearest clinic for relief of pain keeping in mind the clinic standard regarding hygiene, facilities provided in that clinic, our convenience of reaching there and so on. Keeping all this and more in mind, we have come up with such dental care centers across the city, proudly calling it 'Dr. Khanna's Complete Gum and Dental Care Center'. We are located in prime localities such as Hadapsar, Viman Nagar Aundh and Wanowadi thus making it very convenient for patients to get in touch with us. A very relaxed and comfortable atmosphere and at the same time maintaining up-to-the-mark professionalism can be noticed at all our branches across the city, making your dental visit to our care centers almost like coming around for a cup of tea to your friend's place! Working around the clock from 9 in the morning to 10-30 at night providing convenience to our working clients, thus fulfilling our ultimate aim to remove the fear of a dentist and dentistry from our patients' mind. We provide our patients with the latest technologies and equipments keeping in mind their safety, hygiene and our patients' precious time.
Address
Office No. 112, Parmar Park, 1st Floor, Jagtap-Chowk, Opposite Janseva Bank, Wanowrie, Pune, Pincode:411040, Maharashtra.
Working hours
9 am to 8 pm

9 am to 8 pm

9 am to 8 pm

9 am to 8 pm

9 am to 8 pm

9 am to 8 pm

9 am to 8 pm
Related Listings