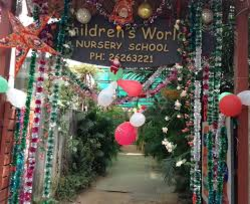 Childrens World Nursery School
Boutique school. Montessori system. Conduct Spoken English, Personality Development and French classes. Children's world was started in the year 2000 by Mrs. Sheela Mukund. We provide premium childcare with a healthy blend of Indian and Western systems of education, resulting in the holistic development of your child. We think it is never too early to start thinking of your child's development. Sending a child to a playschool is one of the major milestones in his life. It nurtures them intellectually, emotionally, mentally and physically. Children are taught social skills and allowed to play outdoors. Story telling activities are mainly character building exercises. Montessori / Play way method is used to teach children simple rhymes, numbers & some words.
Address
No. M8/A, 3rd Avenue, K4 Police Station, Anna Nagar East, Chennai, Pincode:600102, Tamil Nadu.
Features
Arts & Crafts, Dance, Drawing & Painting, Field Trips, Games, Music, Sports, Storytelling, Tuition

All Day

Indoor Play Area, Outdoor Play Area

All Meals

Co-Ed

English, Hindi, Regional Languages

20

Play-way Schools

Arts & Crafts, Dance, Drawing & Painting, Field Trips, Games, Music, Sand Play

School Bus, School Van
Working hours
9 am to 6 pm

9 am to 6 pm

9 am to 6 pm

9 am to 6 pm

9 am to 6 pm

9 am to 1 pm

9 am to 1 pm
Related Listings