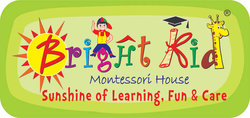 Bright Kid Montessori Preschool & Play School
At Bright Kid Montessori House learning is always fun, concepts are always deep-rooted, applications are always encouraged, and creativity is always championed. Founded in 2007, Bright Kid Montessori is associated with providing excellent Montessori based education blended with traditional methods of classroom teaching and has its banner flying across the country. Over 20, 000 students have graduated from the house of children in the past decade.
Website
www.brightkidmont.com/
Address
No. 8, CPR Layout, 3 Road Cross Old Nilgiris Road Close To, Jal Vayu Vihar, Kammanahalli, Kammanahalli, Bangalore, Pincode:560084, Karnataka.
Features
Arts & Crafts, Chess, Dance, Drawing & Painting, Games, Music, Sports, Storytelling, Tuition

After School, Before School

Before & After School Care, Indoor Play Area, Library, Multi-purpose Hall, Outdoor Play Area

Co-Ed

English, Regional Languages

Play-way Schools

Arts & Crafts, Dance, Drawing & Painting, Field Trips, Games

chkmn@brightkidmont.com

www.kmn.brightkidmont.com

School Bus, School Van
Working hours
9 am to 4 pm

9 am to 4 pm

9 am to 4 pm

9 am to 4 pm

9 am to 4 pm

9 am to 4 pm

Holiday/closed
Related Listings