With New Year just around the corner, here are our top picks for budgeting apps that can help you plan a family budget for 2021 and stick to it
Haven't we been looking forward to 2021 desperately, aching to leave the spectre of the COVID-19 pandemic behind in a truly unfortunate 2020? We've spent close to a year in our pajamas, trying to stay afloat as work and school invaded our homes and social lives became virtual. We've had a chance to reflect on what matters most to us. And what better time than New Year's to put our new-found perspective into practice? Let's invest our time, effort and of course, our money, in the people, things, experiences and places we value and cherish.
The New Year spirit infects us with hope and fills us with resolve. So, strike while the iron is hot. Plan out your family's finances. Make a budget plan that accounts for all your essential expenses, accommodates your passions and interests, and leaves breathing space for emergencies. If you are not sure how to go about this, take pointers from an expert.
Why is making a family budget important?
Ever been stumped by a CC bill, wondering how you ran up such a spend? Been caught unawares by an unexpected expense from your kids' school? Found yourself in a tight spot because of a washing machine that conked out or a vehicle service that bled your wallet? We've all been there, and rued the day we stopped tracking our expenditure and setting buffer money aside.
Rohini Hariharan, a cost accountant working with a private firm in Chennai, swears by budgeting, both personal and family.
"Budgeting is essential to strike a balance between your income and expenses, especially if you are on a tight leash of monetary inflow. A budget helps us analyse our expenses, so that we can identify and reduce unwanted ones. We can then plan for better saving, and make ad-hoc provision for contingencies or emergencies", she explains.
If you've grabbed pen-and-book or opened a spreadsheet and typed 'Family Budget - 2021' in bold + underline, hold your horses. The budgeting game has evolved, getting handier and more intuitive than ever before, thanks to budgeting apps.
What are budgeting apps and how can they help?
A budgeting app is a software that helps you manage your personal finances. Even though many of these apps have their origin in the humble spreadsheet, they provide several additional features that go beyond just balancing credit and debit.They allow you to:
Track your spends in real time: Instead of sitting at the end of the month with a pile of bills or racking your brains over what the "JK Traders" in your CC bill refers to, you can log in your inflows and expenses as they happen. Clock a dining bill as you walk out of the restaurant. Record a trip to the mall right on your ride back home.
Understand your finances better: If the magic of mathematics is not for you, apps are a godsend. They can make all the important numbers pop at you, graphically. Several apps allow for your CC spends and salary credit to automatically reflect in your budget. Every transaction that's entered will reflect in your balance. You will get an overview as well as a detailed breakdown, whichever you choose to access.
Set alerts: Am I late on the phone bill again? Is the EB due this month or next? When do I have to pay my son's next term fees? Have the tenants credited rent on time? Wouldn't it be great to have a personal assistant to remind you of these dates and deadlines? Oh wait, you can have one-in your phone. You can tweak the settings on expense-tracking apps to give you important alerts through notifications.
Access your financial information easily: A budgeting app lets you pull up your finances anytime, anywhere, and mostly, on any device. It's easy access to real-time, up-to-date statements and spending trends. It syncs with your bank accounts, across devices and with other family members-so everyone is informed and on the same page.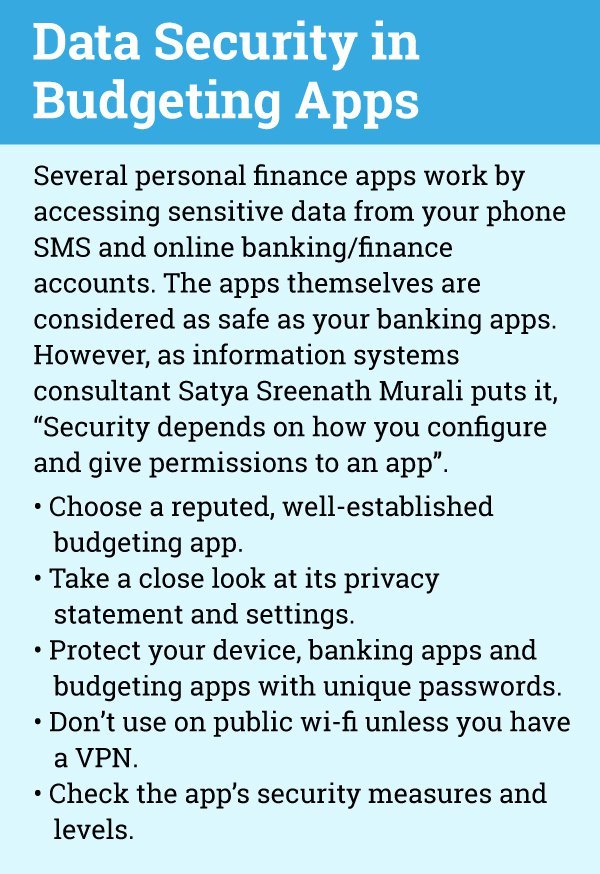 Best Budgeting Apps for Parents
As parents, we already have so much on our minds with work, home management and childcare. Money management can just pile on the stress. Expense tracking apps help take some of that mental load off, by keeping us updated and in control of our money flow.
Here's our round-up of the best budgeting apps to help you stay on top of your finances the coming year-at your fingertips and in your pockets.
Walnut Expense Tracking App
A highly rated Indian expense tracking app, Walnut helps you understand where your money is going. By noting your digital/online transactions through your SMS alerts, the app completely automates expense tracking and categorization.
Satya Sreenath raves about his experience with the app,
"It's wonderful! I use it to track my expenses and due payments. Its pie-charts give me a clear idea of where I spend the most. I also like the alarms it allows me to create, to control unwanted expenses."
Pros
Comprehensively categorizes all spends
Gives a good understanding of spending patterns and trends over time
Gives a nutshell view of income, expenses and bills due on the home screen
Alerts you on due payments
Keeps you updated on balance in pre-paid wallets and bank accounts
Splits spending among friends/family
Walnut Pay supports direct bill payment
Cons
Reads your messages in order to gather information about your spending (from bank alerts, promotional offers and other business messages)
Works individually for family members, but not for the family/group as a whole
YNAB-You Need a Budget
Widely considered one of the best budgeting apps in the game, YNAB specializes in helping clients prioritize their spending, manage their debt, save more and work steadily towards their financial goals. It follows the zero-based budget approach (dividing a month's income down to the last cent into various categories-expenses, savings and debts, broadly speaking).

Pros
Encourages accounting for money that you already have, instead of budgeting with next month's pay check in mind
Proactively helps you allocate funds to things that matter to you in the long-term.
Makes saving for contingencies a part of your monthly budget
Allows for recalibration when an emergency throws your budget plan off-track
Works across multiple devices, including Amazon Echo.
Provides excellent customer service and extensive training in their philosophy of spending/saving.
Cons
Costs a pretty penny--$12 a month
For unlinked accounts, every transaction needs to be entered manually. While this is meant to encourage mindful spending, it can be tiresome and fuel guilt
Mint
This is an extremely popular budgeting app that links to your bank and credit accounts and automatically updates your income, expenses and savings. Of all the free budget trackers available in the market, Mint is the most comprehensive.

Pros
Free of cost and highly automated, making it easy to access and use
Syncs with your accounts and can help you pay bills
Consolidates and gives an overview of all your linked accounts in one place, presenting a fairly accurate summary of your finances
Checks credit score
Can be configured to notify you on bills due, fall in account balance and changes in credit score
Cons
Works only for US and Canada accounts. Indian users can only use it if they label their account/credit cards as US ones.
Has lots of ads, because it's free
Doesn't change spending habits, merely tracks them and shows spending trends
Has trouble handling cash transactions
ET Money
A product of the Times Group, this app is best suited for managing savings and investments. It is an integrated platform that offers a wide range of services from expense tracking and instant loans to investment in mutual funds, insurance and NPS.

Pros
Single platform catering to all financial management needs
Helps you make commission-free investment in mutual funds, insurance and NPS (with only processing fees or transaction charges)
Gives an overview of your investment portfolio
SIP payment schedule, alerts for bill payment and insurance renewals-all are automated
Arranges instant loans through Loan Pass facility
Helps track income, expenses and bill payments
Can generate credit score and credit report, and calculate income tax
Cons
Works best only if you have money to invest and taxes to save
Bombards you with ads for loans and insurance
Money Manager Expense & Budget
This app uses the double-entry system to track income and expenses. This makes it a fool-proof, no-nonsense personal finance tracker as reflected in its simple and fuss-free user interface. It has an advance budgeting feature that allows you to set monthly budgets for different categories.

Pros
Clear record of income and expenditure, assets and liabilities under double-entry system
Graphic representation of spending behavior and asset trends
Calendar view showing all monthly transactions in a single frame
Has an advanced budgeting feature that lets users set a monthly budget for different categories
Photo Save feature allows you to save bills and memories of events as photos
Cons
Allows only limited number of accounts in the free version (maximum of 10),
Has lots of ads
Lack of icons makes it difficult for users to access some features, especially budgeting feature
Accounts and expenses have to be entered manually, and there is no reminder for daily record of expenses
Goodbudget Expense Tracker
Based on the envelope system (where money is assigned to each 'envelope' according to your needs and wants), Goodbudget lets you actively decide how to allocate your income to various categories. It is eminently suitable for household budgeting.

Pros
Excellent home budgeting app that syncs well across platforms (Android, iOS and Web) and with multiple users (family members), giving everyone real-time access to family finances
Flexible budget period, transfer of funds between envelopes
Color-coded home screen clearly indicating the status of each envelope
Allows import of bank transactions, using specific file formats
Cons
No provision for individual budgets within family
Limited envelopes (10 + 10), devices (2) and accounts (1) in free version
Income and expenses have to be manually entered, making it tedious
Budgeting apps can greatly simplify financial decision making for us. They empower us with up-to-date, consolidated data of our personal finances, so we can make informed spending/investing decisions on the go. They shine light on our own tendencies and inclinations, helping us cut back on avoidable expenses and put our money where our heart goes. When used to their full potential, these apps can be truly powerful and life changing.
Here's wishing you a productive and fulfilling 2021. May you find the self-control to stick to your budget, the good fortune to swell savings and investments, and the resolve to see your plans through to fruition!
Also Read:
Useful To-Do List Apps to Help Busy Parents
Must-Have Apps to Get Your Child to School
About the author:
Written by Divya Sainathan on 8 December 2020.
Join our Circles to share, discuss and learn from fellow parents and experts!
Looking for expert tips and interesting articles on parenting? Subscribe now to our magazine. Connect with us on Facebook | Twitter | Instagram | YouTube